Fidelio
Music Ludwig van Beethoven, libretto Joseph Sonnleithner, Stephan von Breuning and Georg Friedrich Treitschke after Jean-Nicolas Bouilly's French libretto Léonore, ou L'Amour conjugal
The Royal Opera
Royal Opera House
–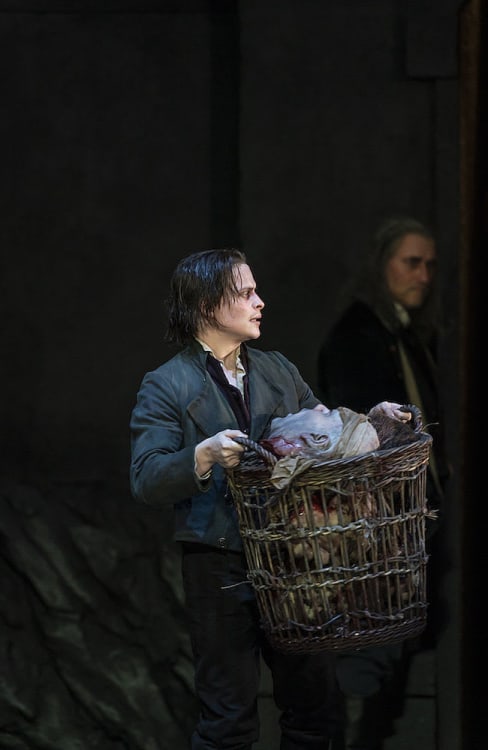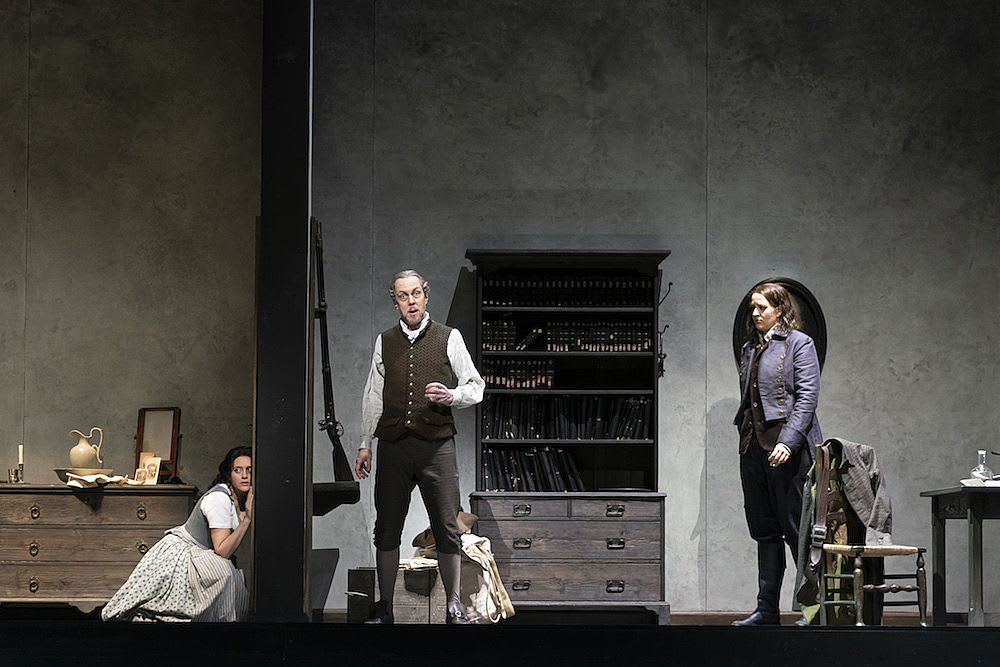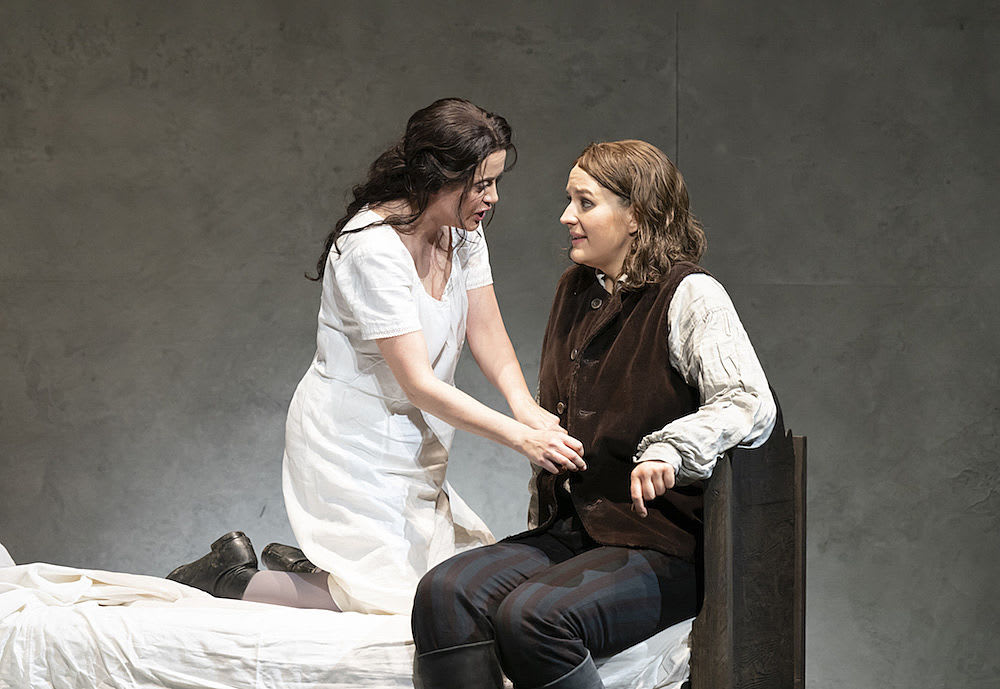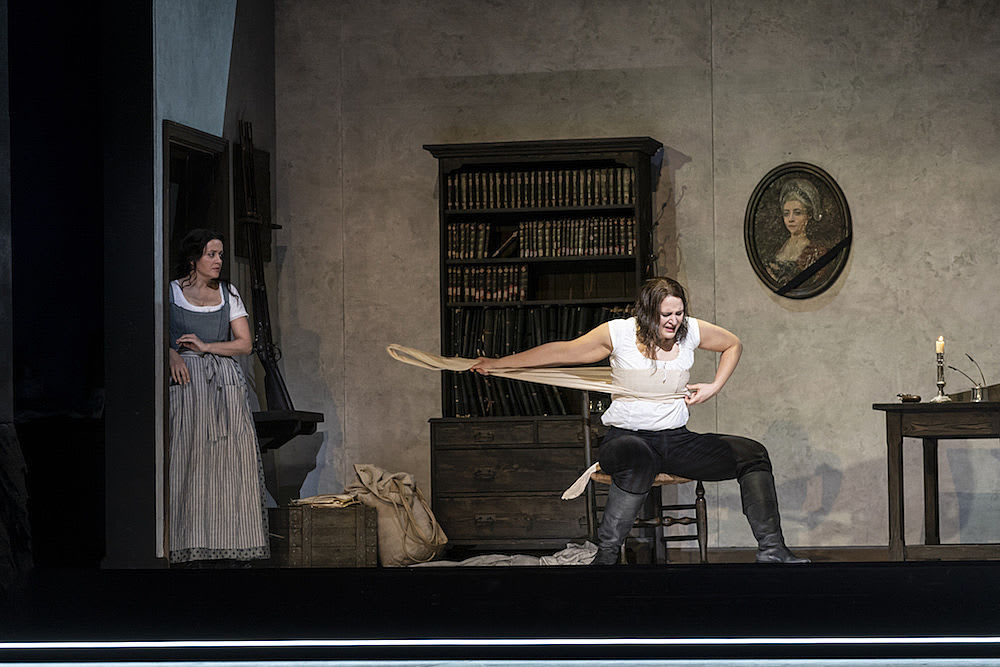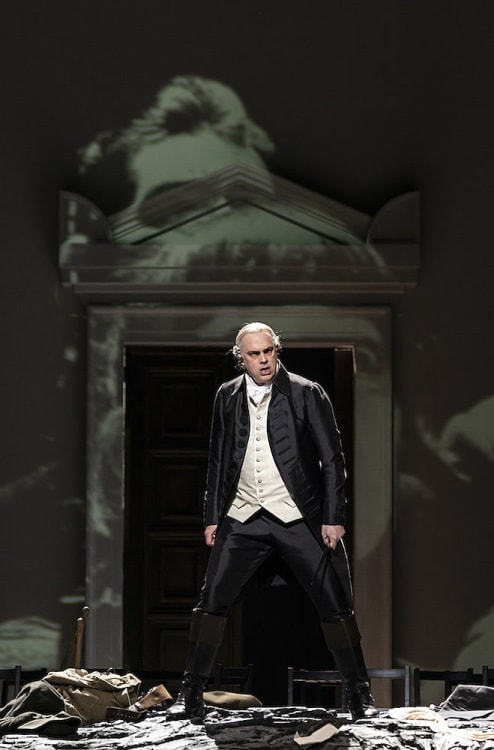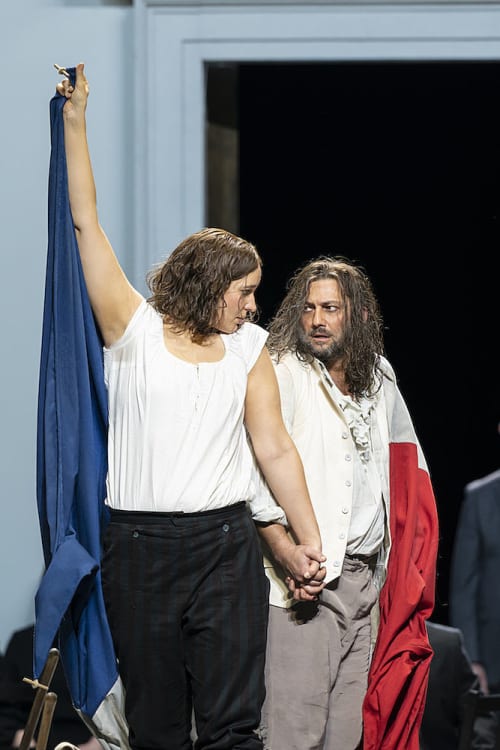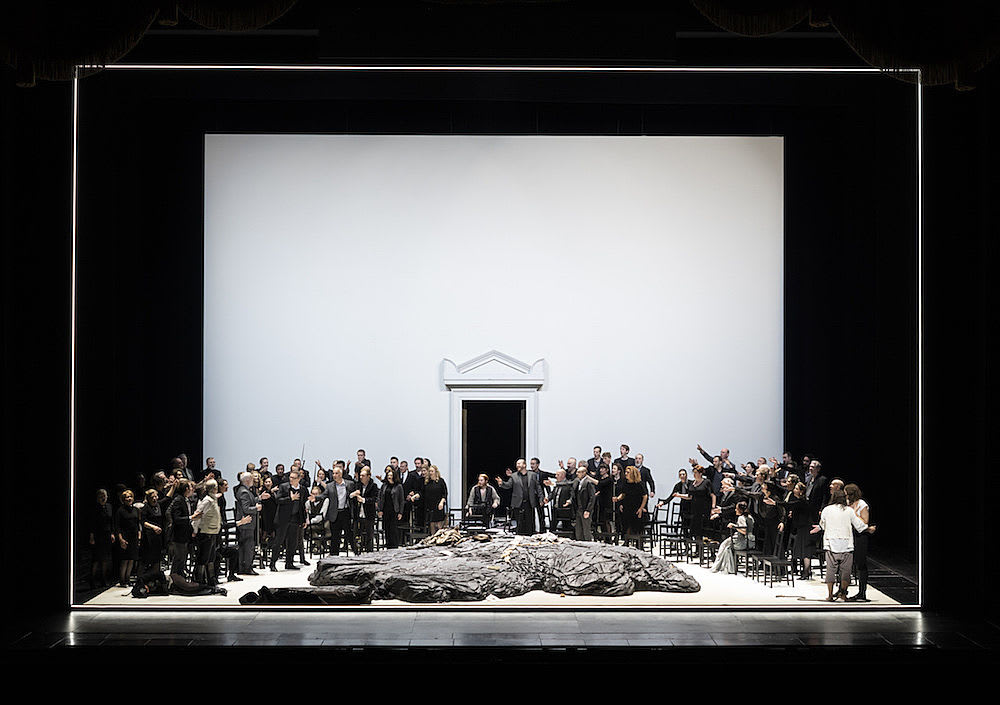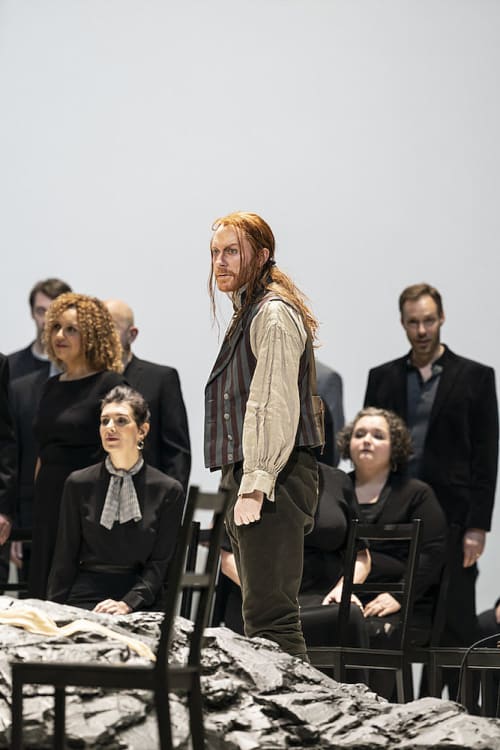 Tobias Kratzer's ROH debut production of Beethoven's hard-won 1814 (his third attempt, 1805 and 1806 unsuccessful) Fidelio does not please all—there are boos in the house (for Kratzer's conceptual rewiring of the second act, I presume—confirmed by a chance chat with a fellow traveller)—but it pleases me, even though act two is a conceit perhaps too radical and inconsistent with what has come before.
But, stark though it may be, taking the wind out of the sails for some, act two is a jolt, a call to action, a breaking of the fourth wall, a Lehrstück. A drama of two unequal halves, ranging from Mozartian melodrama and Singspiel to oratorio, Fidelio completely holds my attention. But let me wind back.
Liberté, égalité, fraternité writ large on the front cloth announces the first act. Kratzer moves Beethoven's (to escape the censor, apparently) Spanish setting to France during the Great Terror, where it should be. The overture sees Leonore in the prison courtyard seeking news of her husband, Florestan, long imprisoned by the vindictive military governor of the prison, Don Pizarro (Simon Neal), for some personal grudge. As are many other women, only to receive their husbands' guillotined heads in a basket like loaves of bread. There's scene setting for you.
But the music is buoyant… Constant hope hangs in the air. The human condition: all the characters live in hope. Rejecting prison gatekeeper Jaquino's loving proposal, Marzelline, the daughter of the prison warden, Rocco, falls for Leonore disguised as Fidelio—a domestic comedy in the Mozartian vein.
Strapping lad Fidelio gets employment as Rocco's assistant to gain access to the dungeons, where she hopes her husband is still alive. But, first, she has to win Rocco's trust and this she can only do by agreeing to marry his daughter.
There's a comic scene where Marzelline takes Fidelio into her bedroom and tries to seduce him / her. There are even caged birds for sale—Magic Flute, anyone? But when Pizarro—arriving in grand style on a black stallion with a military escort—crushes Marzelline's canary, the drama shifts to the political.
Angry to find the prisoners allowed some time in the open air (the prisoners' chorus O welche Lust in freier Luft sends shivers down one's spine) and alarmed that the Minister Don Fernando is expected, Pizarro demands that Rocco kill Florestan now. Rocco, who sings that money is all (Es ist ein schönes Ding das Gold!), can't bring himself to cold-blooded murder, so Pizarro will do it himself. Rocco and Fidelio will have to dig the grave. Time is of the essence for Fidelio.
Lise Davidsen, making her ROH debut as Leonore / Fidelio, is magnificent, and is one of the major reasons for seeing this production. Georg Zeppenfeld's (his bass voice, as deep as the dungeons) Rocco is a sympathetic characterisation, and he is another reason for seeing the opera. Amanda Forsythe's Marzelline's soft soprano is no match for Davidsen, though her performance is sweet. Her role gets a revolutionary boost at the end in this adapted version. Some liberties have been taken.
"Whoever you may be, I shall save you / wenn du auch seist, ich will dich retten" prompts the second act—writ not as large as the first. And it comes as a shock. Eighteenth century realism (set Rainer Sellmaier) gives way to minimalism.
Not only that but an opening announcement warned us that the wunderbar Jonas Kaufmann is under par. But he will soldier on… In the role of a man starved almost to death, he can be forgiven for being diminished, though frankly not much. His body language at curtain call speaks otherwise—he is not happy. His duets with his wife are superlative, but it is Davidsen who carries the evening and deserves the cheers. In any case, Florestan has the smaller role, not appearing till the second act.
From dark to light, the 'dungeon' stage is bathed in Michael Bauer's bright lighting. In front of a white wall with central bronze doors under a classical portico sits in semi-circle the sixty or so strong chorus in modern dress before whom lies a slate black rock on which is chained a Promethean man as if he were some specimen for their inspection. Kaufmann's Florestan, dead to the world, bedraggled and tattered like Dumas's Count of Monte Cristo.
But, he stirs, and the startled people react—magnified by Manuel Braun's video capture on the back wall. We have time travelled and crossed dimensions, the present and the past colliding. Katie Mitchell and Ivo van Hove's production styles come to mind. One woman watching this tragedy dips into her bag and eats a piece of chocolate. Is she one of the tricoteuse at the scaffold? Such indifference—another woman's instinct is to offer her bottle of water to the parched prisoner.
Cold, clinical, not heroic, until the trumpet sounds and Marzelline bursts in like Delacroix's Liberty Leading the People and shoots and wounds Pizarro. The chorus turns on his soldiers: the revolution all over again. Leonore protects her husband's body with her own. Marzelline wraps the two of them in the Tricolore. Is this a call to arms?
The people's chorus rejoices, the Minister (Egils Siliņš) steps out from their throng, and Leonore and Florestan are swallowed into their midst. The fourth wall (a lit frame) is broken; the lights go up on us; only poor Jaquino (Robin Tritschler) is left in period costume on the wrong side. Definitely an oratorio... And a plea to the modern world from the past...
I could happily see it again. Maestro Antonio Pappano conducts the orchestra in a sublime, sensitive and dramatic reading of the score—truly tremendous and they get warm applause as does the chorus.
Kratzer has reworked Fidelio considerably, and I for one am very interested in his reading of it. Credited for dialogue, he has added texts by Georg Büchner and Franz Grillparzer. Literary references abound—I wonder if Goethe's Götz von Berlichingen's Freiheit, Freiheit, Freiheit is in the mix somewhere in his mind.
But then Beethoven took from many sources, too, for his only opera. In this the 250th anniversary of his birth, I salute his attempt (the act one quartet, the prisoners' chorus, arias, recitatives, and Florestan's act two Welch Dunkel hier! and O namenlose Freude—he dreamed his wife an angel and here she is), and the Royal Opera House's new production of his 'Sturm und Drang' opera. Without Leonore would there be an Isolde?
Fidelio will be shown live in UK cinemas on Tuesday 17 March 2020.
Reviewer: Vera Liber