The Field
John B Keane
Tricycle Theatre, Kilburn
(2006)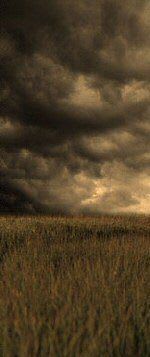 I discovered John B Keane some dozen or more years ago when, on a flying visit to Dublin, I was bowled over by the experience seeing his early play Sharon's Grave at the legendary Gate Theatre.
Ever since, the absence of his plays from the London stage has been a mystery. He comes in the great Irish storytelling tradition but while his contemporaries Brian Friel and Tom Murphy have producers falling all over themselves to stage revivals, Keane has been neglected.
Perhaps this revival of his most famous play, filmed by Jim Sheridan with Richard Harris in the leading role of Bull McCabe, supported by the likes of John Hurt, Sean Bean and Brenda Fricker, might be the catalyst for a retrospective, almost inevitably at the Hibernophile Tricycle.
The first half of this two-and-a-half-hour drama takes place in 1965 in a bar-cum-auction house run by Mick and Maimie Flanagan. David Ganly plays a solid citizen while Rita Hamill is charming as his flighty wife.
Trouble rears its head when a poor, old widow Maggie Butler (Heather Tobias) decides to sell the four acres that she has inherited from her late husband.
This hardly fits in with the plans of her current tenant, Bull McCabe, given vibrantly unpleasant life by the excellent Lorcan Cranitch, and his feeble-minded son, Eamonn Owens' Tadhg (pronounced like the neckwear). They believe that they have a divine right to keep the field and are willing to pay only a quarter of its value.
All might have been well as the whole of this claustrophobically close-knit community in south-west Ireland closes ranks in conspiracy. As Bull had already informed us, he should have no problem as half of the town are his relations and the other half his wife's.
However, they had reckoned without the arrival of affluent emigrant, William Dee looking for an opportunity to return to Ireland. This tall, reckless man, played by an Irishman with a far from Irish sounding name, Jean-Paul Van Cauwelaert, can see no reason why he should give up his claim to this land to the bully Bull and happily offers the asking price.
Matters can all too easily get out of hand when a couple of drunken men decide to give an outsider a hiding and a beating becomes a murder. The second half of the play looks at the competing demands of morality and fear in a small town. Even the entreaties of the local priest and his bishop, both played by John Watts, have no effect on what the locals regard as little more than a family matter.
It is greatly to John B Keane's credit that, rather than coming up with a trite, satisfactory ending, he is willing to risk ambiguity, thereby giving his play extra depth.
In any event, the issues are not clear cut. The local man, Bull, wants to keep the land in the community for its traditional use, the incomer wants to cover it with concrete and begin to industrialise the area. One can detect a good dose of allegory in Keane's fears for the sanctity of the rural parts of his beloved country.
Young director Roísín McBrinn doesn't always get the pacing quite right but with a high quality cast provides an entertaining evening. The Field deserves a revival as it offers a good insight into the kind of community that J.M. Synge or Sean O'Casey would have recognised and was later immortalised by Martin McDonagh, on whom Keane might well have been an influence.
Playing until 1st July
Reviewer: Philip Fisher