Water
Filter and David Farr
A Filter Production in association with Lyric Hammersmith and Warwick Arts Centre
Salisbury Playhouse and touring
(2011)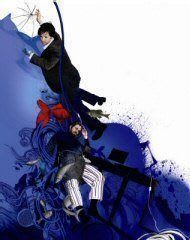 Let's be honest, I am wary of any play written by a committee. Old fashioned? Perhaps - but the warning light was flashing for me when I saw the company gathering on stage in the moments before the opening of Filter and David Farr's distinctly revolutionary new work Water at Salisbury Playhouse last weekend.
Companies which assemble for us prior to the action spell for me, if not danger, then uncertainty as to how they should proceed. And since there is here not only no familiar director (as such) but no recognisable text either, my initial discomfort may be understandable.
As for "revolutionary": well, not in the dramatic sense - rather in the theatrical meaning, for this is a play like few, if any, you will have seen. If I add that it bears the stamp of Robert Lepage and Complicite that should say something, even if you have to look them up!
Studying the programme after the event (I rarely do so before), I note the company admit that while/if their collaborative process lends itself to the theatrical form of the show, it doesn't make the story-telling aspect easy.
That is certainly true and I had to talk and think about this work even more than usual before attempting anything like an opinion.
For this piece is as much a testing exercise in the practice of new theatre as it is in stimulation of the mind or the imagination. As much to do with theatrical techniques as with the central issues of climate change and global warming.
The innovative, collaborative process harnesses many aspects of modern theatre. Players move among sound-desks, video screens and sound technicians, and global concerns blend with human stories as step-brothers row about their father's life and their inheritance.
The range of disciplines encompassed by the players and the creative team that is Filter illustrates the collaborative nature of this performance. Victoria Moseley and Ferdy Roberts are the only specific actors in the company, Tim Phillips being a composer and songwriter while Andi Watson is a video designer as well as working in lighting and set design.
Setting and costumes are by Jon Bausor, lighting by Jon Clark and Peter Harrison, video design by Andi Watson and Salvador Bettencourt Avila.
Director David Farr has either the most formidable task or a free ride! I think that the Playhouse Director Philip Wilson is to be commended for encouraging this remarkable experience into Salisbury. We need to be stretched occasionally.
The production continues at Salisbury until 29 January and will later be seen at the Tricycle Theatre, London.
Philip Fisher reviewed this production at the Tricycle
Rivka Jacobson reviewed an earlier version of this production at the Lyric Hammersmith in 2007
Reviewer: Kevin Catchpole