Finding Neverland
Book by James Graham, music and lyrics by Gary Barlow and Eliot Kennedy, based on the film written by David Magee and the play The Man Who Was Peter Pan by Alan Knee
Lunt-Fontanne Theatre, New York
From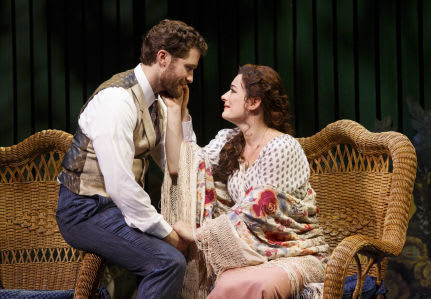 The story of how J M Barrie came to write Peter Pan seems an unlikely subject for a Broadway musical and needed something special to bring in audiences.
Diane Paulus's production, which takes some big risks, might just have that magic ingredient or more specifically a whole recipe of them.
The book by British favourite James Graham is intelligent and cannot resist some very funny puns. It balances that humorous streak with insights into the world of theatre but also the human heart.
The story is then accompanied by music and lyrics from Take That heartthrob Gary Barlow and his long-time collaborator, Eliot Kennedy. In the early stages, this seems solid but not particularly memorable but, as the characters spread their wings (almost literally), it develops variety and imagination.
As well as giving Laura-Michelle Kelly the chance to exercise her lovely tonsils in "All That Matters", there is the delightful, Weil-like "Circus of My Mind" and a mock-Celtic delight in "Play". For those that like big show tunes, "Neverland" fits the bill, though its modern bounciness is somewhat incongruous in a Victorian setting.
However, Miss Paulus is less concerned about congruity than simultaneously telling a tale and surprising her audience. She has taken a straight story of love that veers towards tragedy and wilfully chose to direct it in some scenes as an eccentric absurdist comedy.
Though this takes a little getting used to, it does convey the flights of fancy that enabled Barrie to create a timeless classic that is still today helping the Great Ormond Street Children's Hospital to survive annual Government funding cuts.
The story itself smacks of controversy and scandal. Glee favourite Matthew Morrison plays Barrie with an odd accent that appears to hail from far further north than the man himself and can be unintelligible when poor miking intervenes. However, he acts and sings more than capably.
The twin impediments of writer's block and a demanding producer, Terrence Mann wittily portraying Charles Frohman, seek inspiration that is sorely lacking.
At risk to his marriage, Barrie befriends Miss Kelly's Sylvia Llewellyn Davies a glamorous, young widow with four demanding sons.
Spending increasing amounts of time with them, first in Kensington Gardens and then their home, the author begins to free his imagination and "borrows" ideas particularly from bookish second son Peter, Jackson Demott Hill at the performance reviewed.
He and the other three actors playing young family members make a good team, adding to the impact of a moving evening, as does a gorgeous big shaggy dog, who acts like a real pro as Porthos.
The result after 2½ hours is the joyous play that is still going strong around 115 years later.
In addition to the song, dance and storytelling, there is a series of really special effects of which Tinkerbell's travels around the theatre and flying children are undeniably good but the pirate ship and farewell of Sylvia truly unforgettable.
This version of Barrie's journey to Peter Pan uncovers love, tragedy and plenty of fun for all in a show that might just have what it takes to conquer New York and will certainly be a success when the inevitable London transfer comes along.
Reviewer: Philip Fisher