Fireworks (Al'ab Nariya)
Dalia Taha, Translated by Clem Naylor
Royal Court Theatre Upstairs
–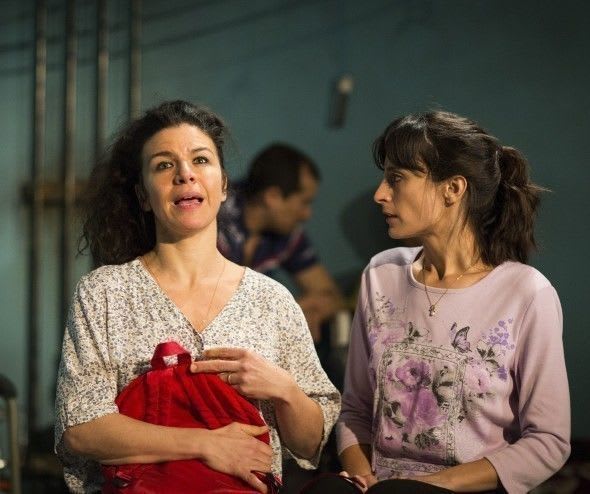 Fireworks (Al'ab Nariya) comes to the Royal Court from Palestine but its story can be seen as universal, speaking to and on behalf of those in far too many benighted countries where often internecine wars rage today.
Dalia Taha uses two families living in the same increasingly barren and derelict apartment building to express the harsh lives of so many of their compatriots.
Sirine Saba's Nahla suffers the fate that all mothers dread, having lost an infant son to what was apparently a random act by a soldier, though in her language it is martyrdom. It is no wonder that she is neurotic but thankfully her husband Khalid played by Saleh Bakri is patient and kind.
He also entertains and calms Lubna, their 11-year-old daughter confidently portrayed at the performance under review by Eden Nathenson, with inventive excuses for the tragedies that become part of everyday life. These include the fireworks of the title, which are his explanation of the nightly explosions that terrorise the family and all of their neighbours.
Their neighbours also struggle to come to terms with the stark difficulty of daily existence in a building that is all but abandoned.
George Karageorgis is Khalil who may be almost a teenager but acts like a child and is mollycoddled by Shereen Martin in the role of his fearful mother, Samar. As if that wasn't enough, she also has to humour her unemployed husband, Nabil Elouahabi as Ahmad.
Eventually frustration and a sense of impotence drive him to desperation and a bombless bomb plot that would be laughable, were it not so foolhardy with practically inevitable consequences that can only be bad.
Dalia Taha has written a gritty but poetic play translated by Clem Naylor that is seemingly apolitical, depicting the ways in which ordinary people are deprived of normal lives by a war that has little to do with them.
The power of an evening that smacks of real experience, thanks in part to the direction of Richard Twyman, lies in the subtlety of the writing.
Viewers will find themselves observing horrors beyond their wildest imaginations which occur amidst much smaller deprivations such as the lack of water, not to mention what is effectively permanent house arrest which the children are obliged to undergo in order to ensure that they do not get killed.
Fireworks could as easily have been set in some African or Baltic state as an unnamed town in the Palestinian part of Israel. As such, it should make those lucky enough to live in the relative stability of Western Europe think about how fortunate they are to enjoy basic rights to food, water, peace and life.
Reviewer: Philip Fisher