First ACT Shakespeare
Robert Pennant Jones
The Seven Stars Project
Released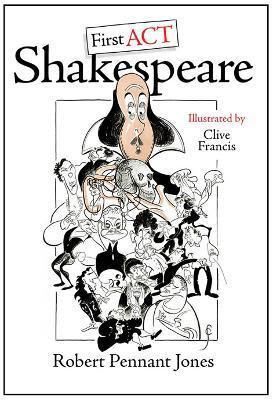 First ACT Shakespeare is based on a commendable philosophy summarised by the author as follows:
"ACT Shakespeare rather than SEE Shakespeare

SEE Shakespeare rather than READ Shakespeare

READ Shakespeare rather than IGNORE Shakespeare."
As his old university chum Sir Ian McKellen explains in the introduction, Robert Pennant Jones has been a devotee of William Shakespeare for over half a century. However, rather than following the path of a professional actor, he preferred to enjoy a business career while acting in and directing high quality productions that the author prefers to avoid describing as amateur dramatics.
He has now decided to share this wealth of experience in a book produced to the highest standards and beautifully illuminated by witty caricatures from yet another actor, Clive Francis.
Although at first glance, First ACT Shakespeare appears to be a general introduction to the works of the Bard, Pennant Jones clearly had a specific target audience in mind and the book is very much directed towards them. These will typically be young people obsessed by theatre and probably inclining towards directing or producing rather than acting. As such, the title may be a little misleading.
The first section of the book comprises analyses of all 37 (let's not get into that argument) plays in the canon. Typically, there is a breathless synopsis that never runs beyond a page, around three pages of thoughts regarding the production about which more below and what he describes as a card featuring vital information to those keen to put on productions such as the running time, numbers of cast members, sets and scenes.
The thoughts follow a strict formula that identifies three "cruxes", comments on how best to produce the show with particular reference to casting and design considerations and briefly refers to one or two iconic productions from the past.
Readers should be warned that, not unreasonably, the synopses are real spoilers for those who do not know the plots. They also tend to be highly personalised and, in some cases, opinionated enough to be regarded as controversial.
The chosen ordering of the most popular plays proves to be fascinating. This is based on sales figures from the RSC across a period of several decades. The author professes himself to be baffled as to why Hamlet only comes in at number five. The obvious conclusion is that, in its efforts to be even-handed, the RSC puts on far fewer than its fair share of Hamlets, although the preponderance of other productions from competitors might also limit the company's ability or willingness to pile in yet more.
Other surprises come with supposedly major plays, King Lear ranking below The Winter's Tale and The Tempest, Henry V and Richard III all failing to make the top 15.
To round off what is clearly an attempt to seduce youngsters into a lifelong passion for the works of the man from Stratford, there is a brief Shakespeare Sampler looking at memorable passages themed by topic.
Nobody could seek to dispute Robert Pennant Jones's obvious love for theatre and its greatest playwright. Therefore, he is a fine guide to those seeking to put on low-budget productions of the wondrous plays of William Shakespeare.
Reviewer: Philip Fisher