First Love
Samuel Beckett
Gare St Lazare Players Ireland
Arcola Theatre
–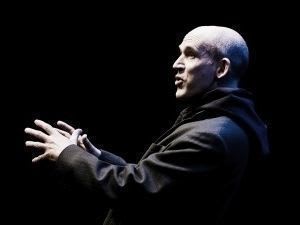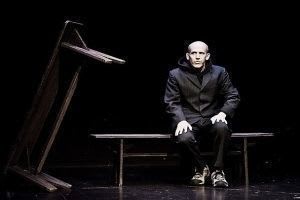 This Gare St Lazare Players Beckett monologue has been doing the rounds for some time, featuring in the Edinburgh Festival Fringe as far back as 2010.
As a programme note says, First Love was intended to be read, i.e. Beckett wrote it as a short story. Under the direction of Judy Hegarty Lovett, the quirky but very lovable Conor Lovett has therefore set himself the challenge of animating a piece that does not naturally lend itself to a stage presentation.
The story is an unorthodox, existential investigation of death, love and life seen through the eyes of a hesitant loner, brought to life through the highly accomplished actor's presentational skills.
Following his literal eviction from the family home as a result of the death of his father, the unnamed narrator spends a considerable amount of time on a Dublin park bench.
There, he not so much meets as is invaded by the mildly glamorous Lulu who, part-way through the story, takes on a new persona as Anna.
She invites him home and, soon afterwards to share her two-bedroom flat. There, the eccentric visitor who is not given to friendship, let alone partnership remains determinedly independent through a series of minor events, none of which is overly dramatic.
The discovery of his putative wife's profession and its minimal impact on his equilibrium is probably the evening's high point.
A big question that anyone attending the opening night would have is whether any of the long hesitations and desperate uncertainties so capably conveyed were those of an actor who was struggling with his lines rather than a character unsuited to the vicissitudes of this complicated world.
In any event, the main attraction of the 80 minutes is an opportunity to see a consummate Irish actor infusing an intentionally obfuscating short story with enough personality to turn it into a worthwhile theatrical event.
Fans of this company will also be delighted to learn that Conor Lovett will be reprising his breathtaking performance in Will Eno's Title and Deed from this year's Edinburgh Festival at the new Print Room this coming January.
Reviewer: Philip Fisher