First Lady Suite
Michael John LaChiusa
Take Note Theatre
Union Theatre, Southwark
(2009)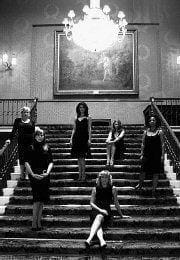 First Lady Suite is a chamber musical on the subject of what it means to find oneself in the role of First Lady covering, in reverse chronological order, those who had the job from Jackie Kennedy to Eleanor Roosevelt. There isn't any obvious explanation as to why LaChiusa has chosen to start and finish with those particular ladies, but the piece holds together well enough with a prologue and epilogue (much needed and added after the 1993 premier) that provide an anthemic embrace.
As a European through and through I have no innate respect or fondness for America's First Ladies, and as LaChiusa doesn't make use of rose-tinted spectacles in his examination of them, I struggle to like or care for any of them. I also struggle to understand his choice of which of their characteristics to bring to the fore.
The first of the Ladies to come under the spotlight is Jackie Kennedy. In this passage LaChiusa uses a dream sequence during which Jackie Kennedy's Personal Secretary has a prescient vision of the historic fatal motorcade, and when Jackie Kennedy appears she does so as a hollow and deranged figure. This lies uneasily with the common understanding of this educated and capable woman and such juxtaposition needs to be more obviously purposeful.
The representation of Bess Truman is also a bit of a puzzle. Known affectionately as "The Boss", she was known to influence the decisions of the President and given that it was under his watch that atomic bombs were dropped on Hiroshima and Nagasaki, why is Bess Truman the one picked out to be played in drag and ridiculed as an overbearing mother?
LaChiusa takes huge liberties with the book, combining fiction, fact and speculation and launching the mixture into surreal settings: he offers 'back to the future' time-travelling meetings between Mamie Eisenhower and opera star Marian Anderson, and wing-walking on Amelia Earhart's flight over Washington with Eleanor Roosevelt. In an overlong piece this degree of patience is a 'big ask' of the audience, particularly when the end result is un-insightful.
On the other hand ... As lyricist, although LaChiusa has a tendency to overuse repetition and fall back on clichés, as with the composition, First Lady Suite shows a huge talent in development. The architecture of the songs is complex and even though some is musically un-engaging there are some passages which are striking, and I can understand why LaChiusa was being hailed as a flag bearer in a post-Sondheim era when this early work of his was given its first airings.
This is a show that needs to be heard in its entirety because what starts as a conceit develops into something more satisfying, particularly thanks to the strong cast assembled by director Rania Jumaily. Claire Machin delivers musical theatre turn "Where's Mamie?" (Eisenhower) with a hint of a slightly batty Ethel Merman and covers the emotional and vocal range beautifully, standing tall against the stunning soprano skill of Annabelle Williams in their duet.
Poppy Tierney sings strongly in the character of Hick, Eleanor Roosevelt's uncertain lover, and has a marathon task in "Eleanor Sleeps Here". In this prolonged piece she has a lengthy monologue and a stirring duet with Eleanor (Virgine Gilchrist), before a scene with Amelia Earhart (tenderly sung by Robine Landi) and back to the monologue.
Abi Finley sings well as Jackie Kennedy's put-upon Personal Secretary and Alex McNamara gives a well-timed comic account as Bess Truman, and supports as Dwight.
Libby Lee's set design was aptly simplicity itself and Jumaily made good use of the open space, though, thanks to a column, I am sorry to have missed seeing Virgine Gilchrist's terrific sounding duet.
First Lady Suite needs to be cut by half an hour so, if you're tempted, I recommend you go for the performances and not solely for the piece itself. Oh, and don't sit near a column!
"First Lady Suite" runs until 17 October
Reviewer: Sandra Giorgetti