Like a Fishbone
Anthony Weigh
Bush Theatre
(2010)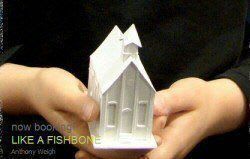 Like a Fishbone is sub-titled "An Argument and an Architect's Model" and that pretty much sums up this sometimes intense 75 minute drama.
In fact, drama is almost a misnomer, as what Australian writer Anthony Weigh has created is more a philosophical and theological debate than a fully-fledged play.
However, this does not detract from some powerful acting under the direction of Josie Rourke, who has her work cut out, as this author seems to have a phobia about ending sentences. He also prefers to leave his characters anonymous.
The conversations take place in an influential architect's stylish office, created with loving precision by designer Lucy Osborne, in which the main focal point is an illuminated model of a small town.
The Architect, played by Deborah Findlay, is surprised on the night of a major presentation to discover a bedraggled woman from far away, movingly portrayed by Sarah Smart. The visitor is clearly from a different social stratum and, it soon becomes clear, is blind but has other gifts to compensate.
In short bursts of speech, the pair spectacularly fail to communicate, as they politely toy with each other and we slowly piece together the tragic backstory.
The architect is building a memorial to children slaughtered in a school massacre. The woman is the mother of a victim. Their failure to gel is eventually centred on a verbal joust about faith and its place in society, with the roles chosen by the two women unexpected in the circumstances.
Like a Fishbone relies heavily on symbolism and can come across rather too much like a worthy exercise in psychoanalysis of polar opposites. Even so, thanks to the two leading actors and the strained situation, it becomes something more, as you start to care about the vacuity of the existence of the woman who has it all but feels trapped and admire the faith of her doubly deprived but divinely inspired antithesis.
A little levity is injected by Phoebe Waller-Bridge's "baby" architect, an enthusiastic intern who somehow avoids the need to referee the verbal fisticuffs but does at least pour oil (and make-up) on troubled waters.
If your idea of a good night out is an action-packed thriller or raucous comedy, stay away. However, if a slow-burning, cerebral workout subtly turning the spotlight on to contemporary society and its values appeals, this might be just the thing.
Reviewer: Philip Fisher