FLA.CO.MEN
Direction, choreography and dance Israel Galván
Flamenco Festival
Sadler's Wells
–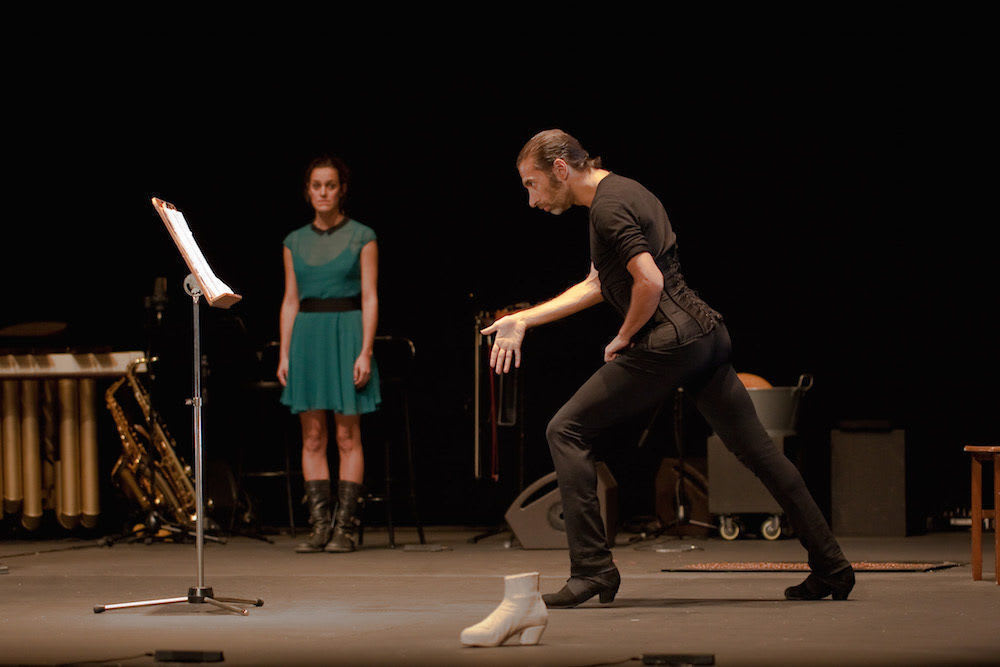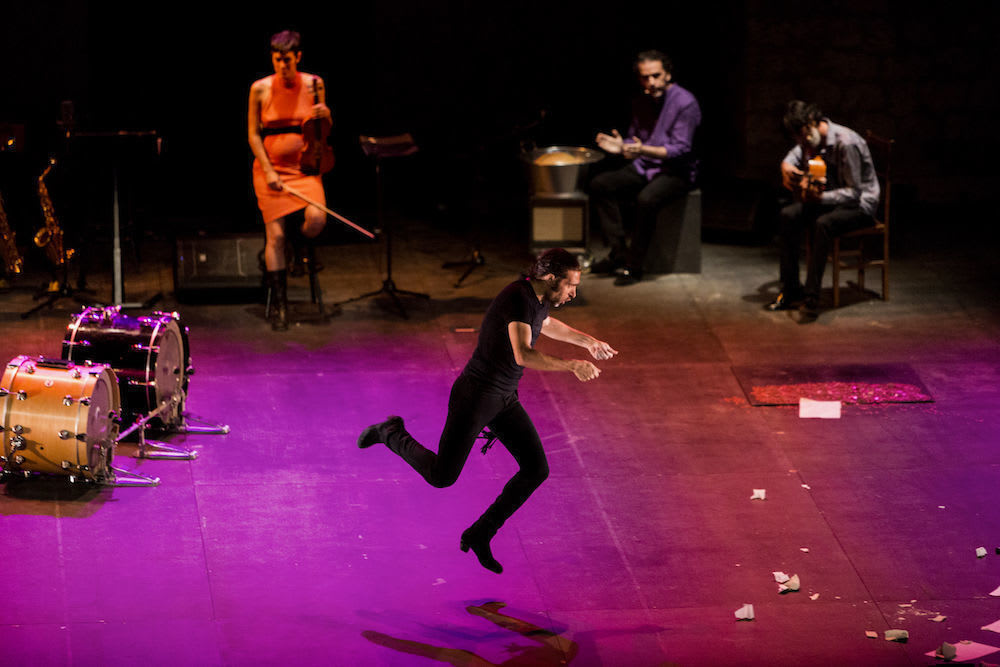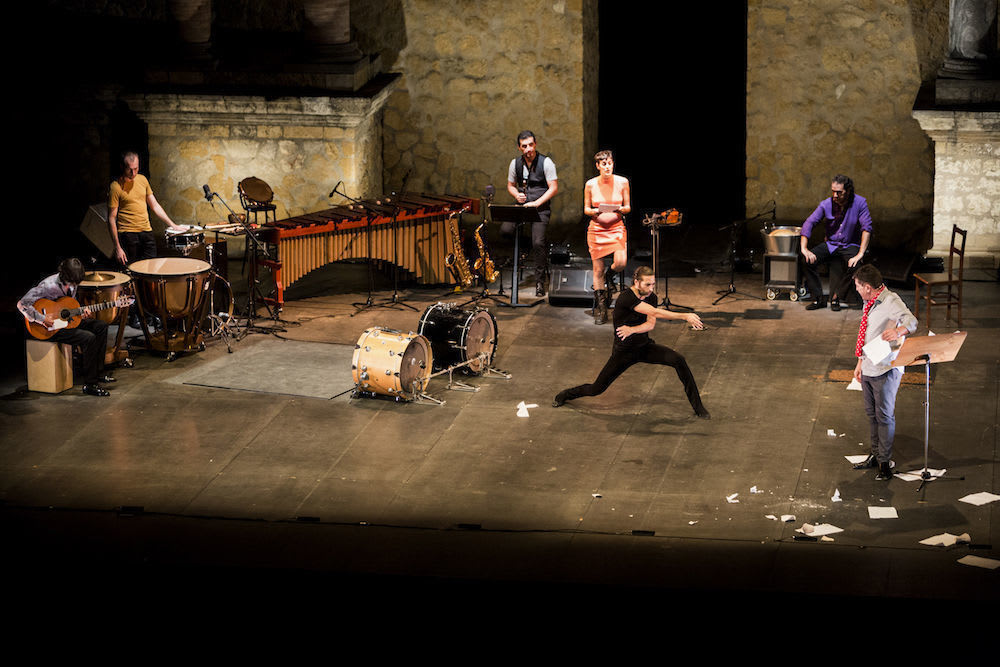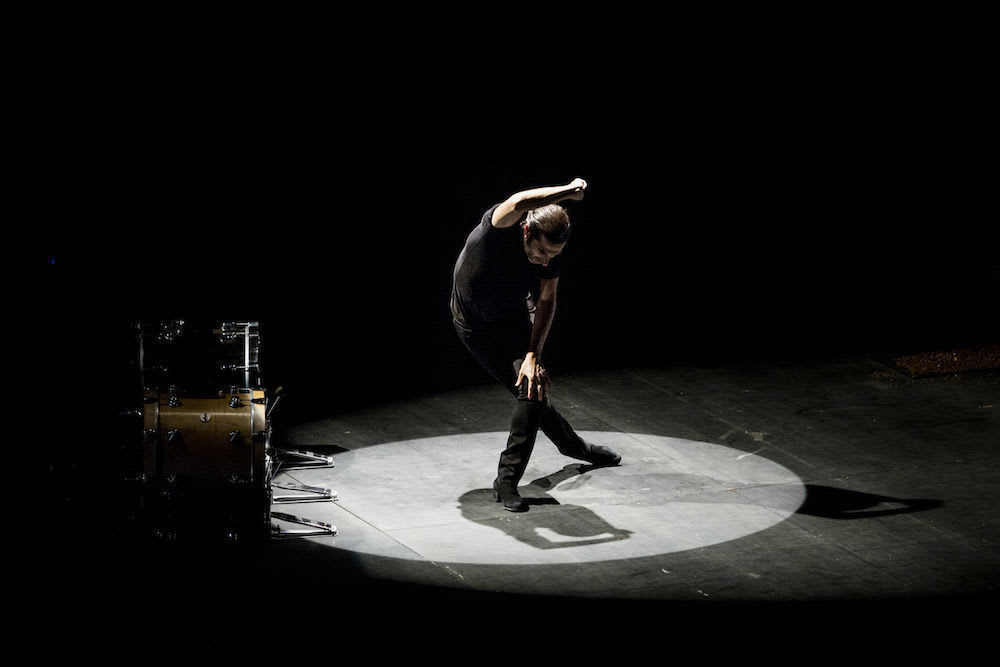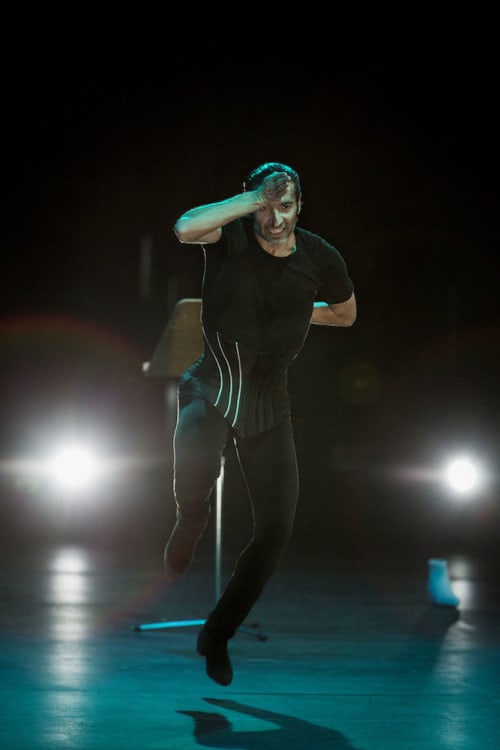 What does a Flamenco Festival conjure? Wrong! It The Flamenco Festival London, which runs from Wednesday 15 to Sunday 26 February, opened last night with FLA.CO.MEN, an eccentric, esoteric ninety minutes of deconstructed dance and music from the charismatic Israel Galván pushing boundaries of flamenco, and testing not only its limits but our patience—his ninety minutes overruns by fifteen.
Can't get him off, which is not a bad thing—he wants to stay and play… He gets a standing ovation. Maybe it's for the traditional white and red polka dot dress he dons in the final moments. Male/female, androgyny, transgender, trans-dance, he can do it all.
One might call him the Picasso of dance, for who can subvert conventional form but someone at the peak of his talent and skill? Or call him Jackson Pollock, for abstract expressionism is the order of the evening. Flamenco as freeform jazz... His multi-talented band of musicians is on board for the jamming session.
"It's all about the music" his notes read, but I'd say it's all about the beat. Percussion plays the major part: his feet, shod and naked, beating the ground, beating the drum, on sound boxes, on amplified boards, on what sounds like broken glass, and down and dirty with the audience, seducing the front row, baring his shoulder. Of course everything is an echo chamber, his barrel chest, too.
Shuffling the pack of elements in FLA.CO.MEN, he opens with what looks like a rehearsal or a run-through of his intentions. Dressed all in black, and white apron (a workman and his trade), he flicks through notation on a music stand, marking moves. A natural showman, this plays well, he wants to amuse. Every surface has its own resonance, even an apron.
But when he takes a pause and the silences fall and an empty stage is all we have, restlessness and puzzlement sets in. Someone shouts baila, dance in the imperative, in the sense of get on with it. When the house lights go out, and we sit in the dark listening to his percussive progress round the auditorium (goodnight someone calls out good naturedly), are we indulging him, a child run wild?
Slowly it dawns, he is at home in some outdoor square or arena, playing with his crowd, attracting some, provoking others, call and response. Lights come up, this is a two-way process, we matter, and everything is possible. Apron off, he dons a black corset, and what elegant balletic arms and expressive hands he has.
He's making an omelette, his violin player, Eloísa Cantón, shouts. And for that you have to break some eggs. Flamenco components are there in his visionary configuration. It's up to us to work it out. Intellectually stimulating it may be, but it doesn't get me in the gut.
He smashes a white pottery flamenco shoe, stamps on it. The shards of flamenco fly apart. The symbolic shock of the new. Why humour his quirks and experiments? Because he has the most amazing form. Subverting it is the next step, a challenge to himself and us. Did his work with Akram Khan set him on this road, for I see Khan's influence here especially in his bare feet rhythms.
Control, speed, precision footwork, slick turns, electrifying moves and clownish drumbeat duels with his drummer. But the unstructured chaos undermines and frustrates, too. I watch and listen, and try to understand this dissonant display—I think it will require several viewings.
Reviewer: Vera Liber