Flight Path
David Watson
The Bush Theatre and Out of Joint
Bush Theatre
(2007)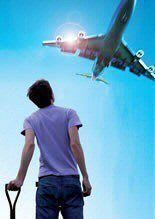 Five years ago, as part of their Young Writers Season, the Royal Court gave a 17-year-old prodigy called David Watson a dream cast (for the record, Daniel Mays, Rafe Spall and Sian Brooke) for his debut play, Just a Bloke. The promising youngster promptly disappeared, presumably to sit his A-levels and go to university.
The new artistic director at the Bush Josie Rourke has bravely paired Watson, now in his early 20s with an almost untried young director, Naomi Jones, for the first play under her leadership.
This is a tremendous statement to make about new writing and Flight Path, which is co-produced with Out Of Joint, might have its faults but justifies the confidence that Miss Rourke has put in David Watson and augurs well for the future of the Bush post-Mike Bradwell.
Flight Path, which has an autobiographical feel to it, shares all of the strengths but also some of the weaknesses of the earlier work. David Watson's real talent is to create living youngsters on stage whom you feel could step straight off it into life. Their speech patterns, particularly the sentences that never end and semi-West Indian patois are perfectly rendered, which is also a tribute to a team of fine young actors.
The play follows the complicated life of Jonathan, played by Cary Crankson. As the marriage of this young Londoner's parents' breaks up, he has to sit his A-levels, look after his autistic brother Daniel (Scott Swadkins making a highly promising and extremely funny professional stage debut) and hold down a job unloading luggage at the airport.
As if this was not enough for any teenager, Jonathan also gets embroiled in the mad, moneymaking ideas of his old school pal, Jason Maza's Joe. These involve breaking and entering, an appropriate hobby for Joe, the first Asbo-bearing stage character that this reviewer has seen, but surely not the last.
Joe is more than a little unstable and his relationship with the far more intelligent Jonathan is not helped when the former's pretty girlfriend Lauren, played by Ashley Madekwa, decides that she prefers the relative stability of the prospective student to a loser for whom a life behind bars beckons.
Through a period of about a year, we follow the ups and downs of Jonathan's life but also of those around him. Daniel, like Elling at the Bush and then in the West End earlier in the year, takes time to come to terms with the real world after lengthy spells in an institution and this makes things difficult not only for Jonathan but also his mother Susan (Mossie Smith) who is still seething at her husband's desertion.
Jonathan goes through his own crises but with the support of the two women in his life and rather more unexpectedly his brother, all comes out well in the end, nicely symbolised by the opening up of Polly Sullivan's seemingly drab set, to reveal a hidden secret.
Flight Path is far from a perfect play, with a desperate need to have a few of the plot lines pruned and father given a character, but, once again, this 90 minute comedy shows a young playwright of tremendous promise, working with a director who might also have a bright future.
Anyone who can write naturalistic dialogue this good deserves all the encouragement that they can get. We will hear much more of David Watson and one sincerely hopes that it will not be another five years until his next London production.
Allison Vale reviewed this production on tour at the Sherman Cymru Theatre, Cardiff
Reviewer: Philip Fisher