Flightpath
James Burke
Brief Palava
The Jack Studio Theatre
–

Listing details and ticket info...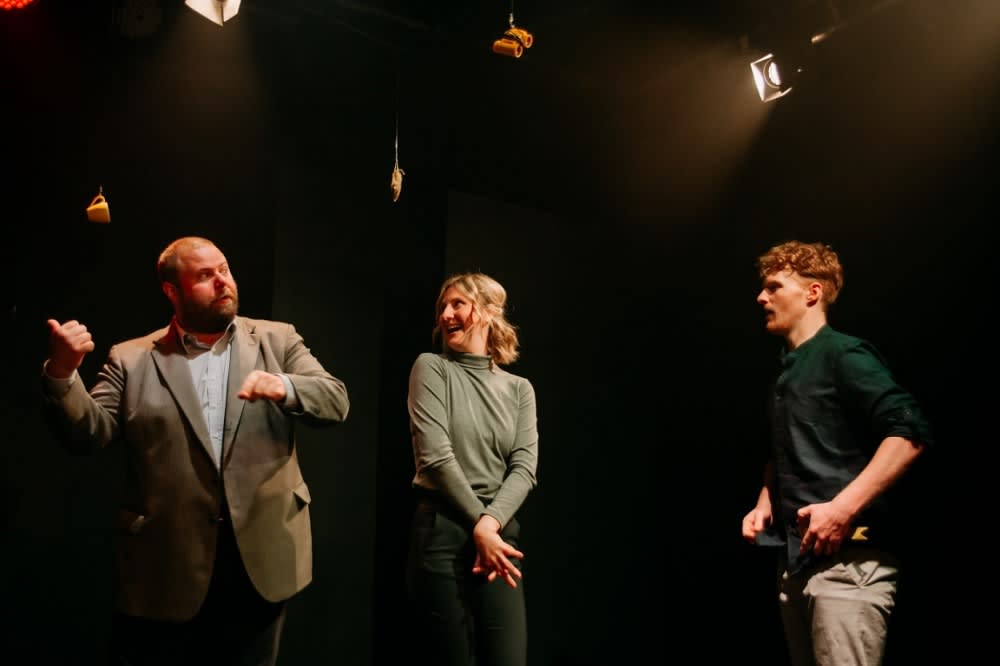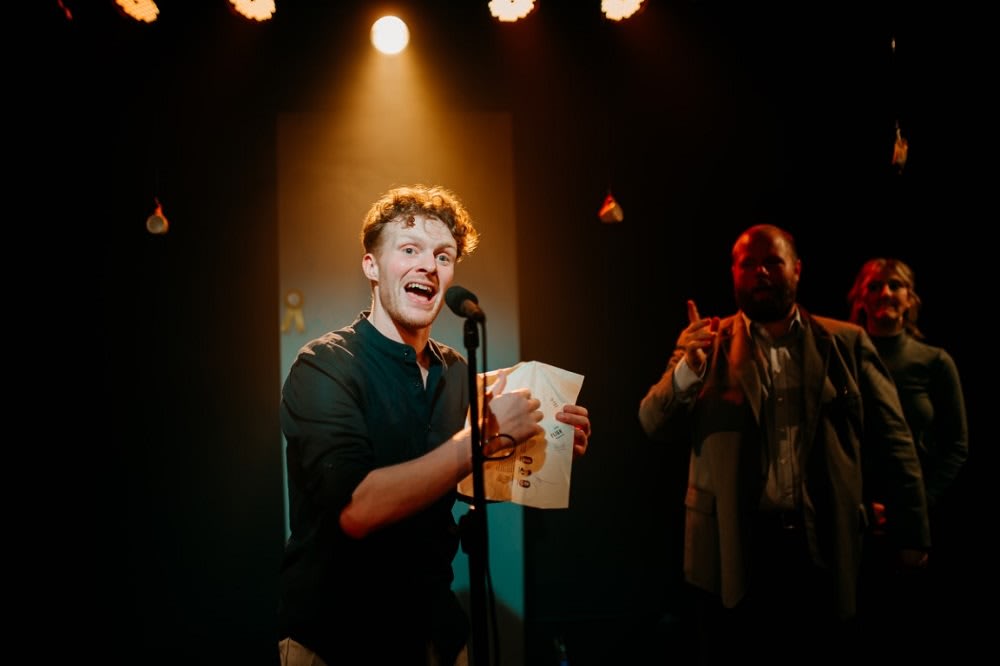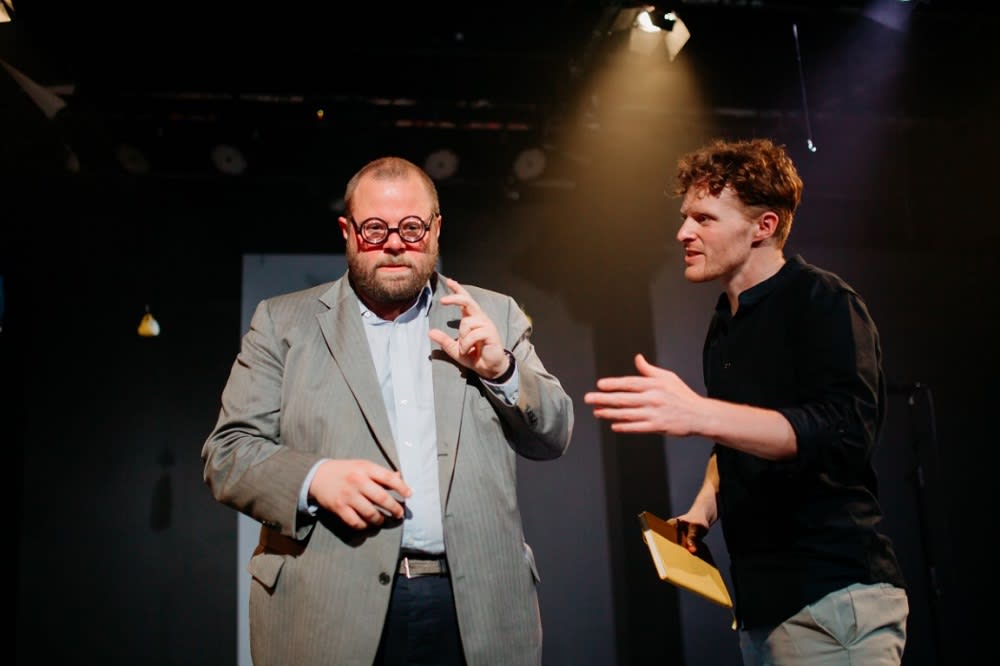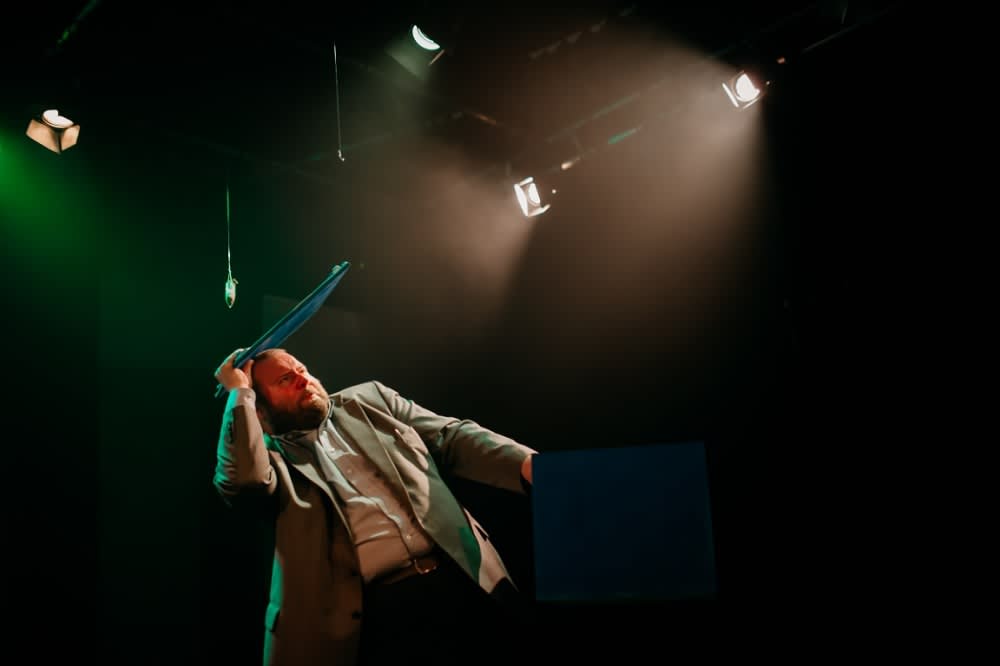 When a theatre poster says When God Gives You Gravity, Make Lemonade, you know that you are in for something surreal, and so it is with Flightpath, a funny play performed by its writer James Burke and the equally energetic and comic Kelly Davie and Derek Jeck.
On the surface, it is plain bananas; it has multiple short scenes in many locations, jumping back and forth through time, with three actors adopting different accents to portray very numerous characters.
Not much of it makes a huge amount of sense until the end. Even then, I think it is likely that just how much and what sense it makes will depend on how the play's constituent parts eventually coalesce for each individual.
The May Pole of a plot around which the scenes dance is a man wearing only a paper suit falling out of the sky and, having travelled through the air inexplicably fast, is rendered unidentifiable.
How, why and whence he fell is a mystery, one which captivates Tim, a reporter for an aeronautical magazine. In trying to piece together what happened, he reaches an implausible conclusion. Or is it?
At the time of watching the play, I thought many of the its short scenes were a collection of true-ish random events that have happened in different places over the centuries which individually or collectively have led to the anonymous man falling from the clouds.
The remaining scenes, being an amalgam of contemporary research, personal memories, and snippets of information in Tim's brain, were a strangely un-sticky glue to hold it all together.
Or perhaps they are all those things bouncing around his head, as he tries to square the circle that is the enigmatic man that falls mysteriously from the sky.
My logical brain looked for any port in the storm and clutched at a recurring phrase in the dialogue: 'the order of things'.
This has to be 'a thing' I thought to myself, feeling compelled to Google it. It turns out that Michel Foucault (the philosopher, not he of the pendulum, that was Léon, also French but a physicist) wrote a book called The Order Of Things which, paraphrasing Wikipedia, says there are different ways of thinking about truth and discourse which impact on what ideas it may be possible to only imagine and what ideas one can affirm as true. Could this be the key or could it be a red herring and my brain is as joyously scrambled as the narrative arc?
In the end, I do not think I am any the wiser about the provenance of the many vignettes that make up this funny play, but as Tim says, sometimes things just don't make sense.
If you go to The Jack Studio Theatre to see Flightpath, your brain will experience some turbulence; for maximum enjoyment keep your seatbelt fastened and listen to Tim—trust what you feel, not what you think you should know—he knows what he's talking about. I think.
Reviewer: Sandra Giorgetti