Flow
Choreography by Hubert Essakow
An International Dance Première
The Print Room
–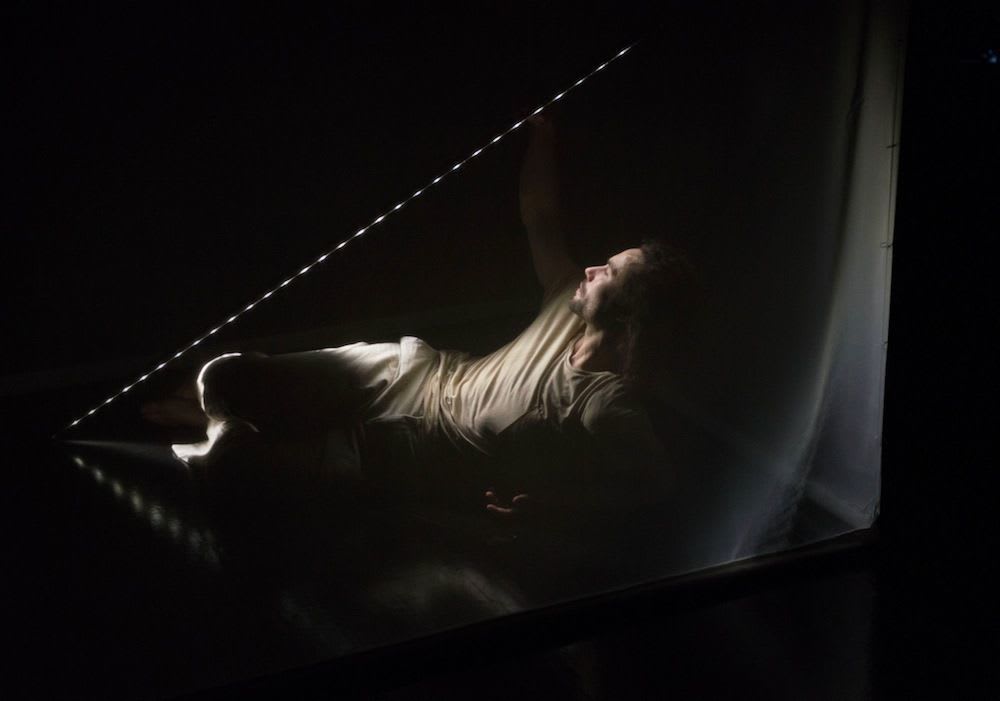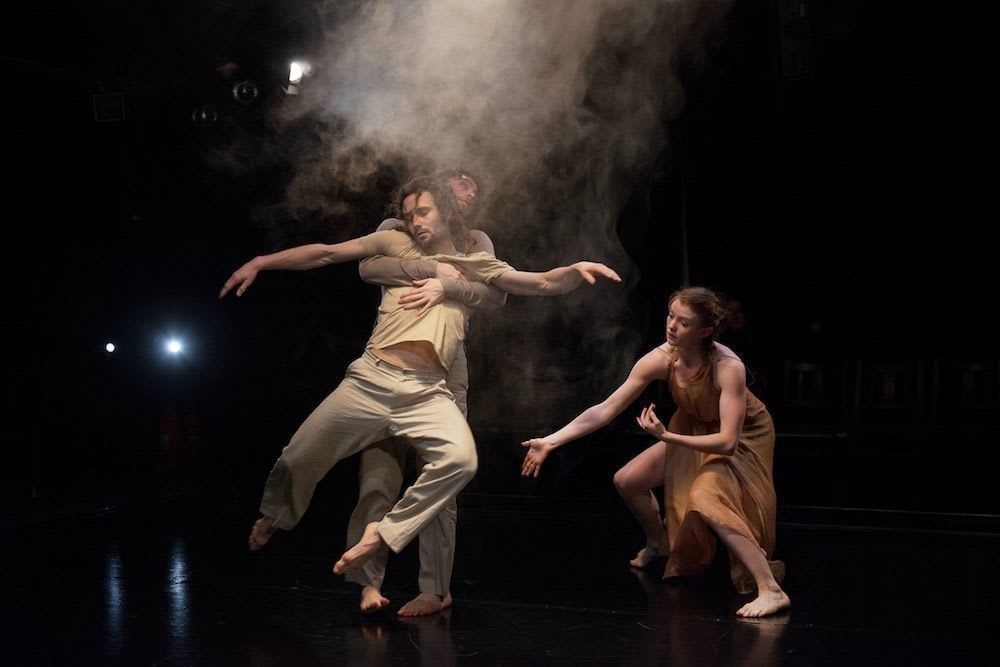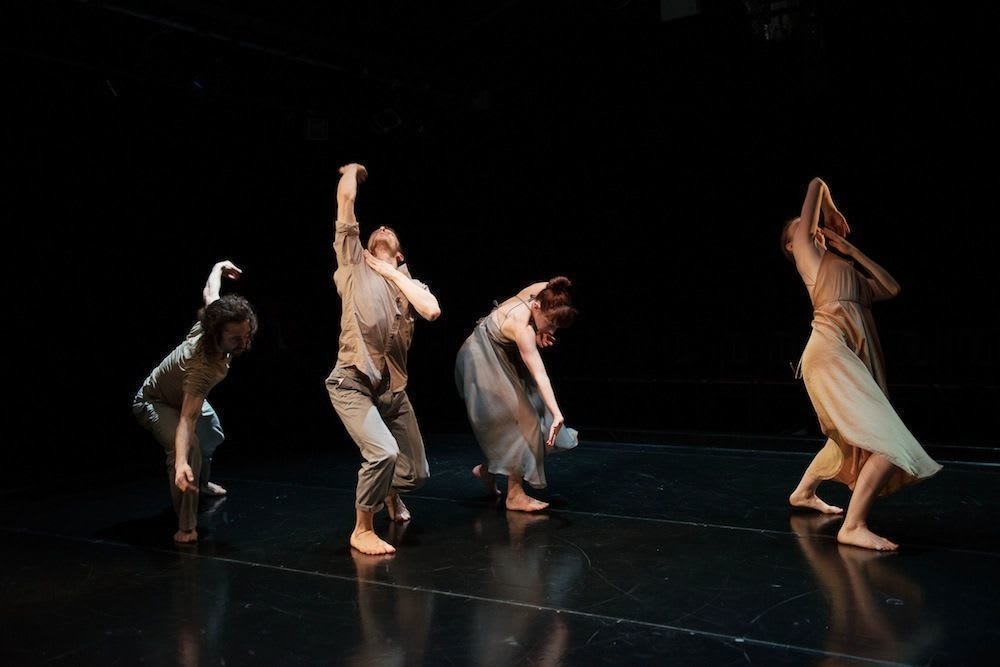 A black space, an expectant audience in black plastic bin liner bibs seated on the fifty/sixty chairs hugging the walls around the room, a black PVC-lined square pit in the centre, inside that a white Kaaba enclosed by a transparent mosquito net / shower curtain—a cuboid block of ice, apparently.
An art installation? The Print Room under new artistic director Anda Winters is blurring the boundaries. Upstairs Hugo Glendinning's photographs of Flow and Jealousy (the Flow team's former work) are on display.
Not quite, though it might benefit from the promenade dip in dip out of an art show, Flow is a fifty-minute dance theatre number about water, its many forms, its vital qualities and its misuse, its abundance and its scarcity, produced by a multi-cast of creatives.
A man (Thomasin Gülgeç) stirs inside the encasing block—Ötzi the Iceman? Remember Simon McBurney's Mnemonic? A light stick glows inside the block; shadows play on its walls, a captivating image. A shower of electronic sound. The man duets with his light stick. Gülgeç, Rambert trained, has performed with Russell Maliphant and Akram Khan, and it shows.
The curtain lifts (the block melts), the man emerges, and the narrative (dramaturg Dan Ayling) takes off. Two men (Kieran Stoneley and Daniel Hay-Gordon) and two women (Sonya Cullingford and Simone Muller Lotz) join the man, and measure the space, make contact, solemn, troubled, uneasy under dappled lights, to ethereal music, repetitive, insistent.
Jenny Holzer-like light projections scroll on the 'block of ice'… Serious statements about water pollution: Thames Water c**ts (sic), which raises a laugh, botulism, cholera, dysentery, Hepatitis A, but the eye is distracted by the conflicting movements, washing gestures, nodding donkey pump actions.
Dry ice vapour escapes the muslin curtain, dancers talk about what water means to them, Daniel Hay-Gordon (recently seen with Fiona Shaw in The Rime of the Ancient Mariner) the most charismatic in his bucket boat and stick oar, sailing the seas for twenty-four years.
And a poem is heard—Water Chant by Richard Thomas—a child-like stringing together of clichéd water phrases, proverbs, and sayings. Earnest child's play this is. Water pumps into the square from all four corners, and rain falls from on high.
Thunder roars, heavy bass beats pulsate, water nymphs spin and shake, roll and splash, slither and slide until they collapse drenched (as are we, baptised by their actions), mayflies that have had their day, flotsam and jetsam. A limpid liquid cello sees the last man out.
Drawing on the many influences and experiences of the artists involved, on the combined talents of Matthew Eagland (lighting), Kitty McMahon (projections), Andy Marlow (sound design), 'waterist' visual artist Mario Borza, dance only one of the elements in Tom Dixon's overall design concept, Flow has ambition.
Peter Gregson's original haunting composition for cello, piano and electronics marries by chance, like Cage with Cunningham, with Hubert Essakow's tentative choreography.
This highly collaborative dance theatre production would fit neatly into many a gallery space and group show, not least the Hayward Gallery's current Light Show. Or the Tate Modern Tanks Art in Action.
Anthony Gormley's Blind Light (2007), Random International's Rain Room at the Barbican, Akram Khan, Russell Maliphant, Laban's Transitions and Merce Cunningham, the connections keep on coming. Much to live up to...
Water imagery, its range of movements, flowing, gushing, trickling, pounding, life-giver and life-taker, attracts choreographers, but is deceptively difficult to convey. In their flimsy dresses, the two women come closest, Simone Muller Lotz in the lyric fluidity of her arms, and sweet-faced Sonya Cullingford with her intense conviction.
Reviewer: Vera Liber