Flowers
Duncan Hallis and Cory Tucker
Big Loop Theatre Cimpany
Chapter, Cardiff
–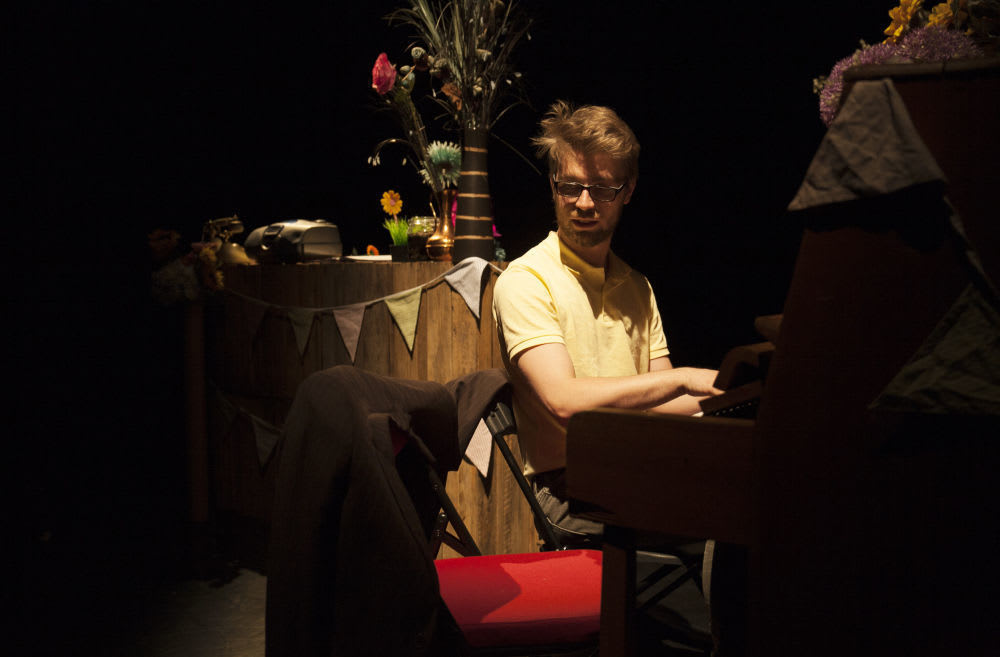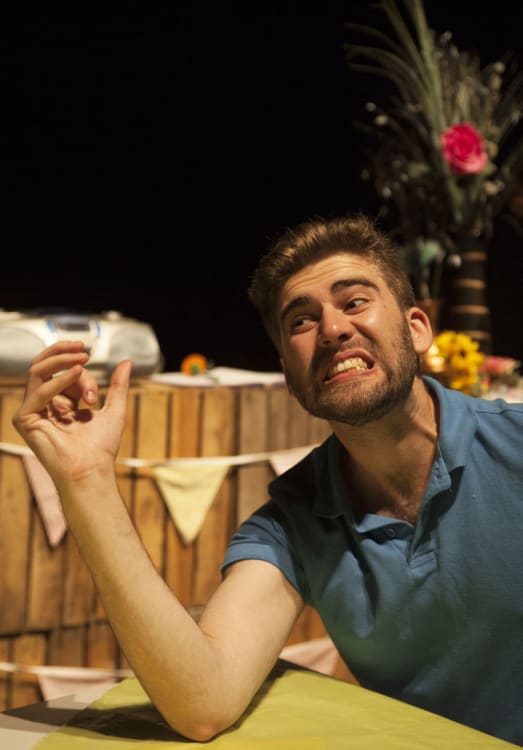 Big Loop is a young theatre company, formed by recent drama graduates from the University of South Wales. Flowers is their most high-profile production to date, the press night show attracting a more than respectable audience in the main space at Chapter. It was also election night; did I sense a desire to avoid weighty issues?
We troop in as florally-themed songs play over the speakers: "Daisy, Daisy", "Lavender Blue", "Flowers In the Rain", the whimsical tone of the piece being set by the final tune: Tiny Tim's "Tiptoe Through The Tulips".
The colourful flower-shop set is simple but effective; as well as a beautifully decorated sales desk and table display, there is also a piano, a wheelchair re-purposed as a dressing-up box, and an elegant mannequin, whom we later learn is called Maggie.
The action commences with Danny—Duncan Hallis—greeting Cory Tucker's customer, and taking his unusual request in his stride. The customer then leaves, only to return seconds later, having done a quick costume-change, and takes on another role, then another, each with increasingly improbable requirements. Danny and the customer—his brother Billy, as it transpires—then start to swap roles.
We realise that this is a long-standing game being played by two immature young men who, for some reason, have the run of an apparently flourishing floristry business. So far, so amusingly inconsequential.
At a certain point, however, the shallowness dissipates. With the help of a coat and a mop, the boys evoke the memory of their loving mother, who seems to have mysteriously abandoned them.
Then there is their father (a jacket and a sweeping-brush), who apparently left some time before their mother, and may have had issues with alcohol. Danny and Billy play out past arguments and reconciliations between their parents (there is an unexpectedly robust sex scene) but the precise nature of their abandonment remains unclear.
The brothers bicker, but seem resigned to their co-dependency. Danny is apparently bitter at having been forced to spend his childhood learning about flowers from his mother, while Billy is resentful at his father's insistence that he learn the piano. And they seem to have no relationships outside this hermetic floristry.
Under the direction of Rosie Jones, the action is fluent, with the tonal shifts adeptly handled. The physical humour is well judged, but some of the verbal jokes fail to land; one does believe in Hallis and Tucker's fraternal chemistry, however.
Flowers seems to be all about facing up to loss, and coping with the demands of adulthood; the piece concludes with a nod towards maturity and responsibility. This is silliness in the service of an ambitious vision; subtly serious fun.
Reviewer: Othniel Smith