The Flying Dutchman
Richard Wagner
Welsh National Opera
Bristol Hippodrome
(2006)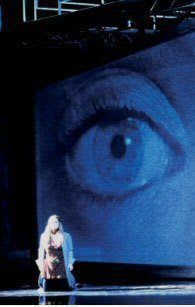 An expectant hush froze the crowded Bristol Hippodrome on Friday as WNO company manager Ian Douglas strode onto the stage.
Robert Hayward, already a fine Wotan for ENO, who was to have sung the role of the Dutchman for the first time in his career, was suffering with a severe cold and unable to appear. "However, we have found a deputy," said Mr Douglas pausing tantalisingly, "another Welshman – Bryn Terfel!"
The house erupted, gasps mingling with screams of delight. With all respect to Robert Hayward whose time will undoubtedly come, Terfel it was who opened this David Pountney production at the Wales Millenium Centre in Cardiff six weeks ago and who has since repeated it there and at the London Coliseum.
Terfel, certainly in Wales, is the man of the moment. His last-minute appearance at Bristol demonstrated the significance of that moment and his performance seems to work the rare magic of inspiring the whole company to surpass themselves.
Gidon Saks, a bass-baritone who is building a range of strong roles, is a stout captain Darland , seeking refuge from the storm to find the Dutchman's ghostly vessel dropping anchor alongside. Here is the voice of the authority of the sea whose confidence is challenged by the mysterious fellow master offering him strange wealth for the hand of his daughter.
Swedish soprano Annalena Persson (Senta) is a Wagnarian heroine of power and character, as well as beauty, who is at her most engaging in the duet with the Dutchman as they share their matching fantasies.
Terfel, singing the complex role of a tormented soul with an ease remarkable even for him,, is superb in the duet with Senta at the conclusion of Act 2. And there is some fine lyrical singing from Ian Story as the luckless childhood sweetheart, Eric - and an outstanding contribution from the male chorus trained by Donald Nally.
Under Carlo Rizzi the orchestra give a brilliant account of a young Wagner's description of the sea in all its moods. The score has all the excitement of a 'forties Hollywood adventure with drama to match.
Underwater settings by Robert Innes Hopkins are at times as distracting as they are original, resembling the underwater camera work of a Titanic survey. Pountney's production, however, is more than a match for them, even though we often wish he would allow us all to concentrate on the music and singing.
Yet there is no denying the effectiveness of the final scene as Senta's sacrifice brings the Dutchman's long torment to an end and the two are united in death beneath the waves.
The production will be staged at Milton Keynes on 30th March, at Liverpool Empire on 4th April and at Swansea Grand on 15th April.
Reviewer: Kevin Catchpole