The Flying Karamazov Brothers
Book by Paul Magid and The Flying Karamazov Brothers, music by Mark Ettinger, Doug Wieselman, Howard Patterson and Stephen Bent
Produced by Paul Magid and Roy and Jenny Niederhoffer
Vaudeville Theatre
(2011)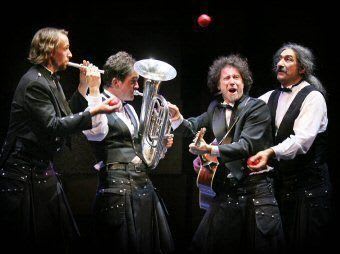 The Flying Karamazov Brothers is nothing to do with the dark Dostoyevsky work of similar title though the siblings share the same names. The four brothers in this instance are a team of four multi-skilled head-cases who juggle, sing, play instruments, juggle, tell jokes, dance, bounce balls, juggle again and are generally frolicsome in tutus, sou'westers and kilts. A unique and energetic mix by anyone's standards.
This is a generally fast-moving physical entertainment with a constantly changing visual, and is great theatre for the summer holidays being intellectually insubstantial and lots of fun. It has family appeal, especially if you have a foreign exchange student in tow who needs taking to London. Suitable for anyone whose age is in double figures, and even if juggling is not their thing, the Brothers would challenge the sulkiest of teenagers not to be impressed with some aspect of their skills - and the humour is pitched pretty low most of the time.
In all things physical the Brothers demonstrate an expert's ability to make the complex look easy and the well-rehearsed look spontaneous. Their improvised comedy works well, sometimes better than the scripted: a punch line involving a plastic rodent called Herbert, "You dirty Brother, you killed my rat", deserved more than the two-person groan it got, but is indicative of how their well-educated references, stories and throw-away lines are vulnerable to being left uncaught by an audience of un-matched demographic. This is a show where the text fails to reach the parts the daring-do does.
It's a little bit potty but the foursome - Mark Ettinger, Rod Kimball, Paul Magid and Stephen Bent - are very amiable and hugely entertaining, providing probably the most mischievous night out to be had in the West End. Their antics are backed up by an eclectic choice of music from Lady Gaga to Grieg and proficiently-delivered, effective lighting.
At a little over 90 minutes you're likely to be charmed by the virtuoso skills of the Brothers and pleasantly exhausted by the non-stop antics and just possibly rather tempted to try some juggling yourself.
"The Flying Karamazov Brothers" is booking until 10th September 2011
Visit our sponsor 1st 4 London Theatre to book tickets for The Flying Karamazov Brothers
Reviewer: Sandra Giorgetti