Folk
Caroline Finn, Alexander Ekman, Johan Inger
National Dance Company Wales
Sherman Cymru
–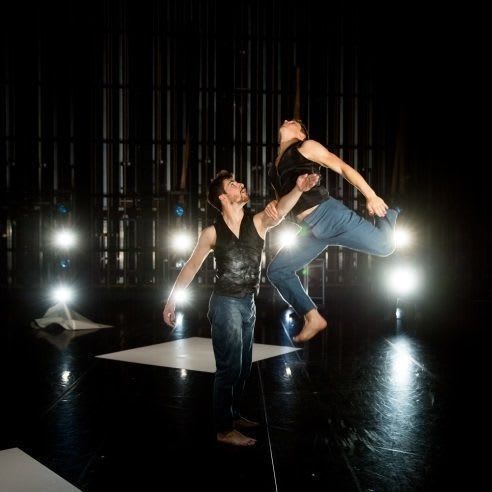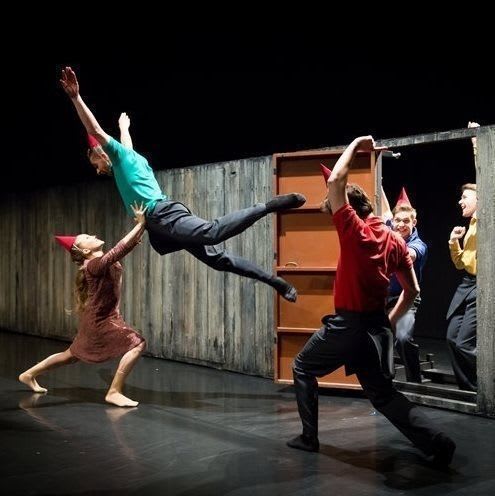 I can't claim to have any great knowledge of or expertise in modern dance. The opportunity to experience a performance by National Contemporary Dance Wales, however, under new artistic director Caroline Finn, seemed too intriguing to pass up.
Finn's Folk is the main attraction, being performed, on this national tour, in conjunction with a selection of other pieces from their repertoire; on the Cardiff date, these were Johan Inger's Walking Mad, and Tuplet choreographed by Alexander Ekman.
The evening begins strikingly, with a young man in a trilby descending the steps of the auditorium, making his way onto the stage and appearing to lift the curtain, revealing a bare performance space which is soon occupied by the broad fence which dominates the set. This is Walking Mad, for which Inger is designer as well as choreographer.
Sound-tracked by Ravel's Bolero, we witness a love duet which appears to paint a troubled picture. The following segments involve the ensemble as a whole, nine dancers in total (six male, three female); one involving a laddish group in party hats seeming to pursue selected females; another with a woman framed in shadow (very effective lighting design by Erik Berglund) who dances solo, in near silence, before being intruded upon by one man, then another.
The fence, with its various openings, is often employed humorously, but sometimes portends doom. The Bolero phase of the piece ends with a celebratory moment involving the whole company. This is suffixed by another darkly beautiful love duet, seeming to end in isolation, danced to Arvo Part's poignant Für Alina.
Following the first interval, Tuplet begins with video back-projections showing a babbling mouth and a toned stomach. A lone female performer dances by herself as the stage crew assembles the minimal set, which consists of six square, plastic mats. She is then joined by five others, in waistcoats and denim-style trousers (costumes designed by Nancy Haeyung Bae), for a series of vignettes, each separated by a blackout.
In one segment, a man dances to an audio description of his dancing; in another, each performer remains in his or her square, and moves only when his/her character name is called out. The soundtrack is largely electronic, comprising percussion and treated voices.
For the most part, the theme seems to be isolation, although there is interaction during a segment which is sound-tracked by a light-hearted conversation about the concept of "rhythm". Towards the end, the back-projection shows vintage jazz musicians; the score is complementary and the tone seems lighter. It was this piece that I found most diverting, even without a coherent narrative—it was also the portion of the show which was shown to an audience of doubtless bemused schoolchildren earlier in the day.
Following another welcome interval, Folk begins with a figure apparently sweeping up leaves, beneath the roots of a tree which seems to be suspended mid-air, before joining his fellow performers in a nearby cluster as they begin, tentatively, to fully inhabit the space. 
Finn describes her piece in terms of an exploration of group dynamics, and her dancers do tend to move in unison, those who break away—in one instance, jabbering incoherently—seem to both drawn back to the group and possibly punished for their independence. The music score starts out in easy listening Mantovani mode, slowly growing more challenging, taking in folk (complementing the rural theme set by Joe Fletcher's set and Gabriella Slade's costumes) and the serialism of Armand Amar, before it all ends on a somewhat downbeat note.
I have no idea of the extent to which the evening's presentations can be described as "cutting-edge"—Tuplet seeming to owe the most to performance art rather than traditional ballet—but there were moments of great beauty. The themes seemed universal: love, lust, abandonment, loneliness, difference, identity. The ensemble (Josef Perou, Camille Giraudeau, Matteo Marfoglia, Mathieu Geffré, Àngela Boix Duran, Elena Thomas, David Pallant and Chris Scott with apprentice dancers Josie Sinnadurai and Ed Myhill) are all great individual talents, but all of the choreographers seem to focus on dance as a collective rather than an individual means of expression.
As a novice, I was amused and baffled in equal measure, but entranced throughout. None of the pieces outstayed their welcome (Folk being the longest at around 28 minutes), and all provided much fruit for rumination.
The tour resumes in Huddersfield before visiting London, Aberystwyth, Milford Haven and Mold. If the informed and enthusiastic audience with which I experienced the evening was anything to go by, connoisseurs will be delighted; those who are initially less convinced will also find much to enjoy.
Reviewer: Othniel Smith