Fool for Love
Sam Shepard
Apollo, Shaftesbury Avenue
(2006)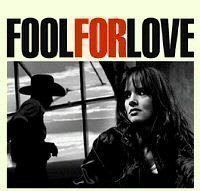 Very few writers can have had as intimate a relationship with one of their works as Sam Shepard has with Fool for Love. When his play first saw the light of day in 1983, he directed a cast led by Ed Harris and Kathy Baker.
In Robert Altman's film two years later, he wrote the script and also played the part of Eddie opposite Kim Basinger's May. Other stars to enjoy these exciting roles include Bruce Willis and Ellen Barkin in the U.S. and Julie Walters with Ian Charleson in the London premiere.
In London, the playwright has taken more of a back seat but the selection of David Mamet expert Lindsay Posner to direct ensures an intense, if not overly-long evening with a running time of only 75 minutes.
Whenever film stars are cast for the London stage, it seems that producers' primary aim is to sell seats on the back of their names and having done so, pray that these people can act a little. In selecting the two stars of this production, they must have been delighted to get talented actors who offer far more than the standard pretty faces (and bodies).
American beauty Juliette Lewis, famous for her performances in such films as Cape Fear and Natural Born Killers is jealous, neurotic May, while whining Eddie is played by the ruggedly handsome New Zealander Martin Henderson who has been lining up roles in films such as Bride and Prejudice recently, having starting off in cult Kiwi soap Shortland Street.
The setting for this Love Story - Sam Shepard style, is the grungiest motel room imaginable, right on the edge of the Mojave Desert. However, the heat outside is nothing compared to the passions that boil up in this overheated pressure cooker of a play.
Designer Bunny Christie ensures that there is no mistaking the quality of these characters and their predicament, with her low-ceilinged, claustrophobic set, enhanced by Fergus O'Hare's surreal soundscape, in which every door closing echoes like that of a prison cell. They are trapped trailer-trash, pure and simple, although their tragedy is given a sense of visual beauty thanks to tremendous lighting from Mark Henderson.
May and Eddie can neither live with nor without each other. Their brand of uncompromising love is so close to hate that it is hard to tell the difference but when they come together, it is like an ammunition dump going off.
Indeed, following their initial skirmishes after a long separation, there is a brief sequence, so highly erotically charged as to be close to comical, when they ever so slowly approach each other then fall to the floor in an irresistible clinch.
As the pair blow red hot and ice-cold about each other, one eventually notices a ghostly old man, played by Larry Lamb sitting in a corner of May's motel room. He begins to take on the role of narrator and gradually unfolds a tale of passion equal to that taking place before viewers' eyes.
One discovers that this is Eddie's father and then, with a sense of shock that he is also May's father, though by a different mother. Somehow, this shabby man in a torn jacket and hunter's cap has maintained two families each unknown to the other, disappearing for long unexplained periods to his alternate life.
The appearance of Joe Duttine's Martin, a boring, unlikely suitor for May, by now done up to the nines in the sexiest of tiny scarlet dresses, injects a welcome element of comedy into the evening, as does Eddie's unseen but clearly angry lover.
The pressure cooker keeps building to a symbolically incendiary closure, as the old man tells more of his story and his children fight with each other and their own instincts. The conclusion is reached after even the ethereal old man gets a surprise and the younger generation finally understand that their role is to relive the pain that their parents inflicted on themselves and those that they loved most.
This short but remarkably intense play is gripping throughout in Lindsay Posner's tightly directed production and should sell well thanks both to its own quality and its Hollywood heart-throbs.
Reviewer: Philip Fisher