The Forest
Fevered Sleep/Fuel
Young Vic
(2009)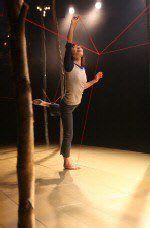 Fevered Sleep's work is a piece of physical theatre for young children that explores the landscape of the forest using dance, music, light and sound. It is immediately engaging, cleverly funny and thoughtful.
The Young Vic's Maria theatre space has been transformed into a surreal forest; ingeniously simple and evocative, the set by co-designers Ali Beale, David Harradine and Sam Butler is a terrific backdrop to the performance from the three dancers. With only a handful of props they interpret a myriad of forest environments: it is a place to play in, to observe nature and experience the seasons, but it is also a place of mystery and magic, both scary and exciting.
Performers Robin Dingemans, Sachi Kimura and Petra Soor are agile and energetic, climbing trees and launching themselves into slides and tumbles across the stage to the delight of the young audience. With almost no dialogue at all they go on adventures and create striking tableaux that stimulate the imagination. Particularly memorable is a section of choreography where red elastic is stretched between the trees like a spider's web but what is it? Are they the rays of the sun through the branches, a trap, a forest canopy, undergrowth to be peered through? They are none of those things, all of them and more.
Choreographer David Harradine, who co-directs with Samantha Butler, uses the human body imaginatively and to good effect mixing in gymnastic and balletic moves: one section has the performers dancing with two long sticks between them which they hold up at the end using only one finger. This lesson in teamwork and dexterity baffled one young mind which asked out loud "How does that happen?" Even simpler effects are equally successful: from pine cones falling from the trees to a night-time sequence with the stage in darkness the performers holding up torches like the iridescent eyes of forest animals, which, when they roll on their backs, become luminous insects flying around.
The key feature of The Forest is the combining together of the different elements: skilful performance and inventive movement design with the lighting and unique soundscape created for the show. Here Hansjorg Schmidt and composer Jamie McCarthy make an invaluable contribution to the creative whole. There is sunny playfulness, a leafy autumn storm and spooky mystery.
The Forest is a treat for the imagination and the senses. The thundering finale of a thousand conkers dropping onto the stage floor has young eyes and mouths wide open in wonder - a terrific ending to an intelligent and entertaining piece of children's theatre.
"The Forest" plays until 24th December 2009 at the Young Vic and the national tour continues until March 2010. Running time is 45 minutes and age suitability is three to seven years.
Reviewer: Sandra Giorgetti