In a Forest, Dark and Deep
Neil LaBute
Vaudeville Theatre
(2011)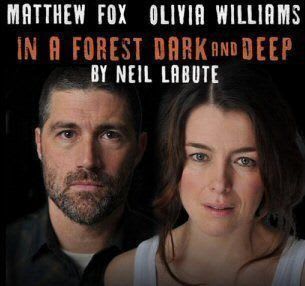 Producer Nica Burns is at pains to emphasise her pride in this production. More particularly, she is excited by its ability to draw in the kind of young audience that the West End so desperately needs to ensure its future.
The first clue that the target audience may not be the usual one for this kind of theatre is the wall of loud rock music that hits them as they enter the auditorium and continues until the lights go down.
The combination of a world premiere from the popular American film and theatre writer/director Neil LaBute and two stars with followings, Matthew Fox of Lost fame and the home-grown Olivia Williams, who has played both Jane Austen and Agatha Christie on screen as well as starring in An Education, is making her dream seem possible.
This writer, who seems to have European rather than British or American sensibilities, loves to show us our hidden tendencies and take them to extremes.
In a Forest, Dark and Deep has metaphorical depths cleverly suggested to those who are willing to listen closely. It explores the claustrophobic relationship between a brother and sister who each have hidden depths that are only slowly revealed.
The action is played out on a Hammer Horror kind of night in an isolated, Soutra Gilmour-designed two-storey wooden cabin where an electric storm regularly plunges the comfortably furnished rooms into eerie darkness.
Fox's shaggily bearded Bobby is a loud-mouthed, violent redneck with dangerous tendencies. Sweet sis, Betty, is a happily married mother of two who, after a wild youth, has made good as a college professor running the humanities department in their home town.
The pair get together to clear out Betty and husband Brewster's holiday cabin between rentals. There they reminisce in realistically robust language and fight, just like old times.
A throwaway line from Bobby about TV detective Columbo prefigures much of the 100 minutes as, like the man in the mac or a fisherman, he reels in his sister, giving slack between admissions of inaccuracies and eventually landing her still kicking and screaming like a prize trout.
What starts out as a single tiny lie becomes more and more shocking. The clean living academic is shown to be something far more adventurous than she had originally appeared, not only as a child but two decades on.
As her transformation occurs, Bobby is heading in the other direction, to all intents and purposes becoming a father confessor or even an exorcist, eliciting the truth, the whole truth and, by the final cathartic curtain, nothing but the truth.
Watching the interactions between Fox and Miss Williams is a pleasure, as they relive the distant and very recent past to shocking effect in a story that is intentionally distasteful.
Neil LaBute, who meticulously directs this superbly cast couple, always loves to shock after a deliberately low-key opening. His aficionados might pick most of the twists and turns before they arrive but, even then, his style can be intoxicating.
In a Forest, Dark and Deep is a characteristically taut black comedy of love and obsession that has the ingredients to tap straight into the Gothic psyche of an alternative theatre audience but should still appeal to more adventurous regulars.
As such, it might just be the answer to Miss Burns' dreams, judging by a house almost filled by an appreciative young audience at the performance under review.
Playing until 4 June
Visit our sponsor 1st 4 London Theatre to book tickets for In a Forest, Dark and Deep
Reviewer: Philip Fisher