I Found My Horn
Jonathan Guy Lewis and Jasper Rees, based on the book by Jasper Rees
Hampstead Theatre
(2009)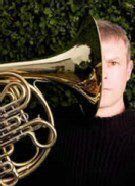 The concept underlying I Found My Horn sounds like something from the latest reality TV show. Jasper Rees, in the nicest possible way a B list celebrity as a journalist and the biographer of Arsenal manager Arsene Wenger, sets himself twelve months to go from French horn novice to soloist playing for the doyens of the art, the British Horn Society.
Following a nightmare opening, literally, Jasper Rees introduces himself as a man heading for a midlife crisis following a divorce and separation from his two young sons. What could have been a disaster is rescued after a night at the Proms in which he is inspired by the soaring horns of Sibelius' magisterial Fifth Symphony.
After 25 years in the attic, Rees' own French horn, played from the age of 10 until he left school, is resurrected for his year-long journey of catharsis and renewal.
At an early stage, the target becomes a solo public performance of Mozart's charming Horn Concerto No3 K447. It is therefore inevitable that the final scene features an increasingly confident Jonathan Guy Lewis demonstrating his own abilities as a rather talented horn player, who at one point considered taking up the instrument professionally.
In order to get there, for 75 minutes under the direction of Harry Burton and lit by former New Zealand test captain Jeremy Coney, Lewis takes us through Rees' tempestuous love affair with an instrument that makes a big sound but which can demonstrably be very ugly in the hands of an amateur.
The acting style is equally over the top, as Lewis portrays a series of eccentrics who have one thing in common, a love of this blowsy wind instrument. Indeed, when he gets to attend a horn camp in the Adirondacks for a crash course, the actor's impression of a stroke-crippled German instrumental legend becomes a cross between Norman Wisdom and Gerard Hoffnung.
As long as you like your comedy unsubtle and/or have a taste for classical music, I Found My Horn should prove an undemanding but pleasant way of killing just over an hour. It might even prove to be hilarious, if the comedy is to your taste.
Playing until 28 November
Reviewer: Philip Fisher