Four Quartets
Text T S Eliot, choreography Pam Tanowitz, music Kaija Saariaho, images Brice Marden
Barbican Theatre
–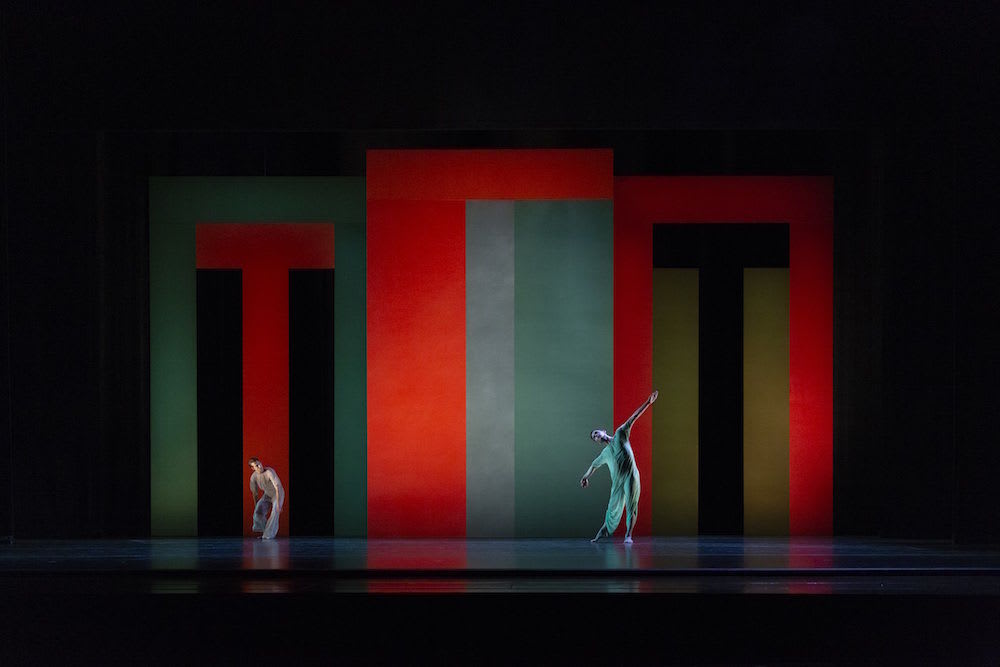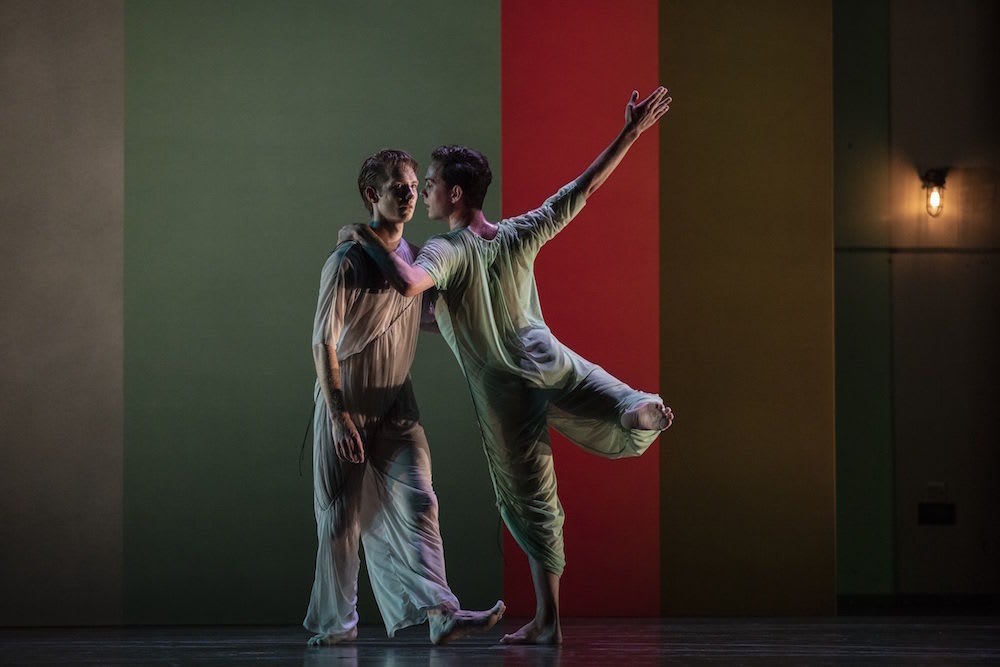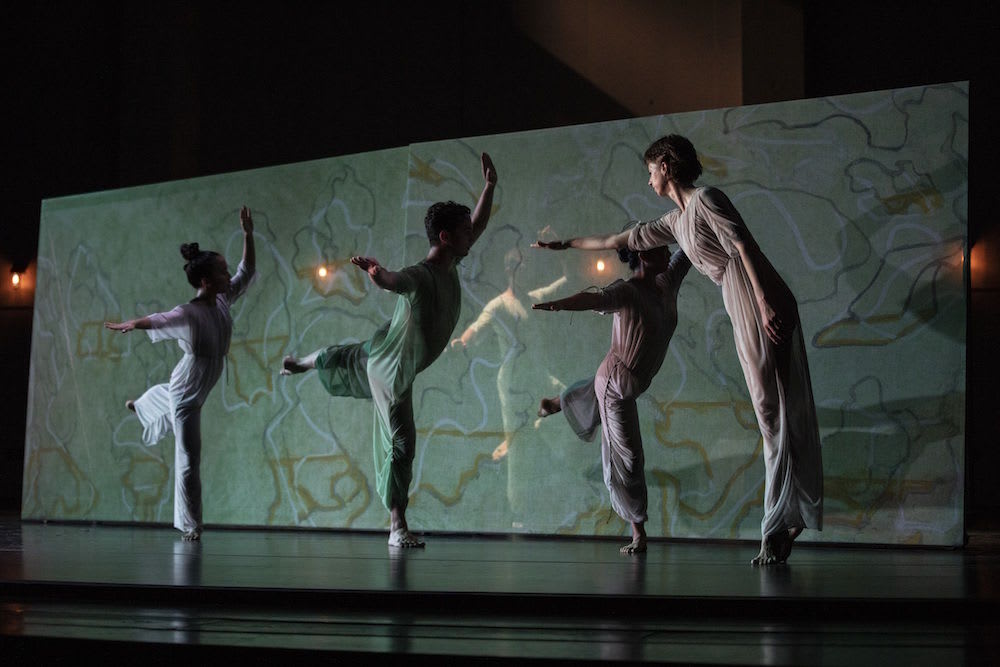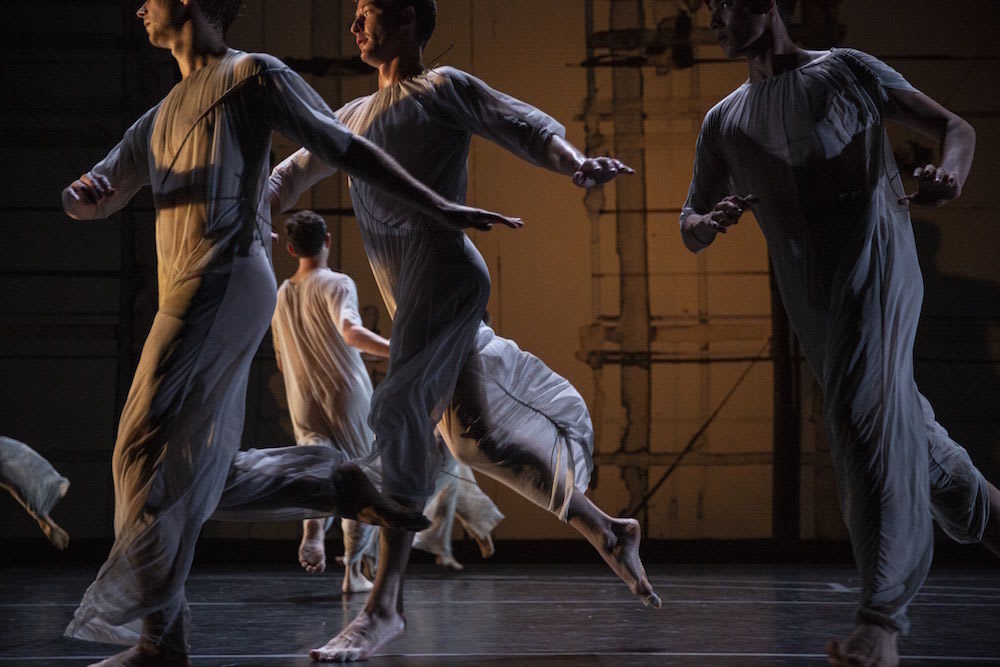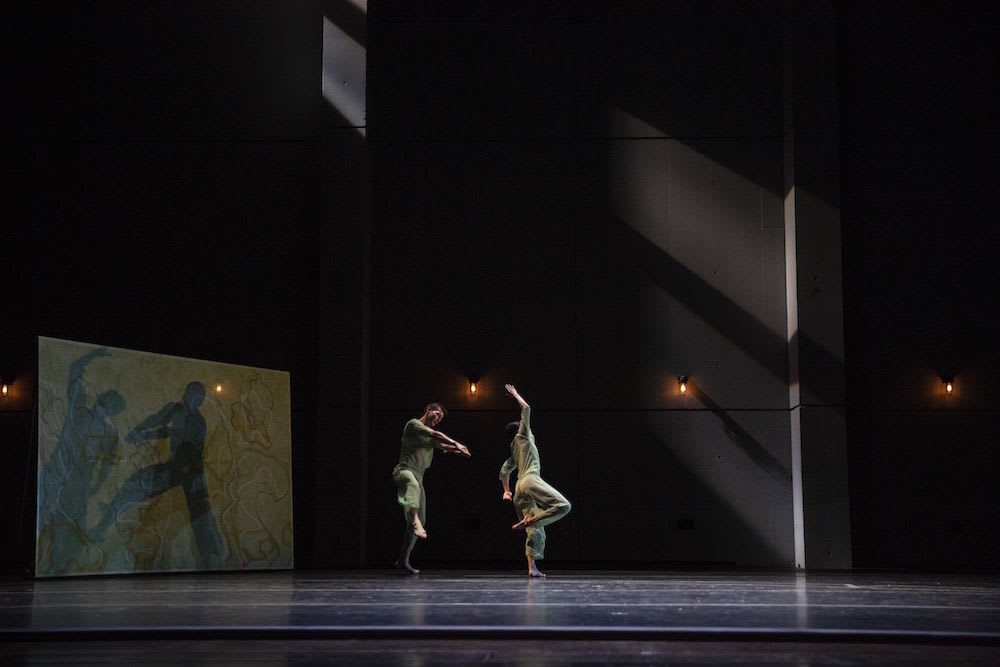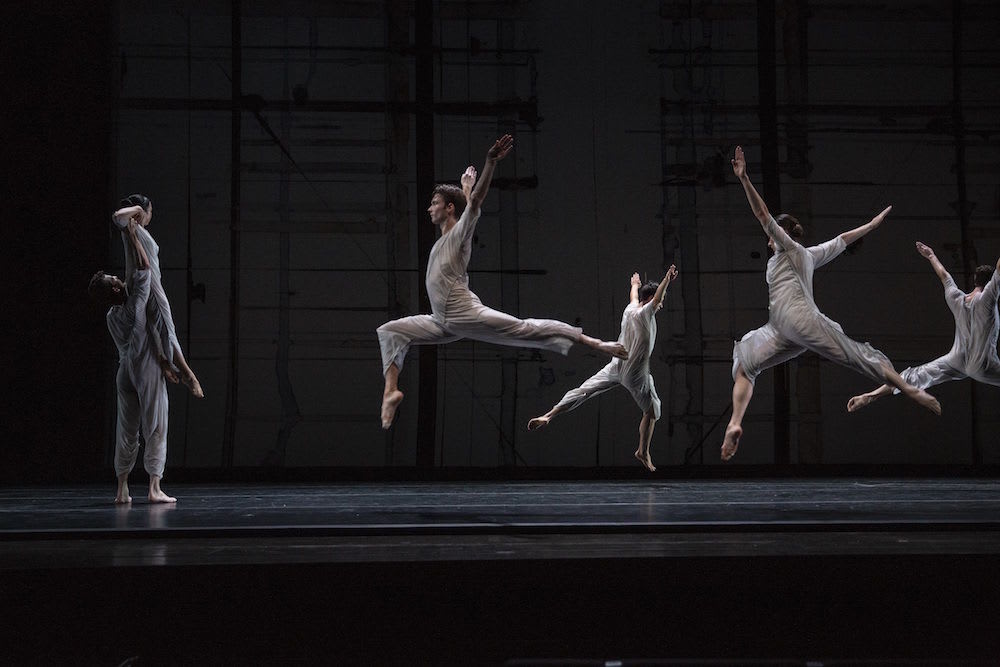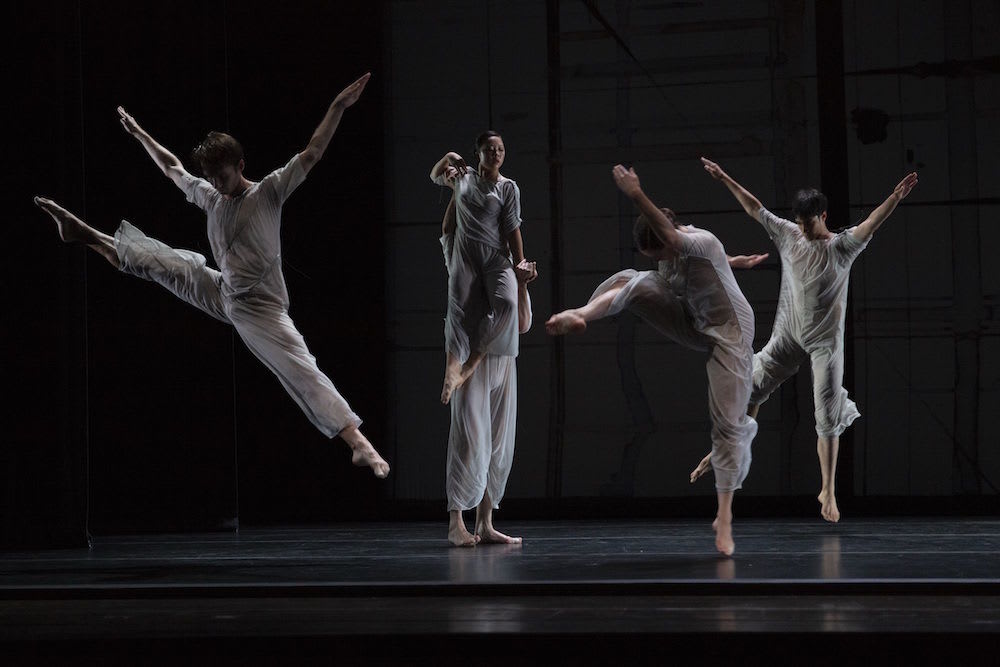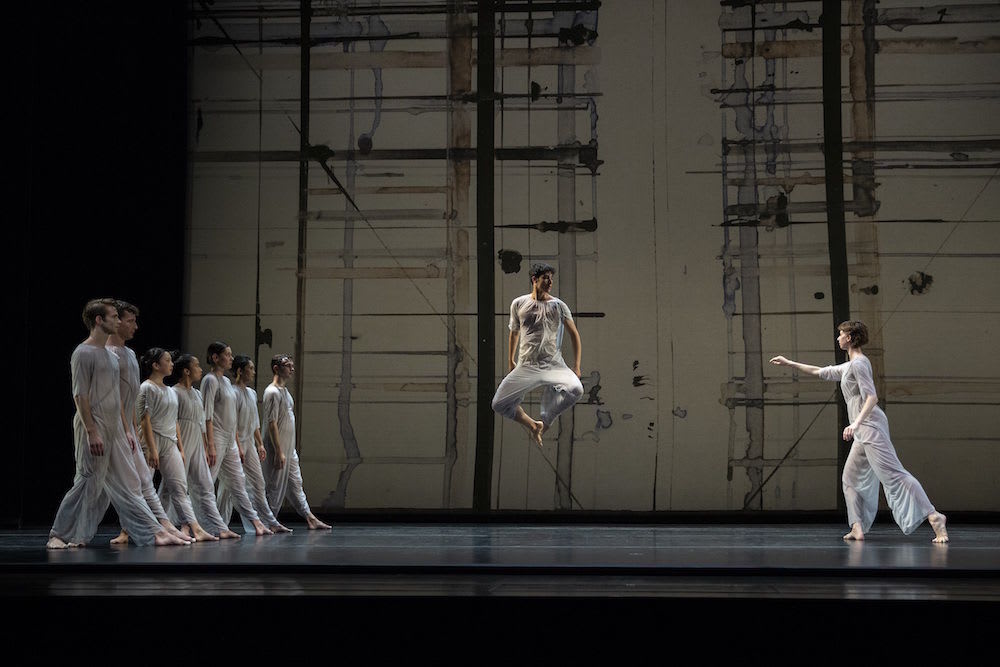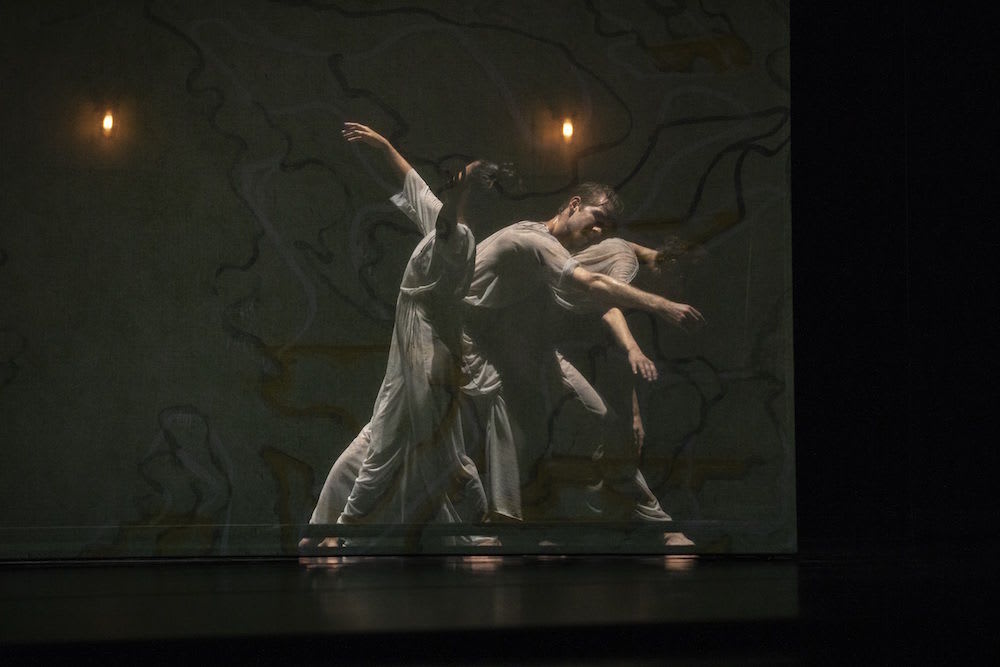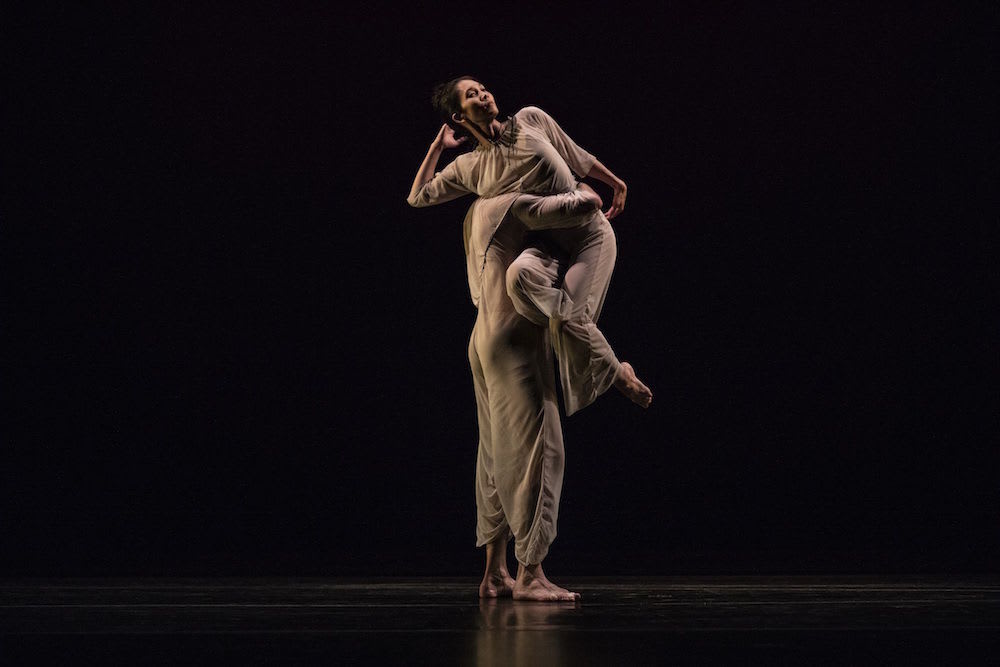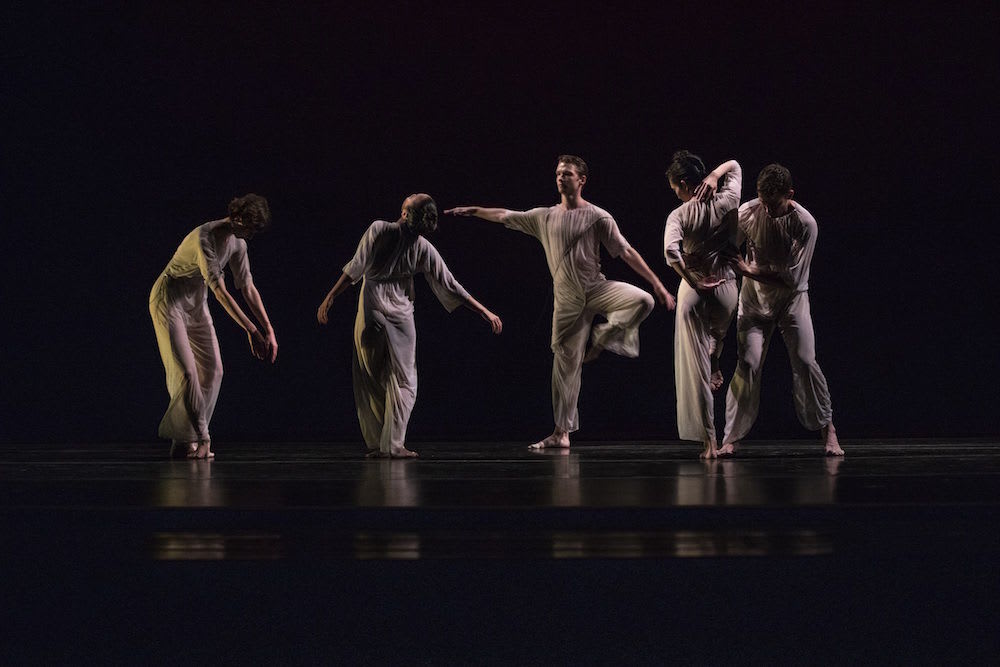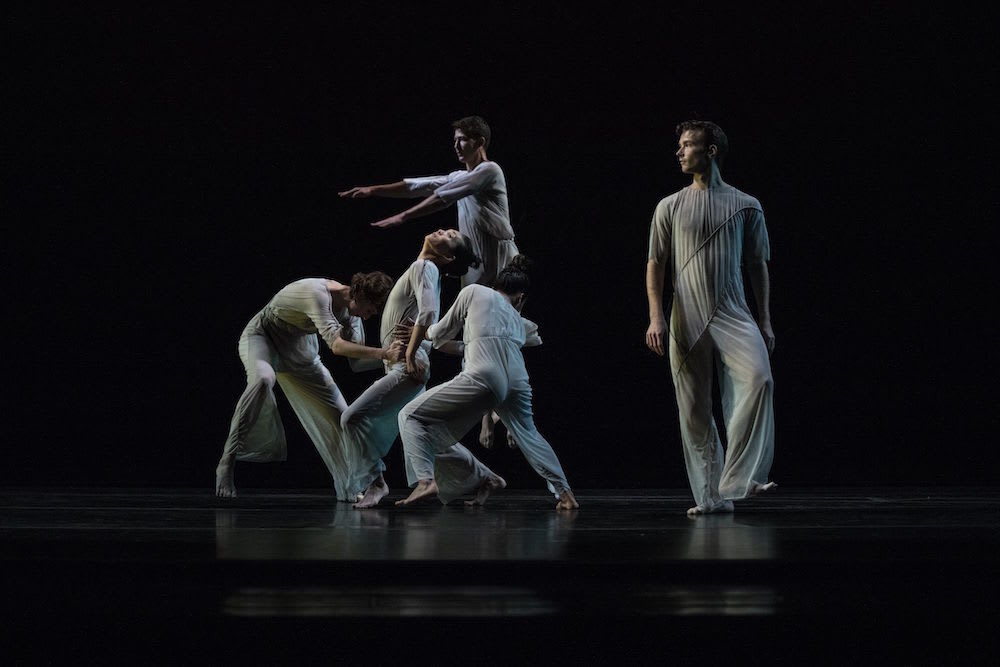 Pam Tanowitz's choreographic response to T S Eliot's Four Quartets makes its international debut laden with praise: last year, the New York Times called it "the greatest creation of dance theater so far this century". Hmm. The press / guest night audience at the Barbican gives it a warm reception, and how can it not when considering the years of work invested in creating it and the talent involved.
An impulsive commission from Gideon Lester, artistic director at Bard College, New York, set the ball rolling. To get permission—the first for a piece of dance to be authorised by the T S Eliot Estate—was remarkable. Being in time to mark the 75th anniversary of the first publication of the Four Quartets is an extra coup.
Eliot fans both, Tanowitz and Lester put in the legwork, visiting the four places (Burnt Norton in the Cotswolds, East Coker in Somerset, The Dry Salvages off the coast of Massachusetts, Little Gidding near Cambridge) after which the Quartets are named, unravelling some of the knotted mystery of Eliot's devout, philosophical lines, the tolling of the bells and the pathways.
Tanowitz has been obsessed with the poems for many years, though she says she still doesn't understand them in full. And we must understand them in an evening of ninety minutes? Of course, I've read them and re-read them, but the brain splinters trying to pay attention to the mellifluous words, the fascinating music and to the opaque intellectual dance.
But what a select creative team: Finnish composer Kaija Saariaho provides a mysterious, minimalist score (sound by Jean-Baptiste Barrière) for Eliot's spiritual text, Brice Marden's modernist canvases an abstract context (lighting by Clifton Taylor casting long shadows), American actor Kathleen Chalfant reads the Quartets well and Lester himself is dramaturge. Tanowitz also appears in the last Quartet—how could she resist…
I'm sitting near the musicians (Colin Jacobsen of The Knights and soloists from Britten Sinfonia) who distract my eye when I ought to be watching the dance. The abrasive avant-garde soundscape highlights the musicality of the words, whilst Chalfant's calm voice draws out Eliot's piercing perceptions of stillness integral to dance and movement, to the circularity of time, and the actual dance becomes peripheral.
Part of the visual impressionistic landscape, not a literal interpretation (though the seascape of the third poem is felt in the swelling surge of dancers and a ship's figurehead is conjured in a brief image) but a felt one, its Cunningham-esque (Tanowitz was taught by Merce Cunningham dancer Viola Farber) austere aesthetic is beautiful if disjointed in its transfigurative ardour.
Dancers, in translucent onesies with a classical Grecian drawstring draped quality about them (costumes by Reid Bartelme and Harriet Jung), flit on and off, collide in brief partnerships, but ultimately seem to be doing their own thing in their inscrutable, introspective worlds where the impulse to dance is strong.
Intense, immersed, exclusive, these are ethereal beings from another world. Inspired by Eliot's "Time present and time past / Are both perhaps in time future, / And time future contained in time past"; "In my beginning is my end"; "In my end is my beginning", Tanowitz invokes the past—Nijinsky's Spectre de la Rose, which Eliot apparently saw, Isadora Duncan and Martha Graham.
A mood piece that resonates more in retrospect than on first viewing, there is much to unpick in Four Quartets. Do I see a Henry Moore sculpture? Or is it a church carving? Or Grecian gods in merry frieze? I muse on how vital dance has always been in early cultures. I think of medieval chain dances, of illuminated manuscripts. Eliot and his wife are buried in East Coker's 12th century church.
Dancers Kara Chan, Jason Collins, Dylan Crossman, Christine Flores, Zachary Gonder, Lindsey Jones, Victor Lozano, Maile Okamura and Melissa Toogood must be complimented on remembering the numinous architectural etchings of the dance's maker, Tanowitz.
"To mark the 75th anniversary of its UK publication by Faber & Faber in 1944, and to coincide with the production's première at the Barbican, a special edition of Four Quartets is published on 16 May 2019, based on the design made by Giovanni Mardersteig for his letterpress edition of 1960."
Reviewer: Vera Liber