Fragments
Samuel Beckett
A Théâtre des Bouffes du Nord and Young Vic co-production
Young Vic Maria Studio
(2007)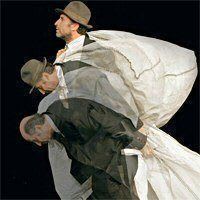 The title both does and doesn't convey the content and significance of this hour-long Beckett fest. These five tiny plays are fragments of a master's work but also form a kind of masterwork in their own collective right.
This Théàtre des Bouffes du Nord co-production has put together an absurdist theatrical dream team, with the five Beckett plays directed by Peter Brook and performed by a trio of physical stars, whose background is with Complicite, two from that company's inception.
Indeed, this could easily be promoted as an acting masterclass, although Belgian Jos Houben, with the double joints and mischievously malleable face, delivers these anyway. He lectured on The Art of Laughter to rapt full houses in Edinburgh last month.
Having seen and heard the theory, it is good to be able to observe the practice, although it is arguable whether some of these pieces are comedies or something more sinister.
Rough for Theatre II features the two male actors, Houben and Marcello Magni, playing disabled men. Magni is the most convincing stage blind man that there can ever have been. He plays a violin (badly) and is reasonably happy with his lot.
Houben's character has only one leg, rows himself around on a chair and a great deal of pent-up anger. He proposes that they team up, like Richard Pryor and Gene Wilder in See No Evil, Hear No Evil but with less clichéd comic results. While this pair might sympathise with each other's predicaments and seemingly benefit by pooling their abilities, ultimately diverse temperaments defeat their efforts to team up. The final solitary conclusion seems pure Beckett.
Rockaby introduces the black-clad Kathryn Hunter with a poetically Joycean monologue that constantly repeats her vision of a woman observing life through a window before reaching a tragic ending that allows the actress to embody the universal fear of death perfectly.
Play Without Words II is the funniest section of the evening, with as the title suggests, a mime show featuring the two men playing antitheses.
They live in laundry bags and emerge at the prompting of a heavenly spike. Magni's character prays but is beset by constant despair, while using almost identical moves, dressing and undressing but also enjoying a carrot, Houben is happiness personified. This is a classic play of clowning that is the highlight of the evening.
Neither is a monologue of no more than a couple of minutes, featuring a shadowy, disembodied Miss Hunter, making the most of Philippe Viallatte's elliptical lighting.
Finally, the three actors (or possibly actresses) share a park bench playing elderly women who distantly invoke Macbeth's witches in Come and Go. In turn, each one disappears and another reveals a secret about the absentee, seemingly news of a terminal illness, in a round that says so much about the human condition and the way that we all behave, especially in the face of bad news that must never be mentioned in the presence of the unlucky victim.
There may not be too much length to some of these works but this team manages to inject comedy and pathos into minute but sometimes substantial works, the humour almost always counter-balanced by Beckettian philosophising on existential themes.
You may never get another chance to see something with this combined pedigree in physical theatre. Don't miss out.
Running until 6th October
David Chadderton reviewed this production on tour at The Lowry, Salford, Pete Wood at the Nuffield Theatre, Southampton, and Jacquline Fletcher at Théâtre des Bouffes du Nord, Paris
Reviewer: Philip Fisher