Frankenstein -The Modern Prometheus
Mary Shelley adapted by Adam Dechanel
Evcol Entertainment & Clockwork Digital Studios
Lion & Unicorn Theatre
–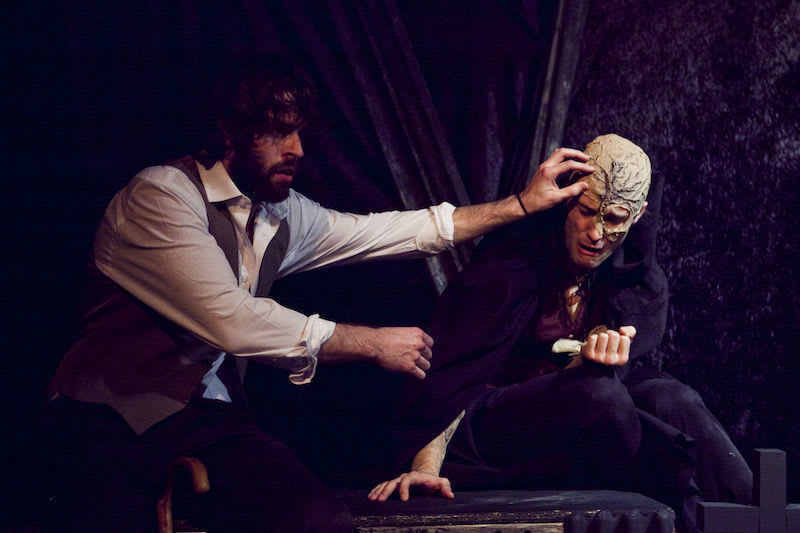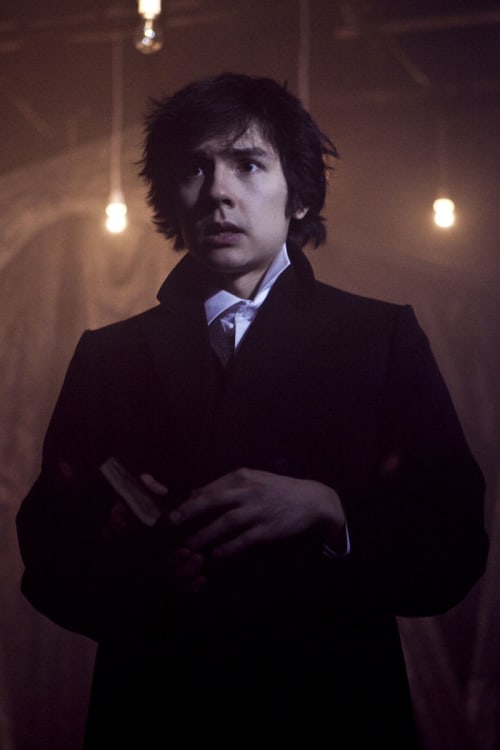 This adaptation roots itself in Mary Shelley's original book and the circumstances in which it was written.
Forget the hilltop castle and huge electrical conductors of the famous film. Shelley doesn't let Frankenstein disclose the means by which he brings life to his combination of cadavers and, though we see this creature stir, Dechanel's version doesn't seek to explain it.
This is indeed Victor Frankenstein's story, not the creature's, and it is introduced by a scene in which Mary and her lover Shelley, staying with Lord Byron at his villa by Lake Geneva, are challenged to write ghost stories. It is very short but the stormy night outside persists right through the telling of the story which follows which, along with a lopsidedly surreal setting, dark drapes and figures black-cowled like monks from gothic horror, all add to a macabre mood of menace.
The costuming is a mixture of Byronic and modern and, as Frankenstein's story unfolds from his father's encouragement of his scientific pursuits, to university and his fascination with the creation of life, there are references to medical advances that occurred after the book was written, intended perhaps to emphasise its continuing relevance.
The narrative is framed by the exhausted and dying Frankenstein telling his story to the ship's captain he encounters in the Arctic ice as he pursues his creature. The action is seen in flashback with scenes that takes us from his boyhood, encouraged by his father to take up medicine, to his student attempts to create life, assembling a new body from the dead.
There are, of course, implicit issues about what is permitted to the scientist and his purpose, responsibility for what we create and the challenge to religious concepts. These are there in the questions raised by Frankenstein's academic colleagues and his friends and family, but director Simon James Collier places his emphasis on the gothic elements of the story buoyed up by James Corner's sound design and flashes of lightning.
Dmitry Ser gives Victor Frankenstein some of the same boyish charm he brought to Kipling's Mowgli earlier this year at this theatre, a driven innocent who, too late, realises what he has done. His habit of eliding words together in some ways fits with his lack of failure to consider consequences as he rushes ahead with his experiments.
Rory Fairbairn gives his friend and fellow student Henry much more deliberation. Sophie Tanza is Victor's beautiful fiancée and Christopher Foran gives gravity to Capt Walton, Professor Waldman and Victor's father while clearly differentiating between these characters.
As the creature, disfigured by a growth upon his face, Sam Curry gets little chance to show the way in which his thoughts develop but effectively uses his own body to suggest his ill-put-together deformities.
This version fails to properly explore the idea of the Modern Prometheus; it is all billowing velvet curtains, black cloaks and flashes of lightning in the dark. Although it eschews becoming comic, it is more likely to please those indulging in a night of gothic horror than seeking something more profound—and that it seems is exactly what this production has set out to do for it is billed as the first of a "Gothic Trilogy" which will continue with The Corruption of Dorian Gray and Jekyll and Hyde— Corpus Delicti.
Reviewer: Howard Loxton