Frankenstein: Revelations
Nick Lane, based on the novel by Mary Shelley
Theatre Mill
York Medical Society
–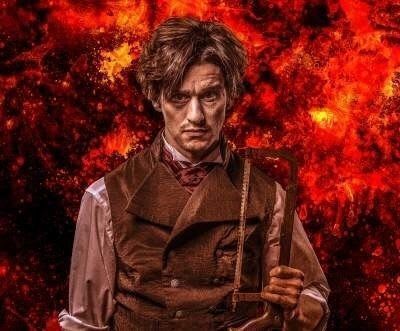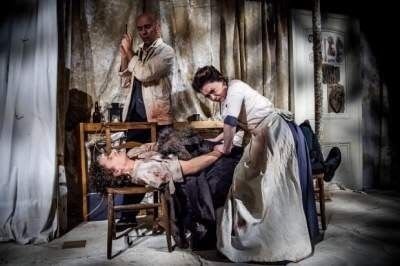 Since its publication in 1818, Mary Shelley's Frankenstein has become deeply embedded in the public imagination, inspiring countless adaptations on stage and screen.
In the latest production for site-specific company Theatre Mill, writer and director Nick Lane offers a pleasingly offbeat adaptation of Shelley's gothic masterpiece which preserves its central themes—man's desire to overthrow God and the dangers of overweening pride—whilst altering the original novel in a variety of interesting and unexpected ways.
Set in Ingolstadt, Germany in 1866, the action of Frankenstein: Revelations unfurls against the tumult of the Austro-Prussian War. As the city is ripped apart by enemy fire, a mysterious young man collapses at the feet of an ambitious physician, Dr Gerber (Zach Lee), and his highly-strung assistant, Nurse Agatha (Viktoria Kay). The mystery man is later revealed to be Victor Frankenstein (Richard Keightley), and he has an extraordinary story to tell.
In a clever innovation on the original novel, Lane frames the action of the play as Frankenstein's hallucinogen-influenced confession. Over the course of 140 minutes, the troubled scientist recounts how the death of his mother led him to reject the laws of nature by usurping God's ability to create life. However, after creating a monstrous man out of human body parts, Frankenstein lives to regret his actions as the spurned creature—hell-bent on revenge—destroys everything he holds dear.
Theatre Mill is committed to staging plays in uncharted historical locations, and the setting for Frankenstein: Revelations could not be more apt. The York Medical society was founded in 1832 for the purposes of promoting medical knowledge, and the lecture room of this Grade II listed Victorian building serves as a suitably atmospheric setting for this tale of scientific ambition gone awry.
Like his retelling of The Strange Case of Dr Jekyll and Mr Hyde (co-written with John Godber), Nick Lane's adaptation of Frankenstein embraces the horror of the source text. The play is filled with pleasingly creepy moments; the birth of the monster, for example, provides a particularly forceful jolt to the system. The narrowness of the lecture room means there is little distance between the audience and the makeshift stage, adding to the intensity of the experience.
The three actors give lively and engaging performances, inhabiting each of their roles with confidence and clarity. As the eponymous scientist, Richard Keightley skilfully conveys the character's intellectual arrogance and the mental and spiritual anguish that his creation has inflicted upon him.
In addition to the roles of physician and nurse, Viktoria Kay and Zach Lee also play the characters beckoned forth during Frankenstein's hallucinations. Both actors demonstrate impressive versatility, ensuring that each of their roles is clearly differentiated both vocally and physically.
Frankenstein: Revelations offers an evening of robust theatrical storytelling, energetically performed in a unique location.
Reviewer: James Ballands