Frankenstein
Phil Williams after Mary Shelley
Cascade Dance Theatre / Taliesin Arts Centre
Seligman Studio, Chapter, Cardiff
–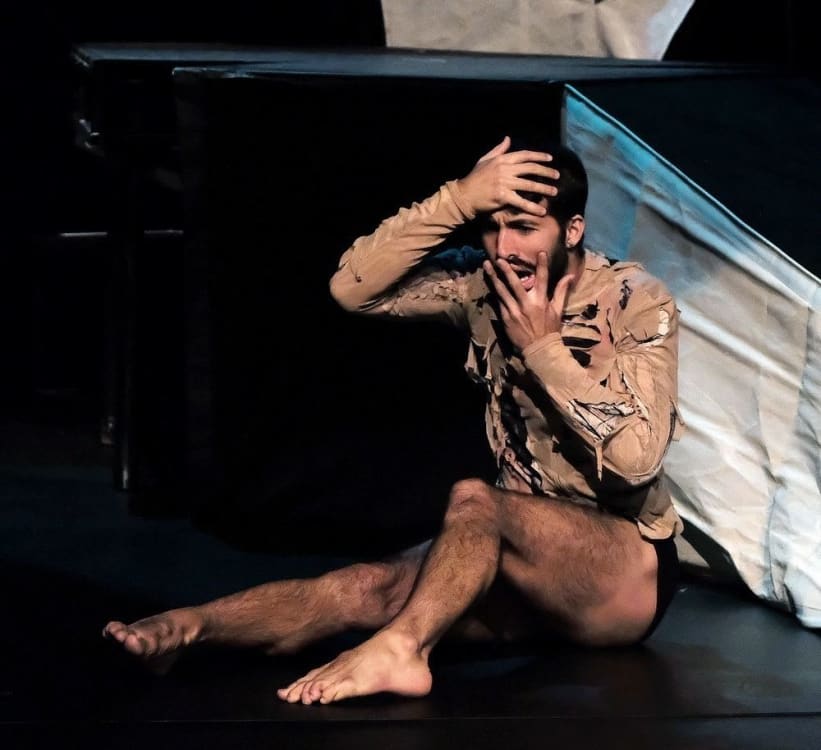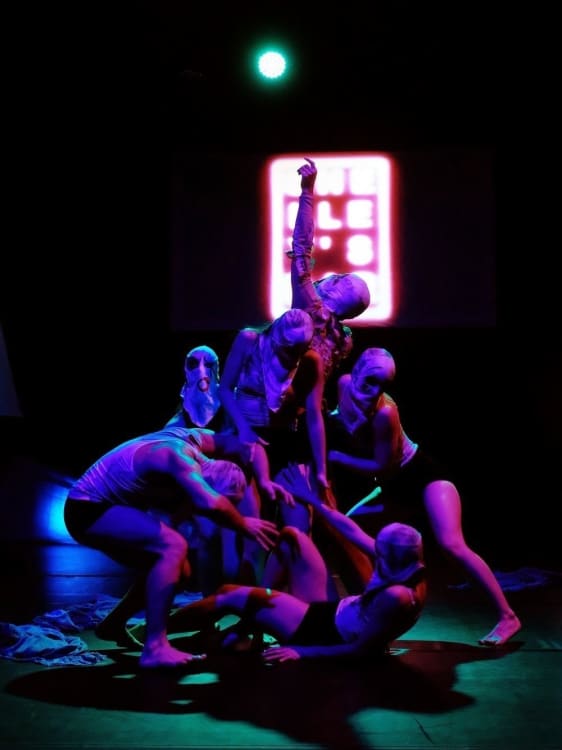 Given the vast number of films and plays which have been adapted from Mary Shelley's Frankenstein (with various degrees of fidelity to the original text), it is surprising to note that there have been relatively few attempts made to turn it into a dance piece, the most recent being a Royal Opera House production in 2016.
Cascade has taken advantage of the 200th anniversary of the publication of the novel to take Phil Williams's new version of the tale on a Welsh tour, presumably depending on curiosity and name recognition to boost audience numbers. I caught it on the last night and can only hope that this was achieved.
The show begins with the creature already having been created. On Paul Shriek's set, which calls to mind snowy vistas, we see a partially-clad figure lying, encased in cellophane as three curious individuals (played by Anna Cabré-Verdiell, Desi Bonato and Luca Dora Bakos) inspect him using glow-sticks.
Meanwhile, on the opposite side of the stage, we see vignettes of romantic bliss involving the man we already know to be Doctor Frankenstein, played by Stuart Waters, and his fiancée, Elizabeth—Caldonia Walton—in Alpine-themed costumes, also by Shriek.
Soon, Jordi Calpe Serrats's creature breaks free, and we watch him slowly coming to terms with an unfamiliar body. By the time Frankenstein has returned to his work-place, his creation has escaped.
The creature makes his way into the outside world and is assailed by a multiplicity of faces—members of the ensemble eerily sporting three masks each. The sensitive, largely electronic soundtrack, played live by Jak Poore and Ben Parsons, shifts into dance-music mode as he enters a nightclub ("Shelley's Bar") seeking connection, is cruelly rejected, and takes his revenge, Chris Crow's ambient video back-projection suddenly growing fiery.
As the story progresses, we are forced to ponder the themes explored by Shelley and illustrated via Williams's often brutally beautiful choreography: man playing God; the destructive effects of alienation; the inevitability, or otherwise, of those demonised as "monsters" acting monstrously, etc.
Perhaps counter-intuitively, Frankenstein's creation, as played by Serrats, is the embodiment of conventional physical perfection—it is the tormentors provoking him to evil acts who are ugly. At various points, Walton and Waters become part of the ensemble, pointing up the creature's isolation.
The hour-long production is full of striking set-pieces—the creepiness of the "birth" of the bride (Cabré-Verdiell) which Frankenstein is forced to make for his "son" and their subsequent, despairing duet stand out; as does the scene in which Elizabeth is forced to confront the results of her lover's handiwork and pay the price for Frankenstein's supposed betrayal of him; not to mention the peculiar, cling-film-based denouement.
The strong narrative, powerful score and compelling imagery keep one engaged throughout; and, needless to say, the dancing (as far as I could tell) is flawless. I fully expect this Frankenstein to rise again.
Reviewer: Othniel Smith