Free Folk
Gary Owen
Forest Forge Theatre Company
Sherman Cymru
–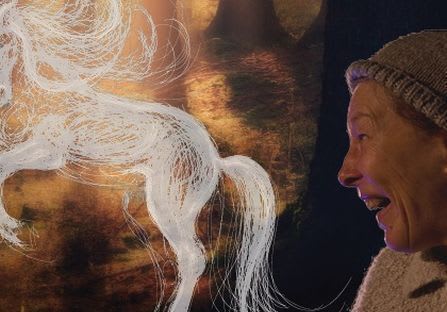 It's perhaps good for their careers that Wales's most performed playwrights, Tim Price and Gary Owen, get most of their commissions from outside their home country, but it's certainly frustrating for Welsh theatregoers (and perhaps indicative of deficiencies in the producing environment within the Principality).
Thus, Owen's Free Folk, first commissioned by the Hampshire-based Forest Forge in 2010, finally gets its first full production in Wales (there was a Welsh Fargo rehearsed reading in 2011) three years later, as part of a UK-wide tour.
As with many of Forest Forge's productions, there is a rural focus. On a dark, stormy and, as it turns out, pivotal night, four strangers find themselves holed up in the cottage of determinedly independent pensioner Pearl. Karen is an incomer, having fled London following a traumatic loss.
Shaun the local wide-boy has been forced to interrupt his evening of petty thievery to rescue her from a flooded river. Tim and Hannah are an intermittently bickering young couple who have become stranded after their shift at the Heritage Centre.
The tightly-plotted narrative unfolds via both deftly intertwined monologues and humorous interactions. Kirstie Davis's direction is witty and imaginative—cast members doubling as extras and even trees and wildlife during flashback sequences—and amusing use is made of a bottle of water to recreate the numerous unwelcome drenchings.
Tim Trelove benefits from having the meatiest character to play with—the amoral "cuddly rogue"—but the cast as whole are engaging: Maggie Tagney as the spirited but vulnerable third-ager; Melody Brown as Karen, constantly struggling to keep herself together; Charlotte Croft as the directionless, discontented Hannah. Lee Rufford's Tim comes close to being a nerdy Boy Scout stereotype, but his character is redeemed during the play's climax—a heroic, transcendent, race-against-time quest.
David Haworth's set is simple but effective, dominated by the old lady's cottage, which also serves as a handy storage area for props and a screen for Kavi Brede's video projections, which cleverly evoke various locations (forests, the sea, etc). The action is subtly complemented by Rebecca Applin's unobtrusive New Age-inflected score.
The night in question alters the lives of all of the characters, generally for the better, but not always in a predictable manner. Owen's play constantly shifts in tone from noirish to ruminative, from darkly tense to broadly comic, reflecting the messiness of the universal journey towards a place we can call home.
This is theatre at its most emotionally satisfying.
Remaining tour dates can be found on the Forest Forge web site.
Reviewer: Othniel Smith