Friend or Foe
By Michael Morpurgo, adapted by Daniel Buckroyd
Scamp Theatre and Watford Palace Theatre
Corn Exchange, Newbury, and Touring
(2011)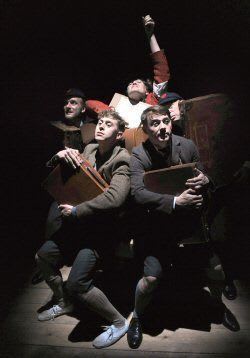 Friend or Foe is a captivating tale from the master storyteller Michael Morpurgo, skilfully adapted by Daniel Buckroyd. This is a rich enthralling production from the excellent Scamp Theatre.
Set at the height of the Second World War, the story follows two young lads David (Paul Sandys) and Tucky (Mathew Hamper) as they are evacuated from bomb-strewn London to the comparative safety of the Devonshire countryside.
Paul Sandys and Mathew Hamper give sterling believable performances as the two boys.
With suitcases in hand and carrying their gasmasks they leave Paddington station under the watchful guidance of their chain-smoking headmistress, the splendid Janet Greaves.
There was a poignant moment when the two boys are left without a billet and you could feel their disappointment and sense of loss. Mr Reynolds, a local farmer and his tender-hearted wife (Janet Greaves), arrive late but agree to provide the boys with a home. Michael Palmer perfectly captured the down-to-earth farmer, and so the boys' wartime adventures begin.
We discover much about their lives on the farm and what it felt like to be an evacuee, missing their mothers and their familiar surroundings in London. There are many pleasures to be uncovered as they work on the farm and they lead an idyllic life.
All of this changes when one night the sky is lit up with gun flashes and they witness a German bomber crashing on the moors.
The boys now face a moral dilemma as they feel they should hate the airmen, played by Michael Palmer and Chris Porter, but when one of the pilots saves David from drowning their opinions change and the story takes on a very different twist.
Keith Bakers' impressive multi level set is dramatically lit by Mark Dymock with a striking soundscape created by Tom Lishman and Daniel Buckroyd directed this inventive production with panache.
The talented company richly deserved the audiences' resounding applause at the end and I urge you to catch this terrific production on its tour.
Touring to Finchley Arts depot Oct 15-16th, Guildford Yvonne Arnaud Oct 17-19th, Buxton Opera House Oct 21-22nd, Worthing Connaught Theatre Oct 24th, Basingstoke Haymarket Oct 25th-26th, Abergavenny BoroughTheatre Oct 28th, Dudley Stourbridge Theatre Oct 31st, Winchester Theatre Royal Nov 1-2nd, Bracknell South Hill Park Nov 4th, Portsmouth Theatre Royal Nov 5th, Harpenden Public Halls Nov 7th, Doncaster Civic Theatre Nov 8th, Blackpool Grand Nov 11th, Peterborough The Key Theatre Nov 14th, Colchester Mercury Theatre Nov 16th, Hatfield Weston Auditorium Nov 18th, Hornchurch Queens theatre Nov 19th, Eastbourne Devonshire Park Nov 20th and Exeter Northcott Theatre Nov 22-26th.
Howard Loxton reviewed this production at Watford. It was also reviewed by Sheila Connor in Guildford.
Reviewer: Robin Strapp