From Dust

Lion House
Gilded Balloon Teviot
–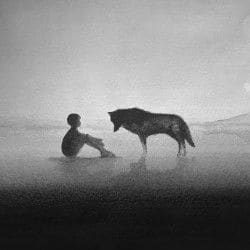 After storming last year's Fringe with their strange unearthly tale of whimsical and bizarre, Every Wild Beast, Lion House Theatre has returned with an almost spiritual sequel of sorts, spinning a new fable that mixes the ethereal and the natural, the mundane and the extraordinary and in it finds something beautiful but truly real.
On a snowy New Year's Eve, self-imposed loner Gilly is called from his broodings to help Jesse, a young man broken down on the road. In pledging to help the lad reach the girl he adores, Gilly begins to open up about his past, the girl he loved and lost and the wolf they met in the woods as children.
From the opening narration, telling the audience the importance that this story began with a boy, a girl, and a wolf, we can clearly feel that sense of warming wonder that is fast becoming the hallmark of the company, through even to the charmingly normal references to bakewell tarts and Jools Holland, offsetting the ethereality of projected shadow puppetry on the ramshackle wooden set, as we are cast through time and memory to the youthful days of the woodside romance.
It's a darker, more sombre and reflective tale than Every Wild Beast and one that makes the audience work harder to get to like the characters, but it's still a deeply vivid and captivating play that will leave you feeling there's still a little magic left in the world.
Reviewer: Graeme Strachan