From Shore to Shore
Mary Cooper and MW Sun
On The Wire
The Dukes, Lancaster
–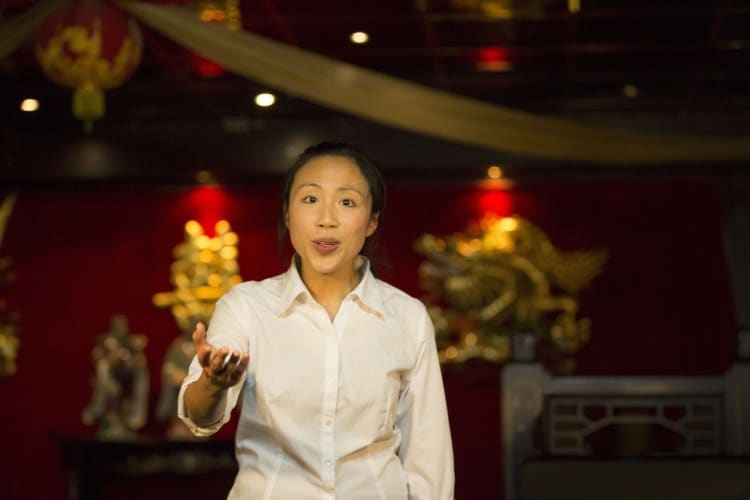 There's actual food for thought in this contemplative play about the experience of British Chinese communities.
It takes the old adage, about the way to the heart being through the stomach, by serving up a mini Chinese banquet either side of the performance. In that respect it resembles The Chef Show or even Chip Shop Chips which also appeared here and did a similar service to Indian restaurants and Britain's staple diet.
From Shore to Shore expands the remit to cover a century of Chinese history through the stories of several characters caught up in everything from the Sino-Japanese war, through Mao's Cultural Revolution, to the everyday concerns of contemporary members of the UK's Chinese society. It smartly illustrates how little we know or understand about the communities within our midst, but in a quietly effective way. It also underlines the particular significance of Chinese food either as reward, ritual or for plain survival, let alone as a business proposition.
Ozzie Yue, as Chung Wing, is a central narrator whose story begins as a refugee war orphan, while the other six cast members portray 17 characters between them. Stories that may initially appear as knotted as a bowl of noodles are gradually drawn out to become genuinely moving testimony.
Writers Mary Cooper and MW Sun spent three years researching and recording stories from communities in Yorkshire and Manchester and the writing bears the signature of verbatim theatre. Nicola Chang's live music adds an authentic soundscape, while Pui Lee's design and Douglas Kuhrt's lighting are economic but effective, as befits a travelling show that appears everywhere from Chinese restaurants to settings such as here, in the Dukes' Creative Learning Centre.
Follow all that with a tasty line-up of chilli chicken, lamb, king prawns, tofu and vegetables shared around the dining table setting with fellow theatregoers (and the added opportunity to widen discussion of the production) and you have a near-perfect recipe for a night out.
The play continues a national tour until next month.
Reviewer: David Upton