Fully Grounded: Leemte / Flashpoint
ReGina Wielingen / Robby Graham
Fertile Ground
Sunderland Arts Academy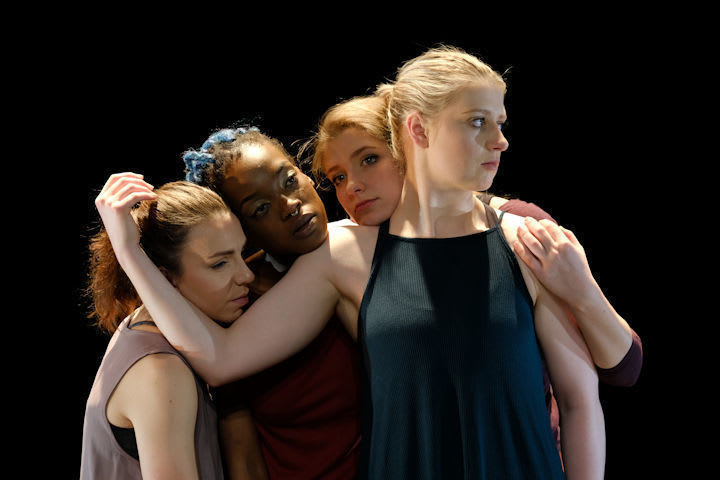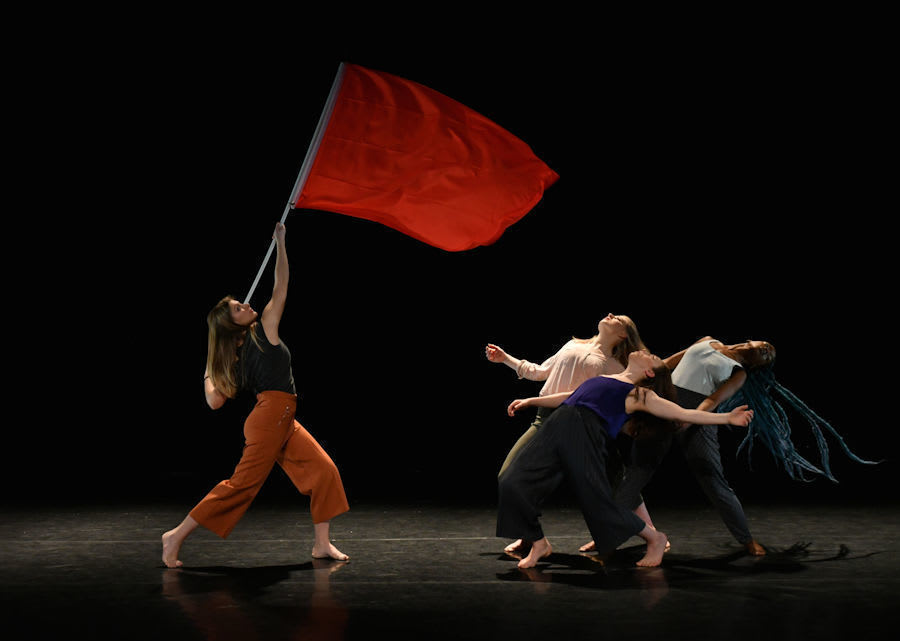 Fertile Ground is the North East's only early career professional contemporary dance company, which takes on a new company every year and commissions work from both national and international choreographers which it tours throughout the region. This year's company consists of Alyssa Lisle, Lerato Mncube, Katherine Whale and Giulia Coti Zelati, all of whom have a connection—either birth or training (or both)—with the region.
The two pieces in Fully Grounded explore "borders and barriers, real or imagined, between people and cultures" and in ReGina Wielingen's Leemte (in Dutch: a void, gap or even a place where something once was) we see barriers between individuals being erected, knocked down, taken down or being worn away.
There is a whole range of emotions here as the dancers move separately or together, in twos, three together and one isolated, or all together in harmony—or even disharmony. There is dejection, relief, happiness. Wielingen describes the piece as "a short story without a clear plot" and suggests that we should join the dots, but in trying to impose some form of narrative we risk losing the subtleties of the emotional impact of each episode. Better to allow the movement and interaction to take us where it will. And it certainly takes us on an involving and moving journey.
Narrative, however, is an important ingredient in the work of Robby Graham (his Faust on the top floor of a Sunderland car park, for example) and Flashpoint shows this clearly.
Heavily influenced by his childhood in Northern Ireland, the piece illustrates the attractions (and, ultimately, the dangers) of aligning oneself to a grouping, a "side."
It begins with the four dancers each holding and waving a flag. All four flags are exactly the same but one becomes dominant and the other three are relegated to a stand at the back of the stage. As the piece progresses all four rally to the remaining flag, symbolised by the award of a red sash to each in turn. The piece ends with that most beautiful and plaintive of Irish folk songs, "The Parting Glass".
But herein—again!—lies the folly of trying to describe a dance piece in terms of narrative, for the subtleties of emotion and relationships are lost; and make no mistake, this is a subtle and sensitive portrayal of the goods and bads of that most common of human desires, the desire to belong.
Two different and yet in many ways similar pieces of work by the two choreographers, performed with skill and feeling by the company of four, provide an entertaining and engrossing evening of dance.
There are eight more chances to see it: Trinity Square, Gateshead (15 June: pop-ups from 12:30); The Maltings, Berwick (22 June at 7:00); Dance City (23 June at 7:30); National Glass Centre, Sunderland (30 June at 2:30); The Tall Ships Race at the Town Moor, Sunderland (12 July at 4:40); Thought Foundation, Birtley ( 14 July at 7:00) and Jarrow Hall (21 July at 7:00).
Reviewer: Peter Lathan