Fully Committed
Becky Mode
Arts Theatre
(2004)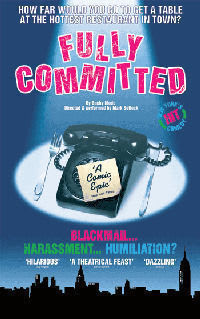 The solo show is currently a far more popular form in the United States than it is in Britain. For some reason, Americans are not put off by the prospect of sitting in front of an individual performer for anything up to two hours.
When you see somebody like performer/director Mark Setlock in action as Sam the actor/restaurant booking clerk, many reservations (if you will pardon the pun) fall away.
Sam has still not made it big on stage and as a consequence, is obliged to spend his days working for a tyrannical chef in one of New York's top "global fusion" restaurants.
In his crowded little office, he has to put up with the city's richest and most famous, often behaving at their worst.
On the day in question, the increasingly desperate Sam has been deserted by his working colleagues and life is impossible. This is perfect for Mark Setlock, as it gives him an opportunity to play about fifty choice parts in 75 minutes, all at manic speed.
He also gets into a variety of comic situations, with Japanese who speak no English, the unexpected Mr and Mrs Zagat from The Guide, his ageing father and even his agent.
Fully Committed might be stronger if it was cut a little but it is extremely funny and demonstrates that its star has a real talent for character acting.
Whether he is Naomi Campbell's PA, the precious Maitre d' or an assortment of other people of varying degrees of VIP-ness, he is always convincing. Everyone will have their favourites but the hysterical Mrs Sebag could well top a lot of lists.
This is a good opportunity to see an American one-person show and decide for yourself whether the Brits are missing out by eschewing the solo. The odds are that you will be won over by the talented Mark Setlock.
Reviewer: Philip Fisher