Galina Ulanova Russian Ballet Icons Gala
Presented by Ensemble Productions, The Galina Ulanova Foundation and St. Petersburg City Administration
London Coliseum
(2011)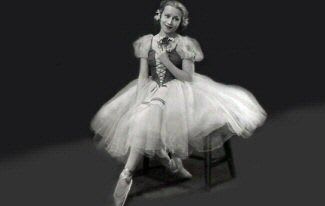 Galas are unnatural constructs - showy extracts from longer ballets, little dramatic context, characterisation reduced to the briefest of sketches - yet what to do? How to commemorate the prima inter pares ballerina, Galina Ulanova (1910-1998)?
In Russia, where Ulanova debuted in 1928, retired in 1960, and then taught for the rest of her life, celebrations took place in January 2010, her true centenary. In London Ensemble Productions choose to do it with an in memoriam tribute to 'an immortal'.
After an introduction by President of the Galina Ulanova Foundation and former pupil of hers, Vladimir Vasiliev, choreographer, Bolshoi principal dancer, and its sometime artistic director, an attempt is made, with screen projections of rare photos and videos, at more than an approximation of her legacy. .
Over the images extracts from letters are heard - from ordinary people, from a World War Two frontline soldier, from a son who remembers his mother cleaning their flat extra thoroughly before she sits down to watch Ulanova on the television and weeps with joy.
'Just an ordinary goddess' (Alexey Tolstoy), Ulanova inspired ordinary people in Russia during hard times. Tell that to our present government. 'Magical', 'miracle', 'total dedication to her art', 'dramatic identification with the role' trip off the tongue.
'She is the genius of Russian ballet, its elusive soul and its inspired poetry. Ulanova imparts to her interpretation of classical roles a depth of expression unheard of in twentieth century ballet ' (Sviatoslav Richter).
'Not only has she given us unforgettable characters, she has created her own artistic world - a realm of human spirituality ' - this from Prokofiev who created Cinderella for her.
On the stage screen a simple but cogent quote from the revered actor-dancer - "I worked out / thought through the character of the image'. It is this 'character' that many more technically proficient young dancers must aspire to today, a legacy worth passing on, for without it technique is just a party piece.
Galas survive on goodwill, expectations, and promises. Sometimes they work, sometimes they disappoint, as the recent Diaghilev Festival - Les Saisons Russes du XXIe Siècle proved. Bringing together busy dancers from across Europe cannot be easy, but who would refuse, commitments permitting, to honour Ulanova in an evening of love duets?
Remember the names of these embryonic stars, and final year students from the renowned Vaganova Ballet Academy, where Ulanova herself studied, feeding us a delicious amuse bouche tonight of what the British public saw for the first time in 1956 when the Bolshoi visited Covent Garden.
How many are there left today of those who queued round the block, some for three days to see the already legendary Ulanova (aged 46) dancing Juliet, Giselle (her favourite role) and the Dying Swan? Can the evening's programme live up to the memory?
On the whole, yes. Amongst the fourteen numbers only one is a faux pas. Three modern choreographers are thrown in to leaven the mix, and break up the sugary classical symmetry, but Twyla Tharp's Sinatra Variations is not, perhaps, a wise inclusion. Igor Zelensky and Tatyana Gorokhova bring little panache to a number that exemplifies American 'cool'. A tenuous connection.
But Angelin Preljocaj's Le Parc and Jean-Christophe Maillot's La Belle pas de deux sit well with the romantic classical fare. Curiously similar, the awakening of carnal and spiritual love, a prolonged kiss the core, Le Parc is Mozart deep in love, and La Belle is a modern Sleeping Beauty so thrilled by this curious new sensation that she can't get enough of it.
Passionate acting from Bernice Coppieters and Alexis Oliveira (Ballet Monte Carlo), and equal intensity from bare-footed Nadia Saidakova and Vladimir Malakhov (Staats Ballet Berlin) as Mozart and his impetuous amour, convince wholeheartedly.
The rest is disciplined classical elegance. As the poets' (Marat Shemiunov) serene muses, senior Mariinsky ballerina Ulyana Lopatkina exudes breathtaking lyricism in Mikhail Fokine's Les Sylphides and Asaf Messerer's Orpheus and Eurydice which open and close the evening. No surprise there.
But what of dancers whose names we don't know so well yet? I am delighted to report that there is remarkable dancing from the Bolshoi's rising stars: Svetlana Zakharova exquisite in the contrasting Dying Swan and Lady Macbeth in Vasiliev's Macbeth - in vivid red she is Macbeth's (Andrei Uvarov) armour plating, her Sylvie Guillem javelin legs would see anyone off.
Svetlana Lunkina in the love from beyond the grave second act Giselle pas de deux with Dmitry Gudanov is ethereal and light as a wisp. Darya Khokhlova (pliant back, beautiful legs, fantastic pointe work) and Vladislav Lantratov are unbelievable and totally believable in The Red Poppy. Lantratov also earns his gravity-defying spurs in Vasily Vainonen's folkloric Flames of Paris with Ekaterina Krysanova both daring and steady as a rock - I swear she did more than thirty-two fouettés, and some of these were doubles.
The Vaganova Ballet Academy final year students, Sergey Strelkov and Olga Smirova, show huge promise in Messerer's Dvorák Melody - she possibly an Ulanova in the making. Mariinsky's Evgenia Obraztsova, Juliet to the Royal Ballet's David Makhateli's Romeo, dances beautifully, but, void of context, scenery, and stage props, characterisation does not come easily.
Royal Ballet's Thiago Soares in flesh-coloured loincloth proves he can do Bolshoi style bravura in their Diana and Acteon, whilst statuesque Dorothée Gilbert from the Grand Opera Paris is an utterly commanding Diana.
The lovely Daria Klimentova and the superb young Vadim Muntagirov, treasures of the English National Ballet, nearly bring the house down in Balanchine's Tchaikovsky Pas de Deux. A true demonstration of dynamic partnership and panache
What binds all the above is love. Love for each other, love for dance, for its keepers of the flame, for Galina Ulanova the prima ballerina assoluta who touched so many lives, for music that eases and transports the spirit. Think on that, and wonder what value the arts have for society.
Reviewer: Vera Liber