The Game of Love and Chance
Pierre Marivaux, translated by Neil Bartlett
Salisbury Playhouse
(2011)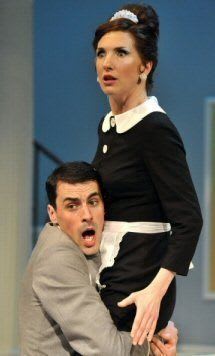 Farce is arguably the most difficult theatrical genre of all. Throw in, for good measure, a play by the Limouse writer Pierre Marivaux, whose delicate form has been described as almost impossible to translate satisfactorily into English, and you have a real challenge.
One accepted enthusiastically by Philip Wilson whose production of Neil Bartlett's translation of The Game of Love and Chance is surely worthy celebration of the news that Salisbury Playhouse, together with the local Arts Centre and Music Festival, have retained their government grants in the face of the most severe cut backs for a generation.
That is by no means to say that this adventurous production is a total success. Neither am I sure whether to blame Wilson or Bartlett for the shortfall?
Certainly not the company. Given the outrageous plot in which, after Silvia (a strong performance by Hattie Ladbury) has told us she proposes to swap identities with her maid Lisette (a superbly coquettish performance by Jo Herbert), we are told by Sylvia's father (Stephen Critchlow) that her suitor Dorant (the excellent Tom Davey) is indulging in the same strategy with his chauffeur in order to make a similar critical appraisal of his intended.
There is a fascinating performance by Antonio Magro as the real servant Arlecchino though I feel his bizarre style sometimes verges toward the totally eccentric. And I am not certain just what role Glyn Kerslake as the piano-playing brother, Maurice, is fulfilling. Certainly there is nothing outrageous in this performance - perhaps that is the trouble?
The scene is set for the sort of mayhem which is the staple diet of the farce. "Whose trousers will be off first?" I heard one patron enquire even before the curtain had risen. No such thing - this is, after all, French not English farce, Marivaux not Chapman and Cooney - and we are at The Playhouse and not the Whitehall!
Tom Rogers' design is splendid - almost sumptuous and, as the applause for it rang out, I began to expect a performance of Die Fledermaus proportions. House tabs (of course) and even footlights. In fact the play contains strong elements of metatheatre, with many references to the theatrical process though not, unlike in a famous National Theatre revival, onstage dressing tables for the characters to make up in full view!
I am uncertain whether or not such trimmings are de rigueur today at either Comédie Française or Italienne, where this play was first performed in 1730, two years after John Gay's Beggars' Opera.
The second half is notable for some furious entrances and exits though not for the door-slamming one might expect in this exaggerated medium. But then this is not strictly farce as we recognise it.
When all is said and done, Bartlett is to be congratulated for giving us an account capable of being performed on the English stage, while Wilson deserves great credit for the courage of his convictions.
The production continues until Saturday 23rd April.
Reviewer: Kevin Catchpole