Gandini Juggling – 4x4: Ephemeral Architectures
Director Sean Gandini, choreographer Ludovic Ondiviela
London International Mime Festival 2015
Linbury Studio Theatre, Royal Opera House
–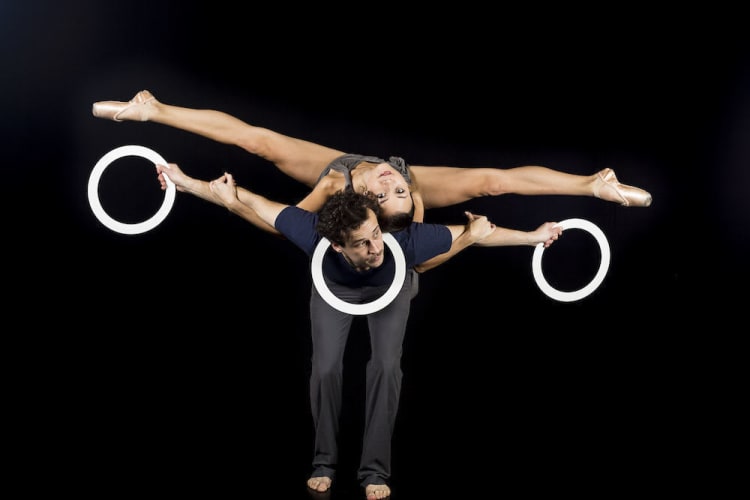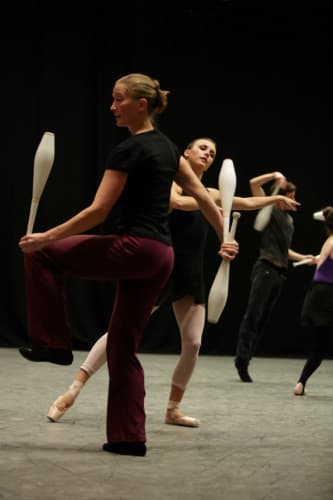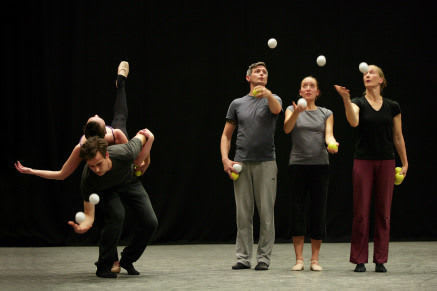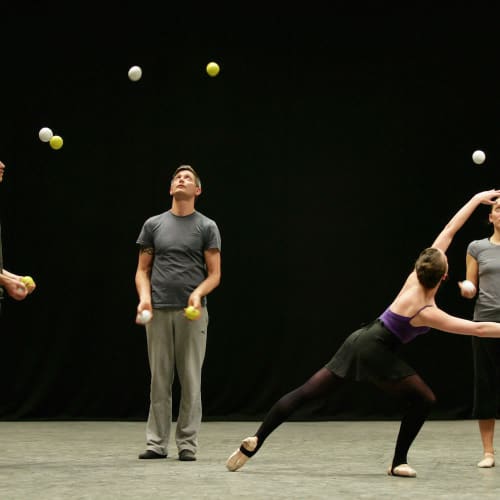 If their previous show Smashed was inspired by Pina Bausch, Gandini Juggling's new show's title, 4x4: Ephemeral Architectures, speaks for itself. What the dry, mathematical title doesn't reveal is its sly wit, humour and visual banter.
Nor that four classical ballet dancers, Erin O'Toole, Kate Byrne, Joe Bishop and Kieran Stonely, are integrated into the show, multitasking with four agile Gandini jugglers, Kim Huynh, Kati Ylä-Hokkala, Owen Reynolds, Sakari Männistö—speaking, beating rhythm, body as percussive instrument as well as supple tool.
Nor that the music by Vladimir Ashkenazy protégé, Nimrod Borenstein—Suspended op 69, played by young chamber string ensemble Camerata Alma Viva (two violins, viola, cello and double bass)—is divine.
After his deadly earnest Cassandra, former Royal Ballet dancer, Ludovic Ondiviela, working hand-in-hand with director Sean Gandini and indispensible lighting designer Guy Hoare, proves he does have funny as well as graceful bones. Pas de trois, jazzy quadrilles, lifts and body contact, enhance and subvert the concentration of the jugglers.
They all play interactive geometric games: Hoare with his check-board lighting, Ondiviela with his clever knitting and weaving of his dancers into the action, Gandini with the mathematical complexity of the flying clubs, balls and hoops—how do you throw three rings at the same time to reach three people at different distances?
Equations of the animate and inanimate, and optical illusions: white hoops cascading against the darkness settle as ruffs round the neck… and keep your eyes on the balls, yellow, green, white.
The incongruity of the inspired juxtaposition, and a babel tower of language: everything is a system, a code, they say, a deciphering of everything is their mantra. 'Is it possible to dance when the ball is in the air?' Both ballet and juggling rely on similar skills, trust, memory, balance, poise, control, metronomic timing.
Computer brains and robot speak, but there's nothing artificial about the intelligence of 4x4. Order out of chaos that's what it's about. Computer programming was never like this.
Reveling in dramatic lighting, clockwork mechanism and precise timing, 4x4 inevitably brings Merce Cunningham's 'chance' compositions and Wayne McGregor's 'creative cognition' to mind—with added deadpan comic Chaplinesque warmth. This is part of the mime festival, after all.
And Nijinsky's Jeux, a danced poem to music by Debussy, flits fancifully through my brain—Cocteau too, as it scrambles to make sense of the graphic display.
A generous sixty-five minutes in which time and space are stretched and rearranged, etching patterns on the eye, and entrancing the ear with beautiful sounds, enchants and thrills a delighted audience.
Collaboration, astonishing synchronicity, moments of human fallibility, an interaction that speaks of cooperation with ludic clarity, 4x4, making its world première at the Linbury Studio, is not to be missed.
Surreal and concrete, with a tiny touch of avant-garde cabaret, especially when the musicians briefly enter the fray, this joyful, at times laugh-out-loud funny, entertainment is suitable for all ages, 8+ is advised.
Reviewer: Vera Liber