Genesis/Golgotha
Don Nigro
Clancy Productions
Assembly, George Square
–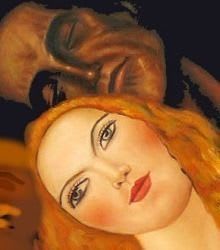 Husband and wife team John Clancy and Nancy Walsh have a long and very successful Fringe tradition.
Their latest collaboration takes an irreverent look at two of the main players in the Bible, through their own mouths. In each case, the writer gives his subjects a fresh American twist to spice up familiar tales.
The first of the two 25-minute long monologues features Nancy Walsh, in the role of the mother to us all, Eve.
Without any use of excessive animation but working hard on facial expression, she relates her first meeting with Adam, the temptations offered to a bored house(less)wife by a turquoise-eyed serpent and the consequences.
We also hear about the boys and numerous daughters, who would eventually populate the world.
The delivery is low-key and gives the impression of a New Yorker chatting to a stranger met in a bar about her extraordinary life.
Golgotha is performed by a far more animated and sly Clancy, taking the role of the Messiah himself.
In this case, Jesus might be relating a history that is known to all from the Bible but the slant of his sleazy Pittsburgh location changes perceptions.
It is not entirely clear whether this shabbily-dressed, bearded man is mad or blessed but either way, he is worth listening to.
Genesis/Golgotha is immaculately delivered and should prove popular with anyone who can accept the holy word being subverted to inject humour but also perhaps fresh meaning for the modern age.
Reviewer: Philip Fisher