Gently Down the Stream
Martin Sherman
Robert Fox and Alex Turner in association with Park Theatre and King's Head Theatre
Park Theatre (Park 200)
–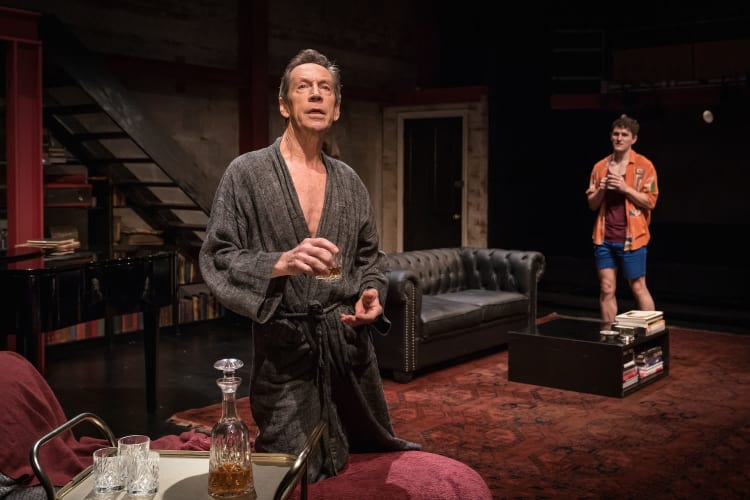 For those who are growing up when gay marriage and gay parenthood are socially acceptable, it is difficult to realise how much has changed, how different things were for older generations who grew up in a world of persecution and blackmail. Matthew Lopez's play The Inheritance looked at those changes on a large scale. This play from Martin Sherman (author of Bent) looks at that gay history in microcosm through a relationship between an older and a younger man.
It begins in 2003 when American ex-pat Beau, now living in West London, makes an Internet "assignation" with lawyer Rufus who is only 38. When the sex is over, it is time for Rufus to go but he doesn't want to. He not only prefers older men but it turns out this wasn't such a blind date. Rufus knows that Beau is a pianist who was accompanist for the English-born cabaret singer Mabel Mercer. She may not be well known now but Sinatra claimed he owed everything he learned to her. Rufus wants to know all about her, he is far more interest in the past than in what his contemporaries are up to.
Soon they are lovers, not despite the age gap but because of it, though Beau has grown up believing gay romance always ends in disaster. Rufus has no such qualms and moves in.
It wasn't just Mercer that Beau knew and Rufus begins to record Beau's recollections, of friend and former lover James Baldwin for instance, of leaving his birthplace New Orleans, beloved and full of music, driven away by the Mafia-linked father who disowned him, of intriguing other lovers and past experience, loss by AIDS and arson.
These become soliloquies that Jonathan Hyde as Beau handles beautifully and he subtly suggests the wonder of the older man at the younger man's affection. When civil partnerships become possible, Rufus even suggests that they become one.
It is an intriguing but believable relationship. Ben Allen's Rufus curls up against Beau like a happy kitten though turning fiery when his bipolar balance tips the other way. Beau insists that Rufus does not have to be monogamous but when after many years he does fall in love with a younger man it is obviously a big blow.
Harry Lawry is the new love, tattooed performance artist Harry, another generation, taking much for granted and not looking back. There is great fondness between all three but, when Rufus moves out, the situation is poignant, though this play is never sentimental.
Gently Down the Stream follows the relationship for 13 years as the younger men move on to marriage and fatherhood, setting new rights and freedoms against the past and the fight for liberation, Larry Kramer's struggle for AIDS awareness when "men were dying but alive with anger."
As one of Beau's former lovers insisted, if gay men don't tell their histories to other gay men they will be lost. This play does that with great humour despite some tragic horror from a New York YMCA full of singing soldiers to those skeletal plague faces.
Sean Mathias delivers a superb production that plays without an interval, holds attention for over 100 minutes. There was a moment when, almost in tears, I sensed we were reaching a dramatic ending but another scene flowed on with another aspect of modern gay relationship, the audience happy to go on sharing.
It got a genuine standing ovation not just a first night reaction. It isn't just a play for gay men. I sense a transfer, but catch it now.
Reviewer: Howard Loxton