Geordie Sinatra
Fiona Evans
A Live Theatre, Newcastle, and Stephen Joseph Theatre, Scarborough, co-production in association with New Writing North
Live Theatre, Newcastle
–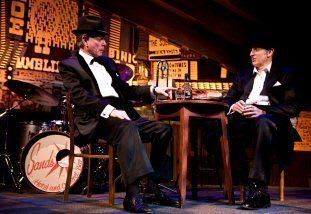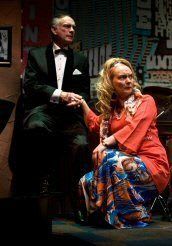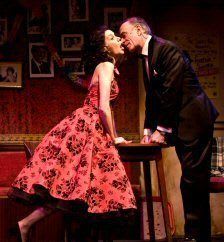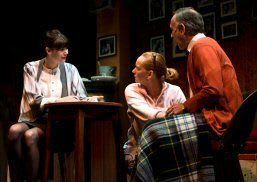 Dementia seems to have been the theme of choice in North East theatre in the last couple of months. There was Open Clasp's Swags and Tails and Theatre Hullabaloo's Angel, both of which toured the region, and now Fiona Evans's Geordie Sinatra tackles the same topic.
Spoilt child Nancy (Heather Saunders), her journalistic career stalled by a scandal, returns home to what used to be a nightclub in Whitley Bay where she finds her father Geordie (Anthony Cable), once upon a time a Frank Sinatra tribute act, is suffering from dementia, cared for by his partner, ex-nurse Joan (Jill Myers). Geordie is sometimes lucid but sometimes slips into hallucinations in which he is Sinatra.
Also unexpectedly turning up is Geordie's former drummer, Sonny (Kraig Thornber), just when Joan is organising a final show for Geordie.
There are echoes here of Dennis Potter and Lee Hall's Cooking with Elvis, scenes which are almost soap-like in their plotting and dialogue, and one which could have been taken in its entirety from one of those worthy agit-prop shows in which the audience is preached at, but at every stage Evans subverts the expectations she has aroused in the audience and through laughter brings a deeper sense of pathos and an unexpected positivity in the midst of the very distressing situation in which the characters find themselves.
I have no wish to write a spoiler but I have to say that the whole situation is much more convoluted and complex than first appears and Evans manages the slow unfolding of the full story very well.
It's a demanding piece for the actors, not only because they provide the musical accompaniment to the (beautifully performed) Sinatra songs, but because they slip between time frames and different characters, almost at the drop of a hat.
Cable plays Geordie and Sinatra, Saunders his daughter, Ava Gardner and her own mother Vera, Myers Joan and Sinatra's mother Dolly, and Thornber Sonny, a police officer and Sinatra's drummer Jimmy Van Heusen.
Chris Monks, who is artistic director of the Stephen Joseph, keeps the whole thing tight and well paced on a set (designed by Jan Bee Brown) which, while portraying the seedy, faded glamour of the former nightclub, is transformed at times by Mark Johnson's lighting design into the glamour of its former incarnation.
And of course the music is great. Cable captures the Sinatra style and has a powerful trained singing voice and the backing, from Musical Director Richard Atkinson on piano, Thornber on drums and trombone, Myers on trumpet and Saunders on clarinet, gives a great big band-like sound.
Geordie Sinatra is a great night in the theatre, mingling humour, pathos and positivity in equal measure.
"Geordie Sinatra" transfers to the Stephen Joseph Theatre on 16th May, running to 2nd June.
Reviewer: Peter Lathan