George Egg : Anarchist Cook
George Egg
Canada Water Culture Space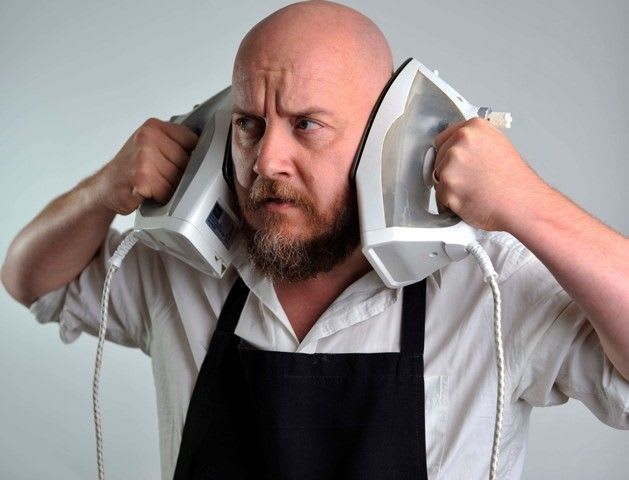 One evening, in a badly equipped rented caravan, I taped together three forks with Elastoplast to simulate a whisk—the need for meringues being great and the opportunities for buying utensils being small.
George Egg takes this same concept of necessity being the mother of invention to new and wonderful extremes, creating a three course meal using only the equipment found in the average hotel room.
He does this whilst simultaneously delivering ingredients lists, recipes and a comic patter heavily sprinkled with day–to–day observations and exhortations for us all to think out of the [egg] box, not just in culinary matters but generally.
The multi–talented Egg comes across as a very amiable character. Super–enthusiastic about food, witty and down to earth. A foodie's perfect dinner guest.
He is as self–deprecating as he is gently mocking of the middle–class predilections of the audience, allaying anxieties about the ingredients for the starter coming from Lidl with reassurances that the pudding ingredients come from Waitrose.
He has stand-up comedy roots, and it is the avoidance of fast food whilst on the road with that job that inspired him to cook for himself in hotel rooms supplementing his shopping with ingredients found for free, a technique he refers to as "urban survivalism".
Egg doesn't just share his culinary triumphs when talking about hotel room cooked food; he packs in lots of information explaining his failures, some cooking science and blagging methods, and a wide range of tips from what kind of knife to carry to the techniques needed to make a good toasted panni with an iron.
Un–garnished by the self–congratulatory smugness of television celebrity cooks and seemlessly making the difficult look easy, Egg delivers an attractive and tasty three-course dinner for the audience to sample after the show.
As a militant vegetarian, I restricted myself to a taste of pudding (delicious—and I will never look at a toasted, crushed hazelnut in the same way again) but to think that this show is just about being clever with food doesn't do Egg justice.
Yes, it is a lesson in not selling your stomach short when travelling—and perhaps to check the kettle for fish bones before making the tea—but above all it is a joyful appeal to not restrict your imagination.
George Egg is the show and the show is George Egg. He is extremely funny, entertaining and likeable and living proof that there is at least one man on the planet who can multi–task.
George Egg Anarchist Cook tours as follows: March 12 - Laughing Coyote - Suton; March 13 - Nordon Arts Centre, Maidenhead; Mar 29 - Void Your Warranty, Backyard London (truncated version); April 02 - Rondo Theatre, Bath; April 15 - Byre Theatre, St Andrews (Leith Festival); April 16 - Carnegie Hall, Dunfirmline (Leith Festival); May 20 and 21 - Soho Theatre, London; May 31 - Unity Theatre, Liverpool; June 02 - Marine Theatre, Lyme Regis; June 03 - Poly Arts Centre, Falmouth; June 07 - Rope Tackle Arts Centre, Shoreham by Sea; June 09 - The Spring Arts Centre, Havant; June 11 - Discovery Centre, Winchester; June 16 - Hertford Comedy Festival; June 17 - Old Town Hall Arts Centre, Hemel Hempstead; June 18 - Ashcroft Arts Centre, Fareham; July 01 - Cornerstone Arts Centre, Dicdot; July 16 - Latitude Festival; July 23 - Horsebridge Arts Centre, Whitstable; September 24 - Chiddingly Festival; October 12 - Bewdley Festival; November 19 - Magic and Mystery Festival, Corsham.
Reviewer: Sandra Giorgetti