Epitaph for George Dillon
John Osborne and Anthony Creighton
Comedy Theatre
(2005)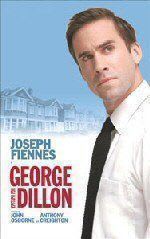 It is difficult to see why Epitaph for George Dillon has almost completely disappeared from view for a generation. The play, which is currently celebrating its 50th birthday, seems perfectly serviceable and was substantially written by one of the country's greatest playwrights of the last century.
It was certainly successful when it was originally produced in 1958, transferring from the Royal Court first to the theatre in which it now appears in the West End and then to Broadway. However, it has not had a professional stage production since 1972, if the programme notes are to be believed.
Peter Gill's revival is therefore very welcome and he does the material justice. This may not be the greatest play that Osborne wrote but then he didn't write it all, having collaborated with Anthony Creighton, a man who may have been his lover at the time.
The setting, perfectly realised by designer John Gunter, is the lower middle-class living room of the Elliott family, all dowdy wallpaper and dull green three-piece suite, not to mention a prize cocktail cabinet.
This was a period of great technological developments and the family's two daughters Josie (Zoë Tapper) and shy Nora (Dorothy Atkinson) may find life at home dull but it is certainly brightened by the radiogram, the television and, by the end, a telephone that is treated like an object of worship.
Their parents could have come straight from Pinter's The Birthday Party. Cynical father played by Geoffrey Hutchings and his kind hearted wife (Anne Reid) are an odd couple of a type that has somehow largely disappeared with the prevalence of divorce and separation in the ensuing fifty years.
While they are all unexceptional, their lodger, Francesca Annis' Auntie Ruth, is a woman born before her time. She is a graduate who has fallen into a dead-end job and given her love to an indolent writer who seems destined for laziness and failure. As the play opens, she has returned to the bosom of her family to lick her wounds after finally ending the affair with a man whom she has supported for six years.
This is all suitable material for a fairly dreary sitcom but everybody perks up with the news that Mother has "adopted" a work colleague who has just given up his job to concentrate on his career as an actor and playwright. For her, he is to be a surrogate son replacing the real one lost in the war some ten years before.
Then George Dillon, the incredibly tall, thin Joseph Fiennes, famous as Shakespeare in Love but far too rarely seen on stage these days, turns up and all of the women fall in love with him in different ways. He initially charms but he struggles to keep his cynical detestation of this ordinary family below the surface.
While flirting with Josie, he is far more interested in the intellectual challenge of her beautiful, older aunt. The finest scenes in the play show the prototype of that ranting young man, Jimmy Porter, as he bemoans his own life in a tirade addressed to Ruth, who is capable of giving as good as she gets.
There is also a considerable amount of good comedy, possibly the responsibility of Creighton, particularly in a scene where a cynical impressario/producer informs George of the way to unbelievable riches. All that he has to do is to cut the intellectual pretensions from his play and replace them with sex and violence, not to mention a pregnancy in the third act.
The play drifts into soap opera mode towards the end as first, the anti-hero is found to be suffering from TB and then recovers. George next reveals that he is married to a TV star, about to divorce her to take on his responsibilities with Josie (pregnant in the third act!) and wealthy as a result of a cynical rewrite that has turned his play into a popular success.
It seems unlikely, as this man is destined to be unhappy with his poor, dim wife-to-be and needs the stimulation of a relationship with her aunt or possibly some younger equivalent.
Peter Gill has done a great service both to the London theatre and the writers of this play by reviving it. It provides a very enjoyable two and three quarter hours and despite its unevenness, will prove popular with a variety of playgoers. Its appeal should stretch across the spectrum with screen fans attracted by the big-name stars and theatre buffs by the chance to see an early almost unknown work by Osborne that sheds light on Look Back in Anger.
With its star names and intellectual depth, Epitaph for George Dillon deserves a long run, although it must run the risk that Joseph Fiennes will have lucrative screen commitments and might prove difficult to replace.
Visit our sponsor 1st 4 London Theatre to book tickets for
Epitaph for George Dillon.
Reviewer: Philip Fisher