Get Aladdin
Jon Bradfield and Martin Hooper
Above the Stag
Landor Theatre
–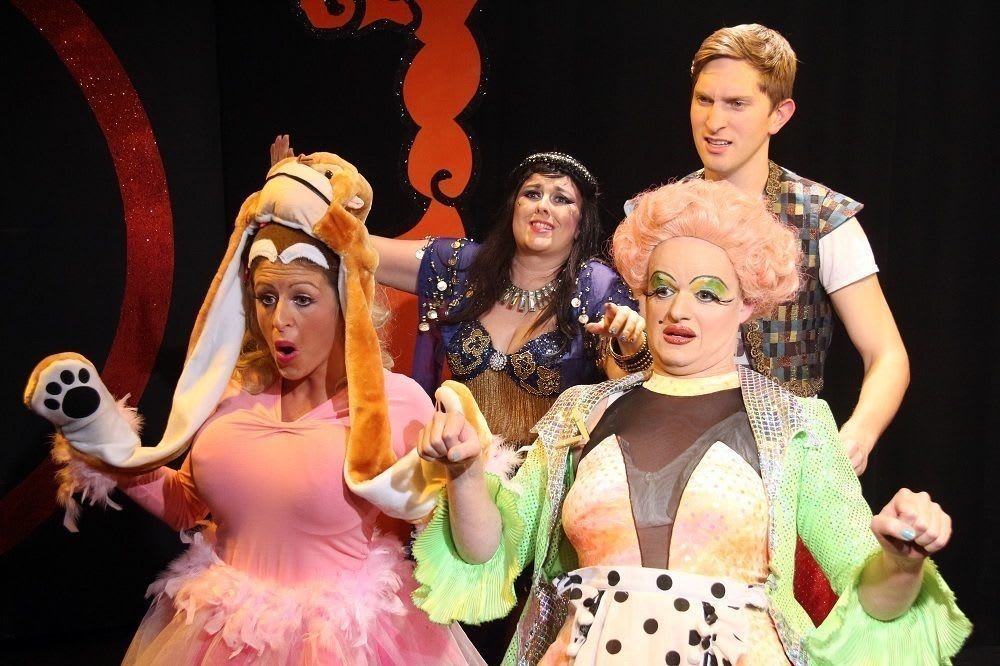 Above the Stag Theatre has been forced out of its premises in Victoria but thank heavens the Landor had room at the proverbial inn to house the ATS panto—Get Aladdin.
Writers Jon Bradfield and Martin Hooper have once again issued an invitation to give one's self up to the joys of excessive campery and havoc in the tradition of their previous festive works, Robin Hood—Queen of Thieves amongst them.
The dementedly–plotted antics of Get Aladdin involve husband–hunting Widow Twankey and her lamp–thieving son, Aladdin, fleeing Clapham for Hao Hung, China, where nasty Abanazar plots world domination.
Dim detective Lauren, on secondment from G4S, is in pursuit to recover the stolen lamp, which is inhabited by Siri, the sexually predatory Genie, but hey, why have one genie when you can have two, and there is also The Gimp of the Ring, whom Abanazer plans to have as a sex slave.
Lonely gay geek Prince Char Ming lives in the magic palace waiting to be rescued whilst his horny widower father, the Emperor, tries to pimp him girls from the Olympic girls' table tennis team and have one or some for himself.
There is also Aladdin's friend, Wishy Washy, a monkey with inexplicably large breasts whom Abanazar would have served on a plate, literally, but a happy ending is engineered for her and generally all round.
Attached to this comedy-love story–cum–adventure (and the sub–plots which you have been spared) are all the wonderful conventions of panto. There is audience participation aplenty plus the waving of glow–stick necklaces and the blowing of bubbles. The songs range from West Side Story's "I Feel Pretty" to Village People's "Go West" with a bit of George Formby's "Chinese Laundry Blues" and the ubiquitous reference to "Gangnam [gang bang] Style". No one said this was tasteful.
Hats off to trooper Sarah Dearlove (Siri) for singing a capella when the backing track crashed, accompanied by Greg Airey's Aladdin on air piano, and generally to all the cast for some very comic improvisations.
The Emperor of Hao Hung is a delightful performance from Philip Lawrence, Josh Rochford is a fabulous dame and Matthew Baldwin a deliciously wicked Abanaza.
Seen at final preview the show will benefit from some tightening up over the course of the run not least because, even when you're having this much fun, just short of three hours is a long evening.
The songs could do with being shorter on the 'less is more' principle and the script tends to leave the dialogue to fizzle out, but when it's good, it's hilarious. Racketeer Abanazar teases with bewilderingly impenetrable rhyming slang, "bulging—bulging erection—protection" and of course there is a generous littering of innuendo—"His [w]hole's not as good as his parts". Bradfield and Hooper have included some good one-liners and found room for local references, social satire and if there is a moral then it is probably, "if at first you don't succeed, suck harder".
Booking essential. Not suitable for children. Running time 2 hours 50 minutes including interval.
Reviewer: Sandra Giorgetti