Get Carter
Torben Betts, adapted from the novel Jack's Return Home by Ted Lewis
Northern Stage
Northern Stage, Newcastle
–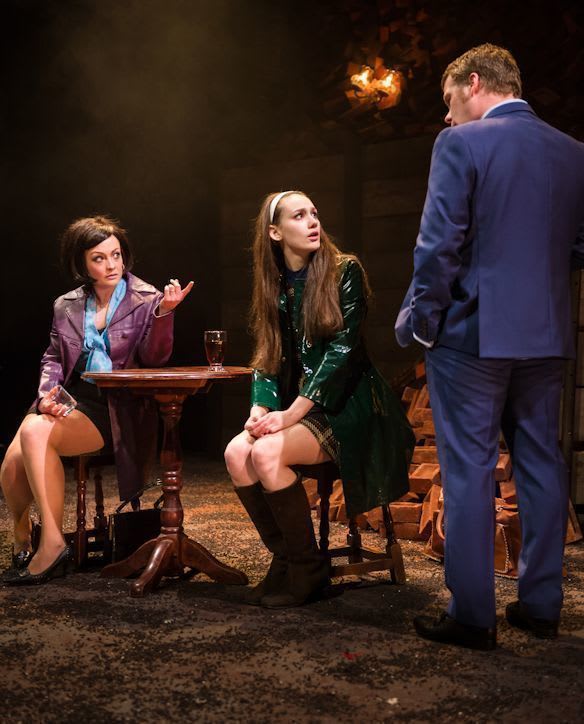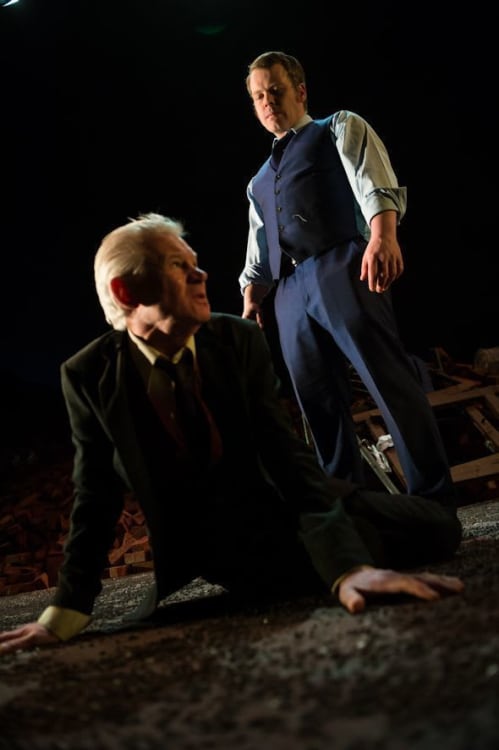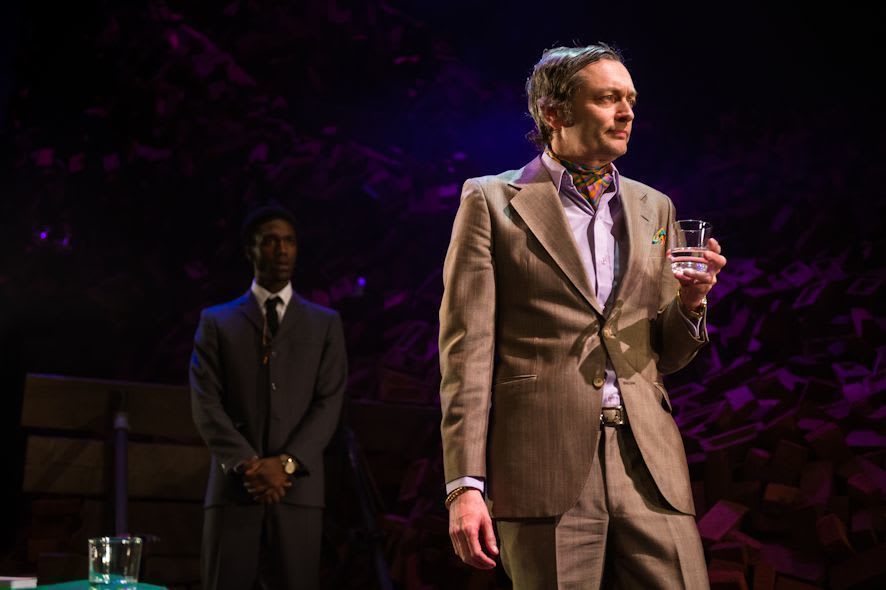 This is emphatically not a stage version of the 1970 Michael Caine film and, frankly, is much better for it.
Torben Betts has gone back to the original novel to find a Jack Carter who is more than a laconic killing machine. His situation is the same—returning home to bury his brother Frank, he discovers he was murdered and so needs to avenge his death—and he's no more attractive but he is more real. Instead of watching him, bent on revenge, rampaging through Newcastle and Gateshead (and as far south as Horden and west to Hamsterley, along with a trip north to Blyth!), we visit a much more interesting place, the inside of his mind.
What does a gangster think and feel? Surely there is more in his head than a lust for killing?
Of course there is, and we find it in Lewis's novel and Betts's playscript. Jack Carter is a much more complex character than you would ever suspect from watching the film. We, the audience, are inside his head; from his first words describing his rail journey from King's Cross right to the expected ending, we see everything not only through his eyes but filtered through his thoughts and emotions. This goes way beyond the voyeuristic violence of the film into a bleak, almost nihilistic picture of the lives shared by all the characters.
The play is set in a post-industrial landscape, reflecting both post-war dereliction and the dying heavy industry of Tyneside in the late '60s, under one of those huge railway arches, from which water continually drips and which is filled with bricks piled high, well above the height of two or three men.
Amongst this industrial detritus is the detritus of the lives of the people: a circular table and a couple of stools are unearthed from the rubbish to provide a pub setting, and then are returned; a chair is pulled out and Carter's niece Doreen tied to it, and then it too is returned to the rubbish heap.
This nightmarish landscape was created by set designers 59 Productions Ltd and could—no, should—be regarded as a character in its own right.
When we enter the theatre we see, centre-stage, Frank Carter's coffin on two trestles. After the funeral (very early in the play) it is moved to downstage right where it becomes a bar for the rest of the time. There is more than irony at work here. Downstage left there is a drum kit at which a drummer sits, his face expressionless, playing quietly for much of the time. It gradually becomes clear that he is, in fact, the dead Frank.
Why a drummer? Yet another level of this multi-layered piece of theatre is the music of Tyneside group The Animals, reinterpreted (along with jazz suggestions) by Nadine Shah, Ben Hillier and James Frewer.
Writer Torben Betts's work was last seen in the North East in April and May last year with Live Theatre's production of his political drama What Falls Apart. Get Carter exhibits the same intellectual rigour and, most important of all, the same understanding of what makes people tick. Taking his cue from Lewis's novel, he shows us the inner workings of the minds of a group of people who, quite frankly, have few, if any, redeeming features, and yet he manages to create in us a spark of… well, not empathy and certainly not sympathy, but perhaps a little understanding.
Lorne Campbell, Northern Stage's Artistic Director, marshals all his forces effectively to draw us into this alien, repulsive world. This kind of concept-driven theatre can be a damp squib or even a major disaster but here it works magnificently. It's clear that writer and director have worked hand-in-glove throughout the process—and, in fact, it's obvious that the whole creative team must have done so for the integration was perfect with no sense of any aspect being "bolted on" as an afterthought.
Campbell is blessed with an exceptional cast. Kevin Wathen's Jack Carter doesn't shout "psychopathic killer" but rather there's an innocence about him which is much more chilling because you know he will not be deflected from his course. He is committed and totally convinced that he is right.
Between them Victoria Elliott, Michael Hodgson and Donald McBride play seven characters with an ease and effortlessness which conceal much hard work and real talent, whilst Benjamin Cawley as Eric almost (almost!) convinces us of his reformation, that he really has "gone straight."
Amy Cameron certainly does convince as the 15-year-old Doreen, daughter of the murdered Frank. She is possibly the only one who might be salvaged from the wreckage of so many lives. But then again…
Towards the end of the play, Martin Douglas (Frank) stands by the coffin/bar staring across the stage, his face cold and totally expressionless—one of the most chilling images I have seen in a long lifetime of theatregoing.
This really is a very powerful piece, certainly the high point of Campbell's tenure at the venue to date. It's dark—nay, bleak—and liable to offend at almost every level. The language is extremely strong and the people are of the kind which we would much rather believe don't exist but Betts's writing takes us right to the heart of this societal underbelly. For all lovers of real, serious theatre, this is not to be missed.
After Newcastle, Get Carter moves to the Citizen's, Glasgow (8-12 March), Richmond Theatre (15-19 March), Belgrade, Coventry (22-26 March), Cast, Doncaster (5-9 April), Gala, Durham (12-16 April), The Lowry, Salford (19-23 April) and Nuffield, Southampton (26-30 April).
Reviewer: Peter Lathan