Ghetto Klown
John Leguizamo
WestBeth Entertainment in association with The Soho Theatre
Charing Cross Theatre (formerly the New Players Theatre)
(2011)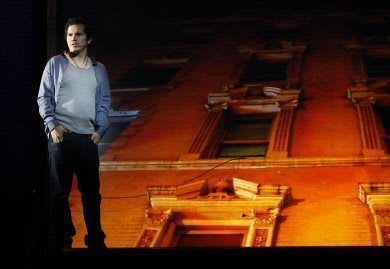 If this show is to be believed John Leguizamo is a man who bit Lee Strasberg, has had his balls felt by Baz Luhrmann and threw up over Patrick Swazye, and he's only in his forties. You kind of have to like him, though it took me a while to warm to the largely based on truth bio-tirade that is Ghetto Klown.
Leguizamo's sharply observed account starts with his turbulent childhood following the family's arrival in New York from Colombia, speeding through to the present day, screeching to a stop to recount the relationship and career events that have made him who he is - a performer and writer of extraordinary skill and energy.
Deeply screwed up from a young age, he was first rescued by acting and subsequently also by writing. In the depths of depression focusing his thoughts onto paper was his catharsis, his "emotional enema", and without brakes or boundaries he literally stopped at nothing in his search for expression and inner comfort, one of his plays even resulting in a law suit from his father. In Ghetto Klown we witness his disorderly passage to the realisation that "sharing my unhappiness on stage is my happiness" and this show is that belief made manifest.
Maybe a mostly-British audience is just not so comfortable with the proposition of "soul sharing" and all that self-disclosure, and perhaps some of the humour is a little too NY-Spic for us but this is a very funny show in a high-speed sketchy stand-up style, that harks back to his early career as a comic.
Leguizamo's improvisational skills and comic timing are faultless as he delivers a stream of anecdotes that cover his life and his career as film actor (Carlito's Way, Baz Luhrmann's Romeo + Juliet and To Wong Foo, Thanks for Everything! Julie Newmar amongst others), as star of a short-lived variety television show (the demise of which still rankles), and most importantly on stage as a writer and performer in award-winning Mambo Mouth, Spic-O-Rama, Sexaholix a Love Story and Freak.
John Leguizamo is unapologetically narcissistic but he can be endearing and doesn't always present himself as the good guy so, albeit hyper-active, Ghetto Klown is more than just an indulgent bowdlerization of dysfunction,
"Ghetto Klown" runs Monday to Saturday until 12th November
Reviewer: Sandra Giorgetti