Ghost the Musical
Book and lyrics by Bruce Joel Rubin, music and lyrics by Dave Stewart and Glen Ballard
Piccadilly Theatre
(2011)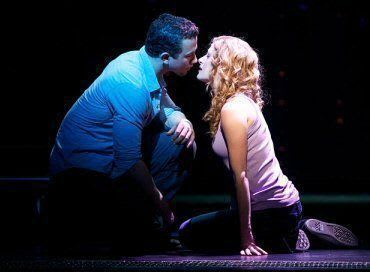 Unlike so many musical homages to much-loved movies, Ghost the Musical provides its audience with a really enjoyable 2½ hours of high-quality entertainment.
Matthew Warchus has synthesised the talents of his team and material to ensure that, rather than merely a rehash, or possibly resurrection, of the Patrick Swayze/Demi Moore film, the stage production has significant merits of its own.
He is fortunate to have cast Caissie Levy as Molly. This actress made a big impression in Hair both on Broadway and in the West End. Now, given greater scope to show off her talents, Miss Levy proves to be an actress who deserves to be on the cusp of fame and fortune, so beautiful is her voice and effective her acting.
For those that do not already know the movie, Molly is "an artist" in love with a heavily-muscled "Wall Street suit" going by the name of Sam Wheat and capably played and sung by Richard Fleeshman.
These new Brooklyn home owners really are a beautiful couple and seemed destined for a long and happy life together. However, in a seemingly random incident, Sam is mugged and killed by a particularly sleazy Latino played by Ivan De Freitas.
Given the title of the show, it will not surprise anyone to learn that rather than staying in his coffin, a rather paler Mr Fleeshman is soon back on stage, learning the ropes of the haunting trade.
Quickly, he discovers that his murder was premeditated and decides to track down the perpetrators. Being invisible and intangible, this requires help, which comes in the form of the very funny Sharon D Clarke's larger-than-life (this subject does lend itself to puns), Oda May Brown, a pseudo-psychic soul diva with enough attitude for a whole cast.
Together, this unlikely dynamic duo chase down not only the man who wielded the gun but also the greedy, undersized Mr Big.
The story can be a little melodramatic but also funny and romantic and is consistently enjoyable, particularly as movie/musical plots go. Indeed, very few visitors will fail both to laugh and cry at the appropriate moments.
That would not be enough to justify the steep ticket prices that are now de rigueur in the West End. Warchus's production has far more to offer, starting with a score from the Eurythmics' Dave Stewart and Glen Ballard that is rock music led but contains great variety with love songs, fantastic soul from Miss Clarke and even a bit of gangsta rap.
Depending on taste, the pick of the music might be one of Caissie Levy's solos perhaps opening soft rock song, Here Right Now or With You. For most though, Sharon D Clarke's rendition of Are You a Believer?, which also showcases fine backing from Lisa Davina Phillip and Jenny Fitzpatrick, cannot be beaten. Having said that, Sam's personalised version of the Righteous Brothers' Unchained Melody threatens to outshine everything else on the night.
While Ashley Wallen's choreography is sharp rather than sensational, when it is added to some of the best computer generated images around, designed by Jon Driscoll, the end product is dazzling and, helped by a series of illusions created by Paul Kieve, has the feel of a big budget movie.
Other than those named, Andrew Langtree as Carl, Sam's best friend. and Adebayo Bolaji playing a dreadlocked, possessive Subway Ghost with a cool line in rap are most likely to take the eye.
Whether you have seen Ghost the movie dozens of times or are coming to this story fresh, the musical version is likely to be a hot ticket, not only this summer but for some considerable time to come.
David Chadderton reviewed the pre-West End production in Manchester
Visit our sponsor 1st 4 London Theatre to book tickets for Ghost the Musical
Reviewer: Philip Fisher