Ghosts
Henrik Ibsen in a new version by Amelia Bullmore
Gate, Notting Hill
(2007)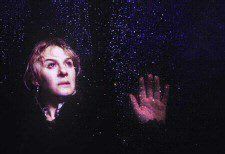 Actress/writer Amelia Bullmore made a big name for herself with Mammals, a contemporary comedy about family life that won many friends for her at the Bush before touring the country.
Her 95-minute version of Ibsen's play about guilt, catharsis and families has the same director, Anna Mackmin, and leading actress, Niamh Cusack. In the first act, it also has a similar vein of humour that does not always work, with too much that should be covered seen in stark black and white.
Lez Brotherston has created a revolving wooden cabin outside which tearful rain falls almost throughout. This presents appropriately sad and hopeless images at the start and end of each of the three acts.
Society is viewed on two levels that interact in Ibsen's play. The aristocratic Alvings are protecting and memorialising their patriarch, as the tenth anniversary of his death approaches.
His wife, played by Miss Cusack, has teamed up with Finbar Lynch's stern, puritanical Pastor Manders to endow an orphanage in her husband's name. The priest believes that his project is divine to the extent that insurance is unnecessary because the Lord will protect it - a sure sign that it won't last long.
For the lady though, the monument stands for the hatred that she feels for a man whose behaviour was "dissolute", he drank and womanised and who treated her dreadfully.
At the same time, an on-form Paul Copley as the highly moral Engstrand wishes to set up a hostel for sailors. He wants his daughter, the excessively cheery Regine, played by stage debutante Sarah Smart, to help him. She prefers life in the big house and constantly talking in poor French. She also has hopes of marriage to the son of the house, Osvald.
The bearded Christian Coulson plays this unhappy young artist who is terminally ill and believes himself to blame. In fact, as his doctor had intuited, his supposedly pure father was the cause of his inherited syphilis, named in this version and described in graphic detail.
The second act, in which all of the old man's chickens come home to roost is by far the strongest, with the actors playing mother and son hitting their high points as their characters realise that they are tied together by love and lies.
The memorial symbolically burns and Regine, on learning her own secret, changes beyond recognition. She exits with the old man leaving the Alvings to suffer together.
Amelia Bullmore has a tendency to stamp herself too much on what is a classic before she starts. As a result, some of the early comedy feels forced and unnecessary and the subtlety of the original can disappear. When she trusts Ibsen, she (and he) is at her best and the play becomes genuinely moving.
Reviewer: Philip Fisher