The Gift of Lightning
David Gilna
Red Lightning Productions
Waterloo East Theatre
(2011)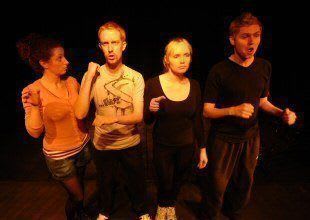 Four Irish students escape a summer of economic disaster and oppressive parenting by having an adventure in Boston, Massachusetts, and in a series of sketches we witness their shared backgrounds and unquenchable appetite for partying away the days and nights. It seems Sean and Donal won't leave until Sean has had every girl the city has to offer, while Nieve has her sights set closer to home and takes lessons from sexier Rose on how to seduce Donal who remains resistant to her charms.
Then lightening strikes, literally, and Sean is left in a coma. Lying in hospital his sub-conscious thoughts are driven by his memories, his sexual fantasies and the bedside confidences of his friends. After five days floating between three worlds, "the dead, the living and the spiritual", he wakes a different person. This is the gift of lightning.
If Gilna's play is the 'as billed' journey of self-exploration then it is more a crisscross lunge between the signposts of Sean's life rather than a pilgrimage leading to an insightful or at least meaningful conclusion. Gilna's writing shows promise but not the maturity to dig below the surface of the subject matter or the commonsense not to have Sean, a youth whose thoughts are led primarily by his dick, suddenly quote an overlong, apparently explanatory, passage by Keats. In the final scene my eyebrows moved uncontrollably heavenward when Sean started "Tennessee Williams once said " but mercifully the quotation was a short one.
The youthful cast, that includes David Gilna playing Sean, covers a range of variously accented characters which are without exception stereotypical; partly this is a function of the play's swift 55 minutes and partly of Gilna's superficial approach. Best friend Donal is the only half-likable character delivered naturally by Stephen Russell, with Melissa Nolan and Slaine Kelly getting even shorter straws.
My hat is off to Gerald Armin and Waterloo East Theatre who without funding continue to bring new work to the stage. I suspect that with Red Lightning Productions and David Gilna they could be on to a good thing. First though Gilna needs to free himself from his attachment to cliché and allow his ideas to transcend the mundane.
"The Gift of Lightning" runs without an interval and plays until 14 August
Not suitable for under 18s
Reviewer: Sandra Giorgetti