The Giraffe and The Pelly and Me
Adapted by Tim Kane from the book by Roald Dahl, music by Ben Glasstone and lyrics by Roald Dahl and Ben Glasstone
Little Angel Theatre
(2008)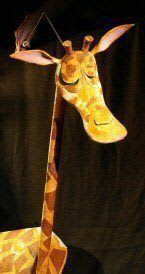 There's something rather bewitching about The Little Angel Theatre: no matter how I feel when I go in, I always leave feeling comforted and warmed up inside, like drinking a mug of hot chocolate when nothing else will do.
The magic potion currently being dished out in the cosy 100-seater is The Giraffe and The Pelly and Me, a specially written adaptation of Dahl's short book of the same name with original music.
Dahl fans may find that the show plays a little fast and lose with the story - my diminutive companion of 7 missed some of the details that she remembered from the book - but the adaptation retains the spirit of the original and there's a huge dollop of silly fun on top that I wouldn't have ascribed to Dahl's work.
Composer Ben Glasstone has written some wonderfully witty lyrics for the songs that entertain both adults and children and help make this short book into a two-act children's show. He has also written the incidental music that works very well at changing the pace and highlighting the pathos of the gently lolloping hungry giraffe.
The Giraffe and The Pelly and Me is directed and designed by Peter O'Rourke who has also made the puppets. He has done all three tasks with evident imagination and skill and his efforts are not wasted in the artful hands of puppeteers Michael Fowkes, Seonaid Goody, Ronnie le Drew and Mandy Travis who in addition to bringing the endearing puppet characters to life, are engaging in their own right as hapless Keystone-style cops and singers.
This is a real team effort but I cannot help but mention the incredibly funky dancing monkey, the delightfully officious chauffeur and the hilarious Cobra as favourite 'bits'.
With such conspicuous ingenuity and expertise on the production side and enjoyment from the little people and their grown-ups, it beggars belief that The Little Angel Theatre was turned down by the Arts Council for project funding for this joyous new show.
The Giraffe and The Pelly and Me is suitable for age 3 upwards and runs until 1st February 2009 with performances Wednesdays to Sundays. There are also Baby Friendly performances when under 3's will be admitted, family offers on Fridays and school performances during term time. Check diary on website for details.
Reviewer: Sandra Giorgetti