Girl From The North Country
Book by Conor McPherson music and lyrics by Bob Dylan
Tristan Baker and Charlie Parsons for Runaway Entertainment, Steven Lappin, Sony Music Entertainment UK, Playing Field, David Mirvish, Dianne Roberts and the Old Vic
The Lowry, Salford
–

Listing details and ticket info...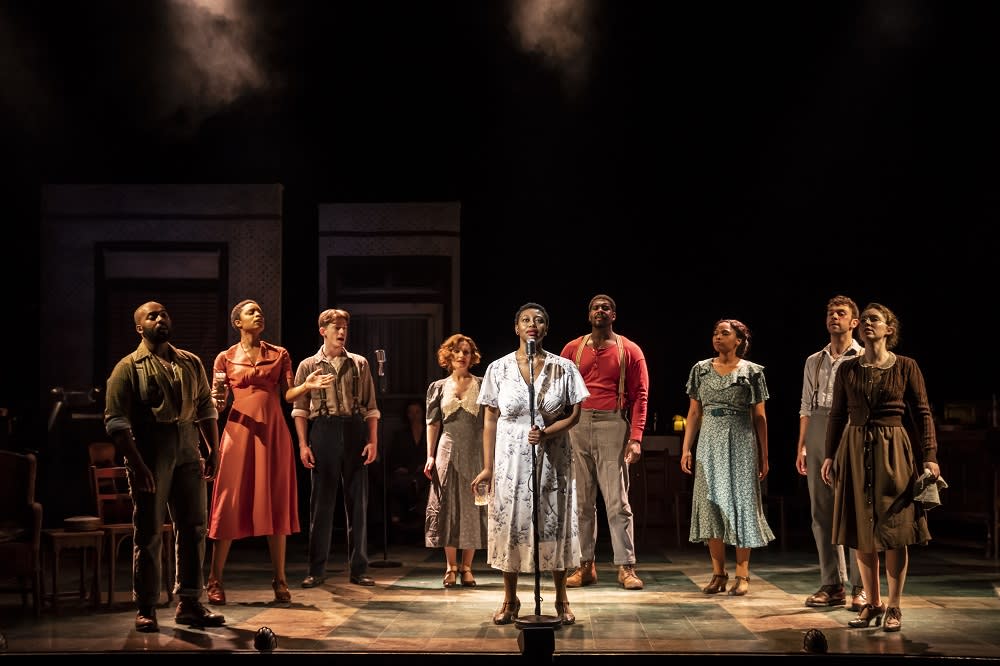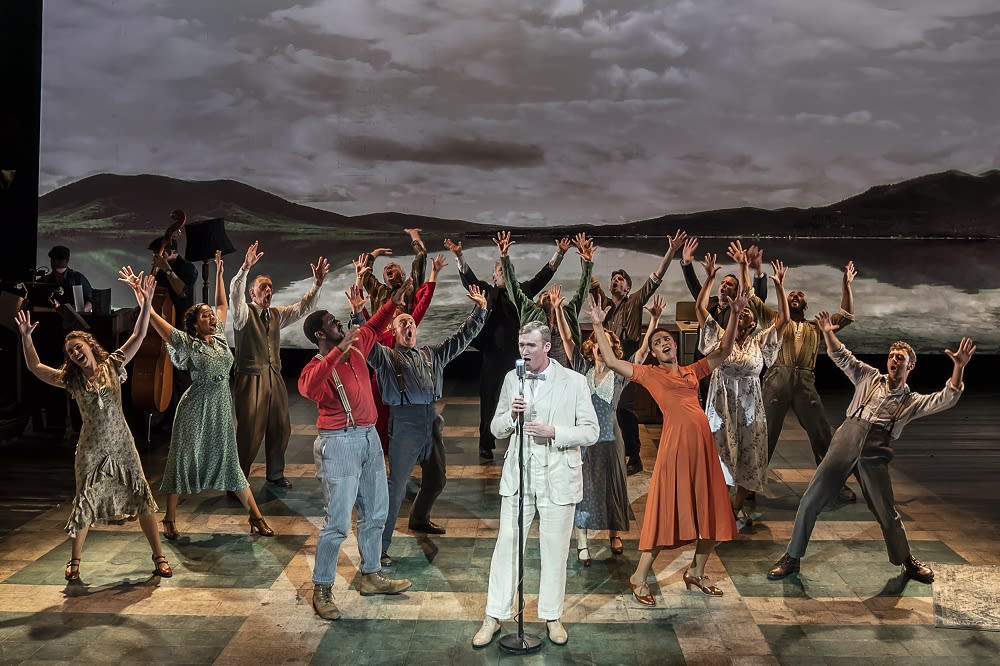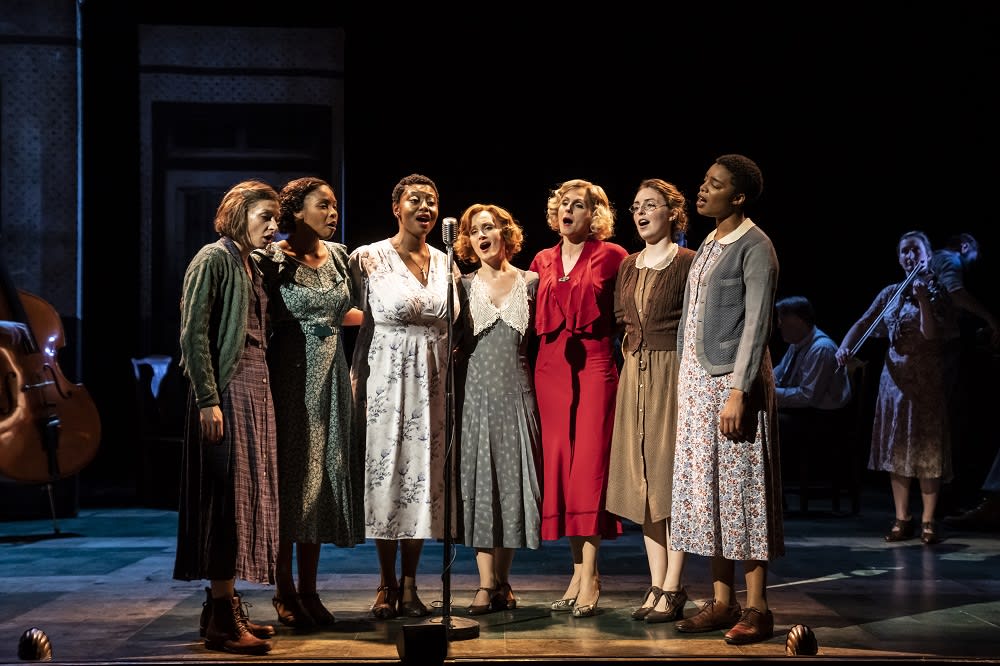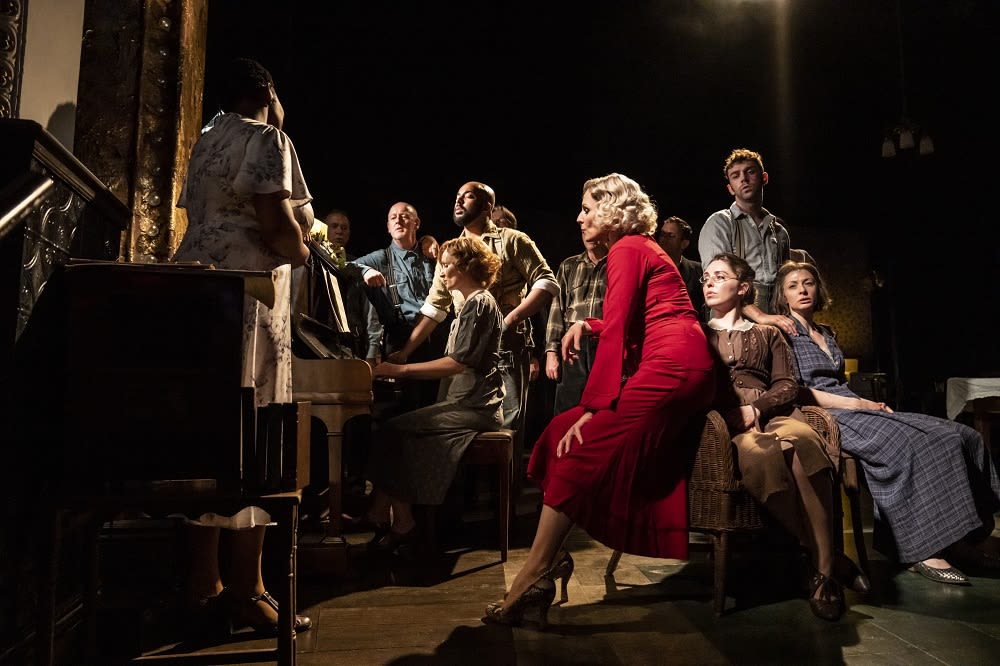 Purists might feel the use of Bob Dylan's songs in a jukebox musical is sacrilegious. But Dylan himself does not regard his songs as untouchable, radically revising them in concert so they have little resemblance to the divine originals or allowing their use in lingerie advertisements. Besides, he has a fondness for theatre having worked with playwright / actor Sam Shepard and director Jacques Levy. There is also the odd claim the album Blood On The Tracks was inspired by the writings of Anton Chekhov.
Author Conor McPherson follows Dylan's unconventional approach setting Girl From The North Country in the poet's birthplace—Duluth, Minnesota—but five years before his birth—actually when his hero, dust bowl balladeer Woody Guthrie, was in the area.
In winter 1934, the Laine family run a guest house and have both financial and personal problems. While the bank is threatening to foreclose on the property, father Nick Laine (Colin Connor) is having an affair with Mrs. Neilsen (Nichola MacEvilly), one of the guests. His wife Elizabeth (Frances McNamee) is suffering from dementia and his son Gene (Gregor Milne), wannabe writer and heavy drinker, has been dumped by his girlfriend. Nick's efforts to arrange a marriage for his adopted daughter Marianne (Justina Kehinde) are frustrated by her being black and pregnant by a man she refuses to name. A storm blows bible salesman Marlowe (Owen Lloyd) and a down-on-his-luck boxer Joe Scott (Joshua C Jackson) to the guesthouse leading to uncomfortable revelations, especially as one of the guests may be a killer.
Dylan's influence hangs over the production. Frances McNamee, whirling like a dervish and obliquely speaking uncomfortable truths, is very much Dylan's avatar. Yet, although respectful, McPherson is not awestruck—poking fun at the pretensions of aspiring writer Gene trying to poetically describe a "flightless bird" only to be told he is talking about an egg.
As director, McPherson stages the show in the manner of a radio production from the period or possibly Dylan's Theme Time Radio Hour. Rea Smith frames the bare bones set with a border resembling a bakelite radio. A resigned Dr Walker (Chris McHallem) serves as narrator and the cast step forward around microphones to sing concert-style to the audience rather than to each other as is usual in a musical. Only instruments from the period are used, so the Hammond organ is notably absent from "Like a Rolling Stone".
The atmosphere is claustrophobic yet communal: a group of people coming together to resist a hostile environment. On the rare occasion scenes move outside the guest house, the background is stark-monochrome photographs of deserted lakes or crowded tenements. The cast enter from the audience and set up the limited props and occasionally play instruments. This is an ensemble production and a strong one at that—a number of cast changes are achieved seamlessly.
In one of his lesser songs, Dylan remarks the only thing known about Henry Porter was that his name wasn't Henry Porter. The same shadowy sense of people with dual identities runs through Girl From The North Country. A preacher is a devil and an angel; a gentleman may be a predator; a pregnancy may be hysterical or a father forced to kill out of love. It adds up to an intoxicating blend of Bob Dylan and Eugene O'Neill.
In selecting songs for the musical, McPherson largely avoids the periods with which most people associate Dylan (folk / protest and psychedelia / poetry). But the use of the songs is so skilful, there is no sense of this being a collection of 'B' sides. McPherson occasionally blends the songs together, so the lacerating "Idiot Wind" becomes a tender duet. "You Ain't Goin' Nowhere" sounds great as a boozy hoedown.
Girl From The North Country is a show that leaves the audience feeling forever young.
Reviewer: David Cunningham