Girls & Boys
Dennis Kelly
Royal Court Theatre Downstairs
–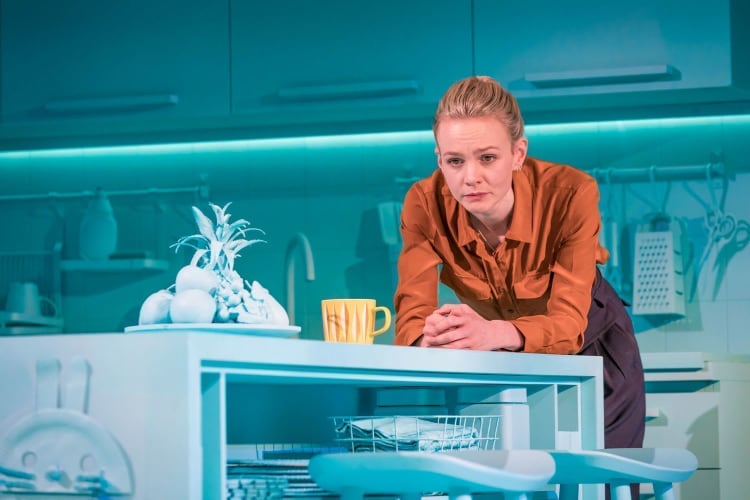 Vicky Featherstone is to be congratulated on enticing some of the hottest properties to combine for an intense but intoxicating evening of theatre, which is as good as anything that is likely to appear in the next few months.
Carey Mulligan is riding high, having become a Hollywood star, while continuing a TV career that includes the opening episode of Sir David Hare's Collateral in the same week as Girls & Boys enjoyed its press night, no doubt offering welcome publicity on which the Royal Court's marketing department can capitalise. For the occasion, she has been teamed up with playwright Dennis Kelly, who is still probably best known for Matilda the Musical and director Lyndsey Turner who is building a big reputation on both sides of the Atlantic.
The solo show is pretty much a staple on Broadway but remains a rarity in the West End. Somehow, British audiences seem to require sizeable casts in order to feel that they are getting their money's worth.
That could all change thanks to an evening that starts out as a social comedy but gradually transforms itself into the post-modern equivalent of a Greek tragedy. While viewers cannot dispute the proposition that for 90 minutes they are watching a single person acting on a large stage, somehow Carey Mulligan fills the space and the mind, while Dennis Kelly's poetic writing is so powerful that you can practically see the additional characters that she creates.
The evening opens with a lonely woman standing barefoot in mis-matched clothing in front of a bland turquoise backdrop addressing herself directly to the audience.
The lady with a mildly estuarine accent starts telling witty anecdotes about how she met her gorgeous husband while waiting for an EasyJet flight back from Italy. She paints verbal pictures of humorous incidents from her past and his, slowly leading us to their meeting and a future that seems destined to be everything that either could hope for.
Each has a sense of humour but also animal passion to combine with burgeoning careers that have little in common. He imports antique furniture from Europe that has yuppies drooling. She wishes to pursue a career in TV production but hasn't the background or qualifications, merely the courage and barefaced cheek to waltz past the competition into a plum job and career.
The children debate, which is advanced accidentally but ends up with mutual agreement, should bring a smile to any viewer's face and leads into a separate timeline.
To this point, designer Es Devlin had hardly earned her fee. However, in a few seconds of darkness, the stage is transformed into a beautiful, three-dimensional version of a Patrick Caulfield white living area, complete with occasional adornments in primary colours.
Here, our guide chivvies along and humours her two tiny children, showing all the love and frustration that one would expect from a modern mother who doubles as a busy executive.
Miss Mulligan's performance is as close to perfect as anyone could hope for. She draws you in, convinces completely in her role and conveys the love that her character feels for both husband and the tots.
There is far more to this play than a mere portrait of domestic bliss but no critic should go further than the explanations given here for fear of spoiling the impact of a quite devastating play on anyone lucky enough to get tickets.
If Miss Mulligan's diary allows, then what must be a sell-out run at the Royal Court should be followed by an immediate transfer into a larger West End house, with every prospect of Broadway beckoning in the fullness of time.
Reviewer: Philip Fisher