Giselle, ou Les Wilis

The Mikhailovsky Ballet St Petersburg
London Coliseum
–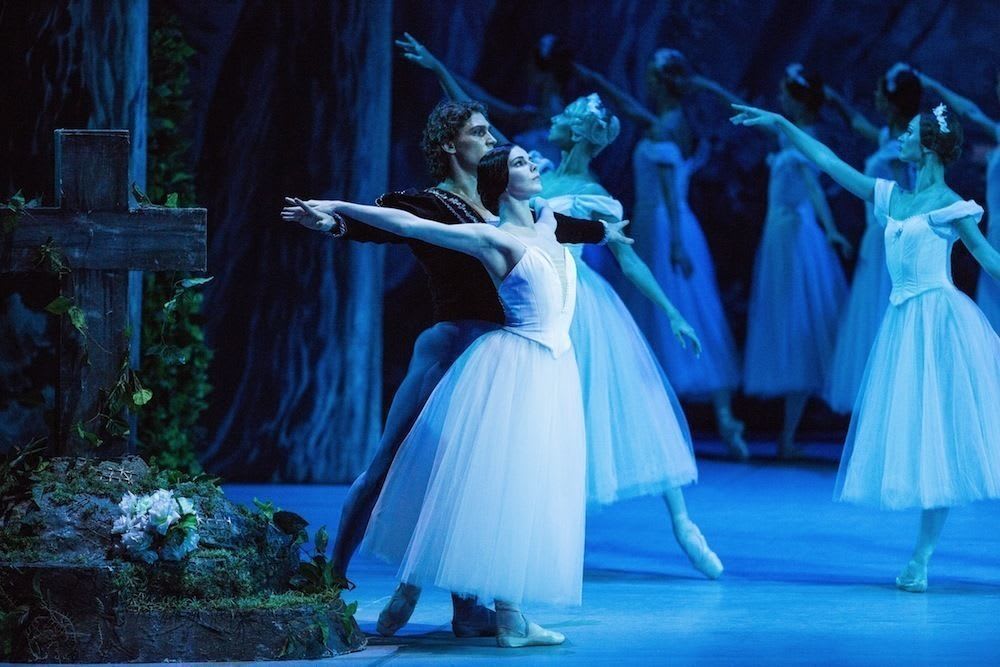 Why the star couple, Natalia Osipova and Ivan Vasiliev, of Moscow's Bolshoi Ballet chose to move to St Petersburg's second ballet company, albeit one with illustrious associations in the past and, like St Petersburg, with several changes of name and ethos, led to some speculation and is only just becoming apparent.
An astute move it would seem in view of the unpleasant news of acid attacks and intrigue issuing forth from their former ballet home. A chance to spread their wings in a company funded by tycoon Vladimir Kekhman is the more obvious answer, and spread their wings they do in an airborne performance of classical perfection.
It is Osipova's night though, a triumphant Giselle. In a ballet both bucolic and supernatural, she delivers a remarkable detailed interpretation of the ballet's two contrasting halves, carefree and haunting. Giselle, the epitome of Romanticism, is a demanding classical role made famous by Carlotta Grisi in 1841.
Little touches—fluttering hands in the moving mad scene, and breathcatchingly poignant in the revealing instance when she and Vasiliev become aware that this is more than flirting, more than a nobleman exercising his droit du seigneur, more than a young girl who loves dancing—time stands still for a second.
A delicate actress, very much in the moment, and a supreme ballerina, her fleet feet barely touching the ground, she soars above the other mortals with youthful elation in the first act, in remarkable levitation in the second.
A stunning piece of gravity-defying dancing, one would swear she is on a harness. Blown like thistledown this way and that, light as a feather but strong as silk, she is in total control of a whole batterie of showcase moves: grands jetés, tripping bourrées, entrechats, plunging arabesques, and dazzling pirouettes at the speed of light.
Her performance doesn't quite move one to tears, as some Giselles do, but to open-mouthed astonishment—she has complete command of her role and the audience at her feet.
This Wili may forgive her betrayer and heartbreaker, though she puts him on exhausting unforgiving trial till dawn break, but in death she discovers her strength. Osipova is mind-blowing in the second act, the reason for seeing this production of Giselle.
Vasiliev, a trifle on the short side for aristocratic elegance, but with an open face, takes boyish delight in his partner, and his playacting in the dissembling, exchanging his courtly attire for peasant brown, first half is sincere. 
He may give way to Osipova in the first act with tender grace, in the Wilis act he dances as if his life depends on it – it does – his strong thighs powering him through despair and grief. A dark night, a gravestone, ethereal darting Wilis in calf-length white gauze skirts, princely purple his mourning cloth and billowing cloak.
Fireflies, white lilies, white veils whisked off by invisible hands into the wings and flies—restless trees and bobbing branches almost derailing the wistful mood—but whenever Osipova is on stage one has eyes only for her. Whenever she is absent one misses her energy and seemingly effortless weightlessness.
Ekaterina Borchenko is a tall elegant long-limbed Queen of the Wilis, and first soloist Sabina Yapporova in the peasants' pas de deux is one to watch in the future—a very assured performance.
If the opening night of Nikita Dolgushin's production of Giselle is anything to go by, then a wealth of treats is in store. If the rest of the programme is of this calibre, the Mikhailovsky Ballet London season, which goes on till April 7th with a bill of classical and contemporary dance, should be a triumph. We shall see.
Don Quixote follows Giselle, then comes a revival by the renowned Mikhail Messerer of Laurencia, a Soviet ballet based on Lope de Vega's Fuente Ovejuna, and two programmes of contemporary choreography from the company's artistic director (since 2011) Nacho Duato, who will continue as Mikhailovsky Ballet's resident choreographer after his move in 2014 to head Berlin's Staatsballett.
Reviewer: Vera Liber